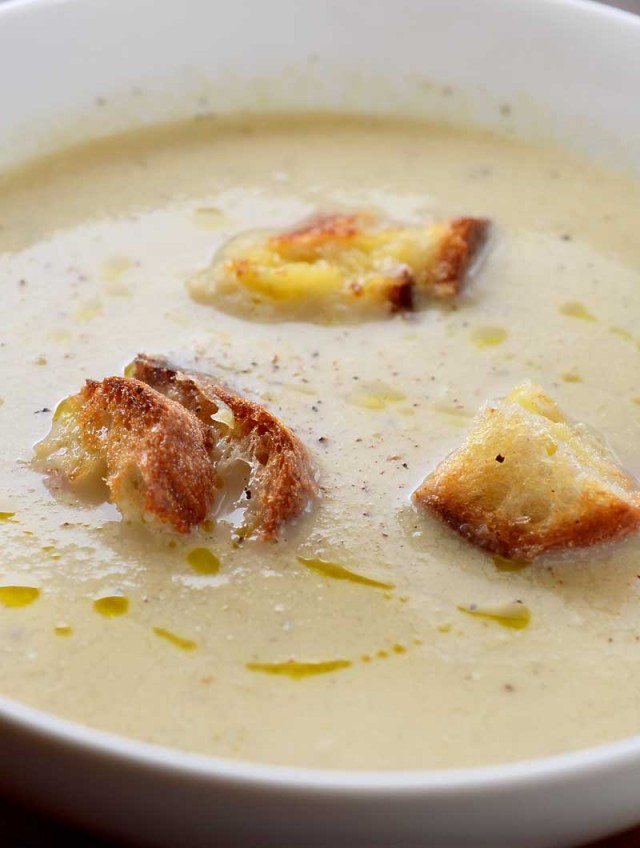 Cauliflower Soup with Grilled Cheese Croutons
Now that most of the trees have turned and some are even bare, it's really starting to feel like fall to me. The mornings are cool and crisp and so are the afternoons. That is sweater weather. Scarf weather and, my favorite, soup weather. I'm not going to lie. I'm kind of obsessed with this soup. It is so comforting. And, you guys, there are grilled cheese croutons on top. I mean really, I'm not sure it you can get anymore fall comfort food then a pot of tummy warming soup with grilled cheese croutons.
I first tried cauliflower soup the same night I tried the chickpea cakes at a local restaurant.  When the server sat down this little bowl of soup in front of me, I didn't even happen to catch what it was before I started noshing on it. It was gone in about two seconds. When the server came back I asked 'What was that?" He replied cauliflower soup with a drizzle of olive oil.
Say what?! That's it? I was expecting some big long adjective filled description. But no. Again, friends, simple wins out.
I did want to make it a little more of meal so I made a grilled cheese sandwich using the Kerrygold Blarney Castle Cheese and diced it up into little croutons and put it on top of the soup. Like this soup, I'm kind of obsessed with Kerrygold Blarney Castle Cheese right now. It's a gouda style cheese and so creamy and flavorful. That being said, you could easily use your favorite kind of cheddar other kind of cheese you like.
Whatever you do, make this soup soon.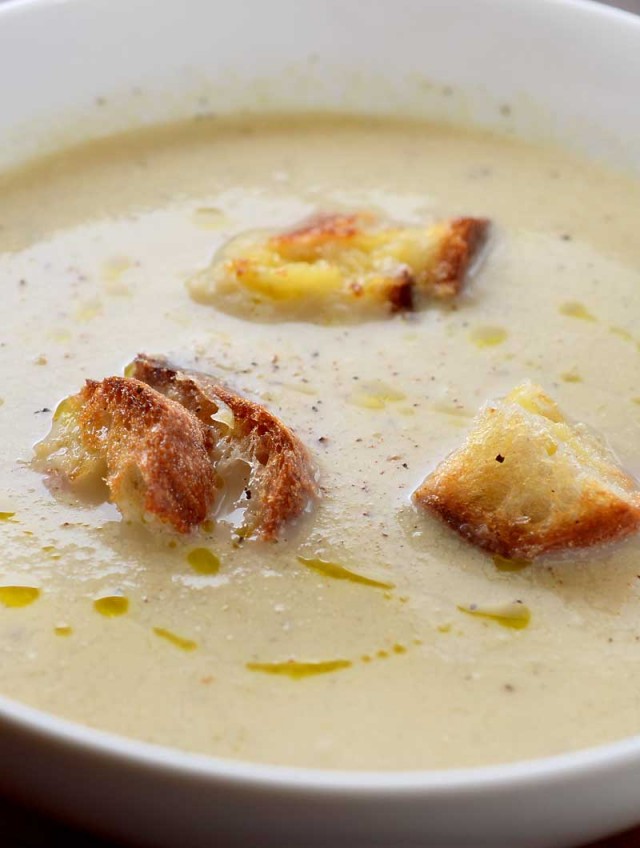 Cauliflower Soup with Grilled Cheese Croutons
Creamy, tummy warming cauliflower soup with golden grilled cheese croutons.
Ingredients:
2

tablespoons

olive oil

plus more for drizzling

1

head cauliflower

cut into florets

1/2

medium yellow onion

diced

4

cloves

garlic. minced

1

teaspoon

dried thyme

3 1/2

cups

vegetable broth

1/4

cup

heavy cream

salt and fresh cracked black pepper to taste

2

tablespoons

butter

4

slices

crusty bread

i.e. como

4

ounces

Kerrygold Blarney Castle Cheese

sliced
Heat olive oil in a skillet over medium heat. Cook onions, garlic and thyme just until onions softened, about 3 minutes. Stir in cauliflower. Pour in 1 1/2 cups of the vegetable brother. Cover and cook cauliflower until fork tender, about 20 minutes.

Pour in remaining vegetable broth. Use an immersion blender (or transfer in batches to a blender) to blend until smooth. Whisk in 1 tablespoon of hot soup into the cream to temper it. Slowly whisk tempered cream into the soup. Reduce heat to low and allow to simmer while you prepare the grilled cheese croutons. The soup will thicken a little bit during this time.

Butter one side of each slice of bread. Place the cheese on the non-buttered side of two slices of bread. Topped with the other slices of bread. Cook in a skillet until bread is golden and cheese is melted. Remove, allow to cool 1 minute and slice into crouton shapes.

Ladle soup into bowls, place a few croutons in the bowl, drizzle with olive oil and more black pepper if desired. Serve immediately.
Keywords:
cauliflower, comfort food, grilled cheese, soup, Vegetarian