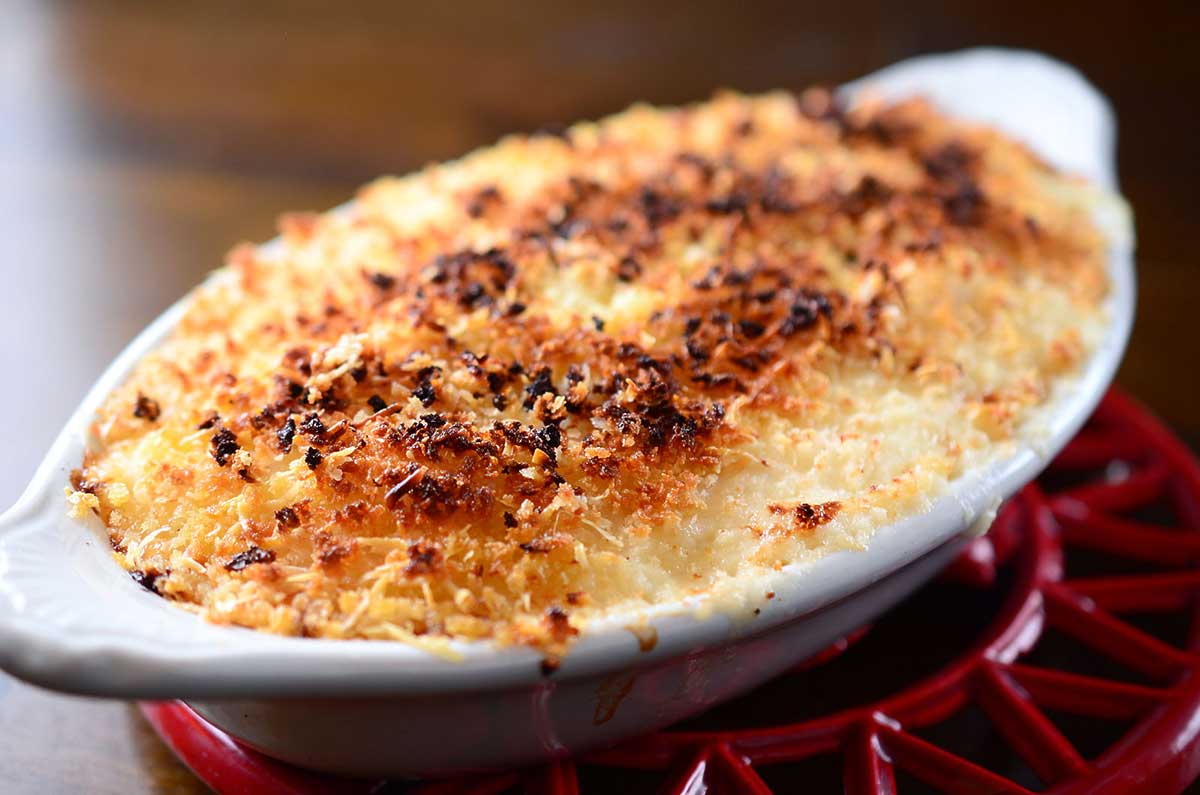 Cheesy Cauliflower Mash
When I asked what kind of recipes you all would like to see on the blog, someone  mentioned that they would like to see recipes for some winter veggies. Admittedly I don't cook a lot with winter veggies like cabbage and cauliflower although I really do enjoy them, so I thought I'd give it a shot. First up is this cheesy cauliflower mash. And if I am being completely honest, it gives mashed potatoes a run for their money.
I was shockingly surprised at how much I actually enjoyed cauliflower mash. I had heard about it for a long time and people would always compare them to mashed potatoes. As a rabid mashed potato fan I always brushed it off and said no way. Then I tried it a couple weeks ago. Oh mama it is good. It's creamy. Rich. And in this case cheesy thanks to the Parmesan and mozzarella. Give it a shot if you've been shy. I'm sure you'll like it.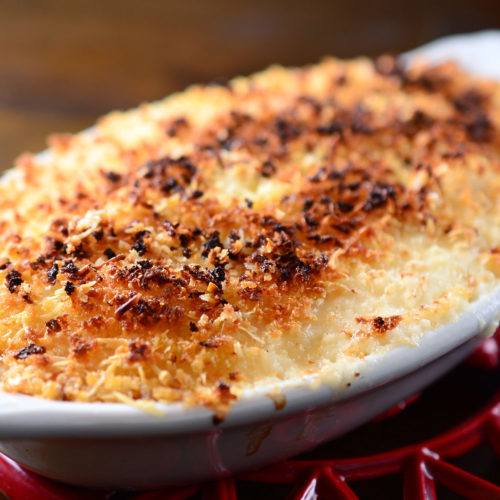 Cheesy Cauliflower Mash
Cauliflower mashed with parmesan and mozzarella. So good it gives mashed potatoes a run for their money.
Ingredients:
1

small head cauliflower

chopped into florets

2

tablespoons

butter

1/4 - 1/2

cup

milk

1

cup

grated Parmesan cheese

1

cup

shredded mozzarella

1/4

teaspoon

salt

1/4

teaspoon

garlic powder

1/4

cup

panko bread crumbs

olive oil
Preheat oven to 350 degrees.

Steam cauliflower until fork tender.

Place steamed cauliflower in a bowl and using a potato masher mash with butter and 1/4 cup of milk. If it seems a bit dry add the other 1/4 cup milk.

Mix in 1/2 cup Parmesan cheese, mozzarella, salt and garlic powder. Continue mixing until cheese has melted. Transfer to a small casserole dish. Top with panko bread crumbs and remaining Parmesan. Drizzle with olive oil. Bake for 15 - 20 minutes or until bread crumbs have browned. Turn on the broiler for a couple of minutes if you want a crisper top. Remove from oven and serve hot.
Keywords:
cauliflower, Christmas, Food, mashed, Recipe, side dish, thanksgiving, Vegetarian