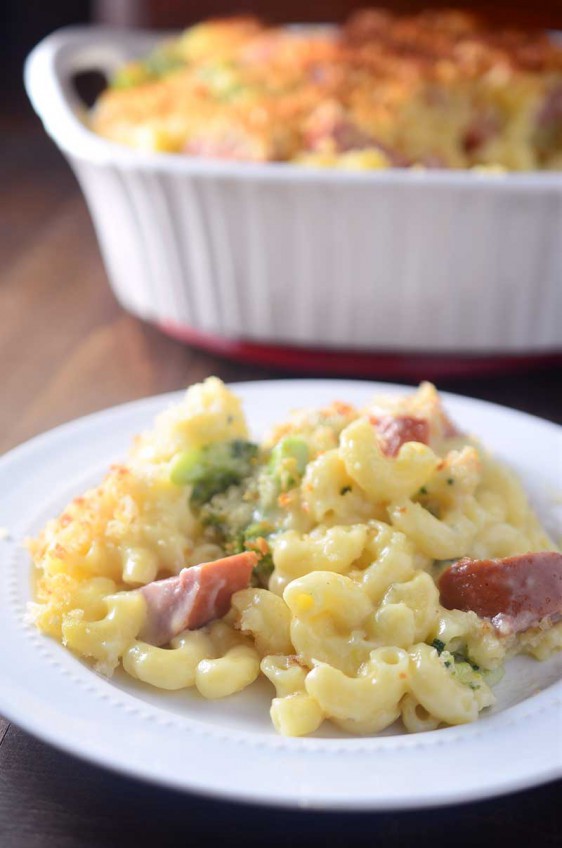 Cheesy Kielbasa Broccoli Casserole
Happy First Day of Fall! It is finally here! My favorite season. It's time for the leaves to start changing. It's time for pumpkins, cozy sweaters, boots and tummy warming comfort food. Today,  I've got you covered on the last one with this Cheesy Kielbasa Broccoli Casserole. It's loaded with smoky kielbasa, tender broccoli, pasta and plenty of Blarney Castle cheese.
I can hardly believe that it is fall already. I don't know about you but fall is seriously a crazy time of year for us. And we don't even have kiddos in school. What we do have is our wedding anniversary, my birthday, Kellan's birthday, Ryan's birthday, and  3 (soon to be 4) more birthdays in the family. That is before we even talk about the holidays. Not to mention, the fact chasing after a 16 month old and an almost 4 year old is really, really exhausting and sometimes I just don't have the time to spend a ton of time prepping dinner.
That is where casseroles come in handy. They are perfect because you can prepare them in advance, put them in the fridge and just heat them up when you're ready.
For me, this meant prepping this Kielbasa Broccoli Casserole during nap time. Which means that I didn't have a whole lot of time before someone was going to be up asking for something. So I wanted to do things as quick as possible. One time saving, and dish saving technique that I used involved how I cooked the broccoli. I was originally just going to blanch the broccoli by itself then realized while I was cooking the noodles, that I should just toss the broccoli in with the noodles during the last few minutes of cooking. That way the broccoli and noodles would be done at the same time and I didn't have an extra pot to wash. It worked perfectly! Just make sure that you add the broccoli during the last 2 – 3 minutes, you don't want it to over cook, it still needs to have a bite to it since it will be cooking in the oven as well.
Next up is the sauce. It might be my favorite thing about this whole dish because…cheese. And I don't use just any run of the mill cheese either. Nope, for this recipe, I'm using one of my faves: Kerrygold Blarney Castle. It's a mild and creamy gouda style cheese and it works amazingly in this sauce.  Speaking of sauce, if you've ever made a homemade mac n' cheese then you've totally got this. Simply melt some butter, whisk in flour, milk and cheese. Then you're good to go!
Finally, mix the noodles, the broccoli and the kielbasa into the cheese sauce, pour the whole thing into a casserole dish. Top with a mixture of panko and Parmesan then either pop it in a 350 degree oven or refrigerate it until you're ready for dinner.
Easy, peasy, and oh so cheesy.
Disclosure: I was sent the cheeses by Kerrygold and this post is my entry for a giveaway for members of the Kerrygold Blogger Loyalty Program. All opinions are my own.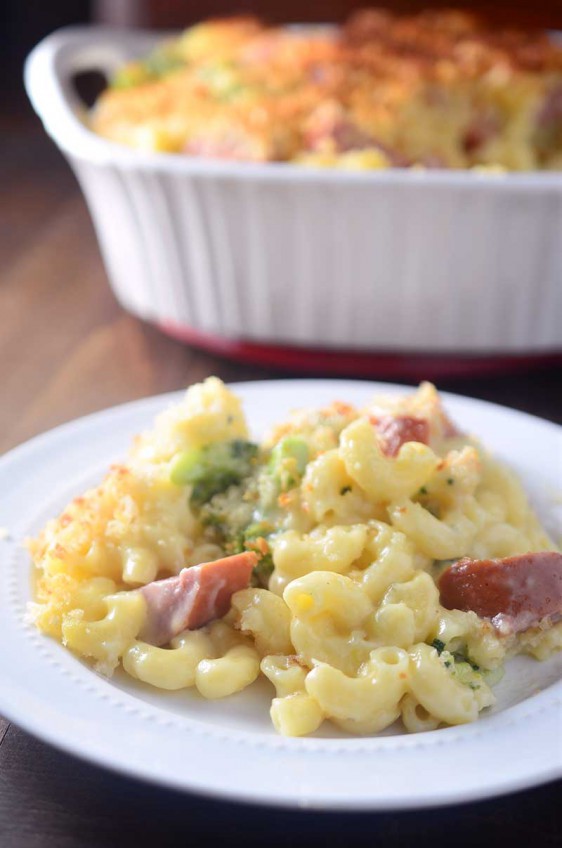 Cheesy Kielbasa Broccoli Casserole
This Kielbasa Broccoli Casserole loaded with kielbasa, broccoli and tons of cheese is comfort food at its finest.
Cheesy Kielbasa Broccoli Casserole Ingredients:
2

cups

dried elbow macaroni

4

cups

broccoli florets

4

tablespoons

butter

4

tablespoons

all purpose flour

2

cups

whole milk

2

7 ounce blocks Blarney Castle Cheese, shredded

1

teaspoon

dijon mustard

1/2

teaspoon

garlic powder

1/4

teaspoon

black pepper

1

pound

kielbasa

cut into bite size pieces

salt to taste
Parmesan Panko Topping Ingredients:
Preheat oven to 350 degrees.

Bring a large pot of water to boil. Cook noodles 7 minutes. During the last 3 minutes add in broccoli. Drain and rinse under cool water to stop cooking.

In the same pot, melt butter over medium heat. Whisk in flour. Cook 1 minute. Whisk in milk. When milk starts steaming, mix in cheese. Continue cooking until cheese melts. Whisk in dijon, garlic and pepper. Fold in noodles, broccoli and kielbasa. Season to taste with salt.

Pour casserole into a 2 quart casserole dish.

In a bowl combine, panko, parmesan, olive oil and garlic powder.

Sprinkle bread crumb mixture over the top of the casserole.

If cooking right away, preheat oven to 350 degrees and bake until the edges are bubbly about 20 minutes. Turn on broiler and broil for 1 minute or until top is brown. Serve.

If not cooking right away, allow casserole to cool then place in the refrigerator uncovered. Once it has cooled completely, cover until ready to cook. When ready, preheat oven to 350 degrees. Cook 30 - 35 minutes or until the edges are bubbly. Turn on broiler and broil for 1 minute or until top is brown. Serve.
Keywords:
casserole, dinner, kielbasa