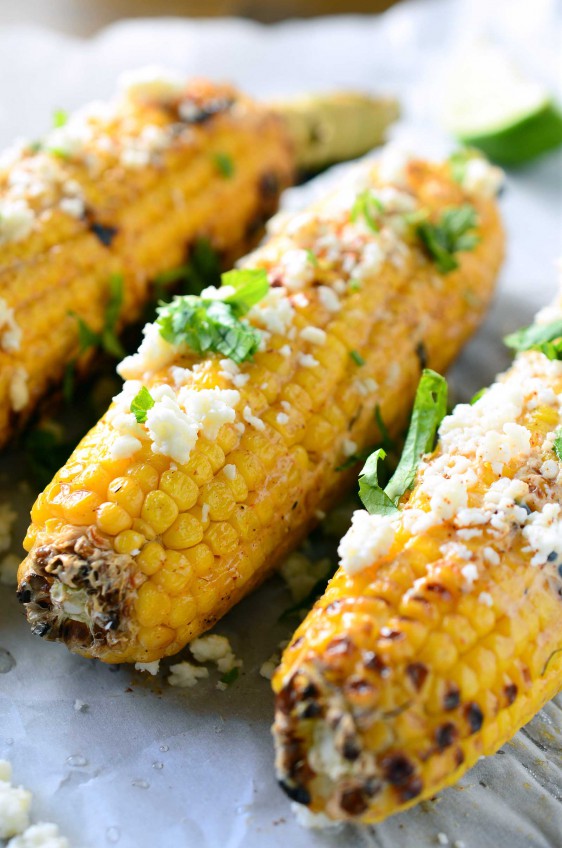 Cheesy Mexican Street Corn
Aside from summer tomatoes, one thing we cannot get enough of during the warm summer months is sweet corn. We eat it at least once , if not twice a week and usually always on Taco Tuesday. Because we eat it so much, I am always looking for new ways to make it. So obviously, when I saw Mexican Street Corn popping up all over Pinterest,  I just knew I had to make it.
Since I haven't actually tried Mexican Street Corn prior to making it myself, I did a little bit of research before making my version. I read recipe after recipe to get the gist of it. It seemed relatively easy, just mix some mayo and sour cream together with some spices. Grill the corn and then slather the creamy mixture over the top.
To be honest, when I read that it was mayo that was slathered all over the corn, I was a little taken a back. It just did not seem like the first choice in my mind. Sour cream? Yes. Mayo? Maybe?
Dude. It totally works. It reminds me of that creamy mixture that makes up one of the layers in seven layer dip.
So I kept the mayo the same, but i did change one thing. Most recipes that I read called for Parmesan cheese, while a few recipes called for cotija. Now you know how much I love Parmesan. I can snack on the stuff all day. Yet, for this Meixcan street corn recipe, I decided to use cotija cheese because I totally wasn't feeling Parmesan with this recipe. Besides, I love the salty, creaminess of cotija.
The whole thing is pretty darn delicious. The corn is perfectly charred. The sauce is the perfect amount of creamy. The cheese salty. The lime bright. It is a terrific way to jazz up your basic corn on the cob.
One thing you should know though is that it is a tad on the messy side so make sure you have your napkins handy!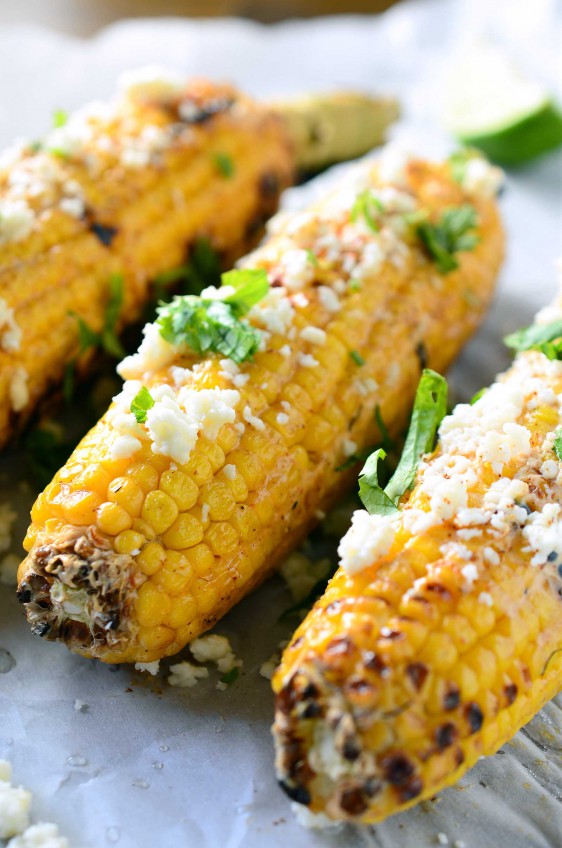 Cheesy Mexican Street Corn
This cheesy Mexican Street Corn topped creamy chili sauce, fresh cilantro, lime and crumbled cotija cheese is kinda messy but TOTALLY worth it.
Preheat a grill to medium-high heat.

Whisk together mayonnaise, sour cream, chili powder, garlic powder and salt.

Place the corn on the grill and cook 10 - 15 minutes or until tender. Being careful to turn every few minutes so it doesn't burn.

Remove corn from grill. While still hot liberally spread the creamy mixture over the corn. Sprinkle with cotija cheese, fresh cilantro and a squeeze of fresh lime. If you want it a bit spicier, add another sprinkle of chili powder. Serve immediately.
Keywords:
corn, summer, Vegetarian