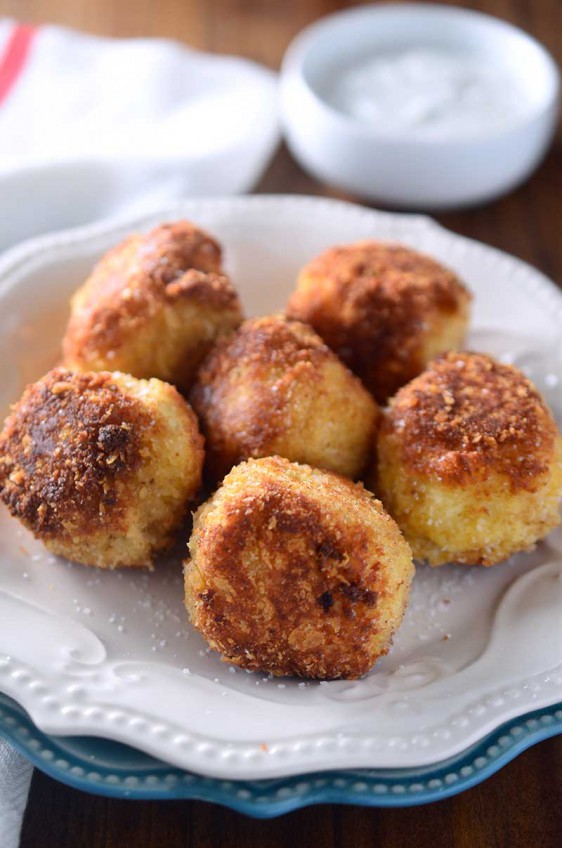 Cheesy Roasted Garlic Potato Balls
Cheesy Roasted Garlic Potato balls are basically the best way to use up holiday leftovers. Ever. 
I have discovered the ultimate way to use up leftover mashed potatoes and the perfect appetizer for holiday cocktail parties. First you mix leftover potatoes with fresh roasted garlic and shredded Gruyere cheese. Next they are coated in a mixture of regular and panko bread crumbs. Finally, you take the cheesy roasted garlic potato balls and fry them until they are perfectly golden brown. These Cheesy Roasted Garlic Potato Balls are crispy on the outside and oh so soft and cheesy on the inside.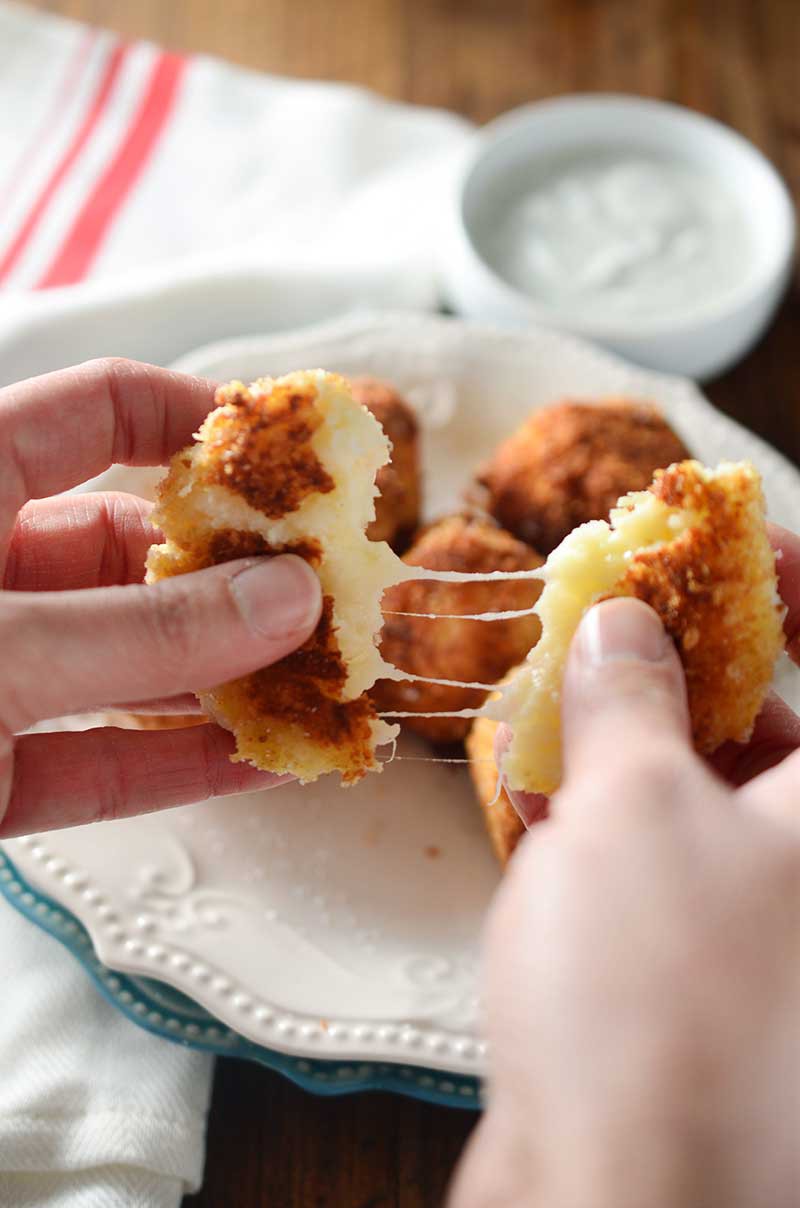 As if I really needed another way to eat mashed potatoes. But after trying something similar to these potato balls out at a local restaurant, I couldn't resist the temptation to make them at home. I mean really, there is no possible way that you could go wrong with fried mashed potatoes. Am I right?!
The numbers of combinations that you could do with this recipe are essentially endless. I chose roasted garlic simply because I love the way it makes your house smell and the sweet taste is always a welcome addition to mashed potatoes. And I chose Gruyere cheese because its sweet but slightly salty flavor was the perfect compliment to the garlic and mashed potatoes.
If you're looking for a dipping sauce to go with Cheesy Roasted Garlic Potato Balls an aioli would be good, as would ranch. Obviously.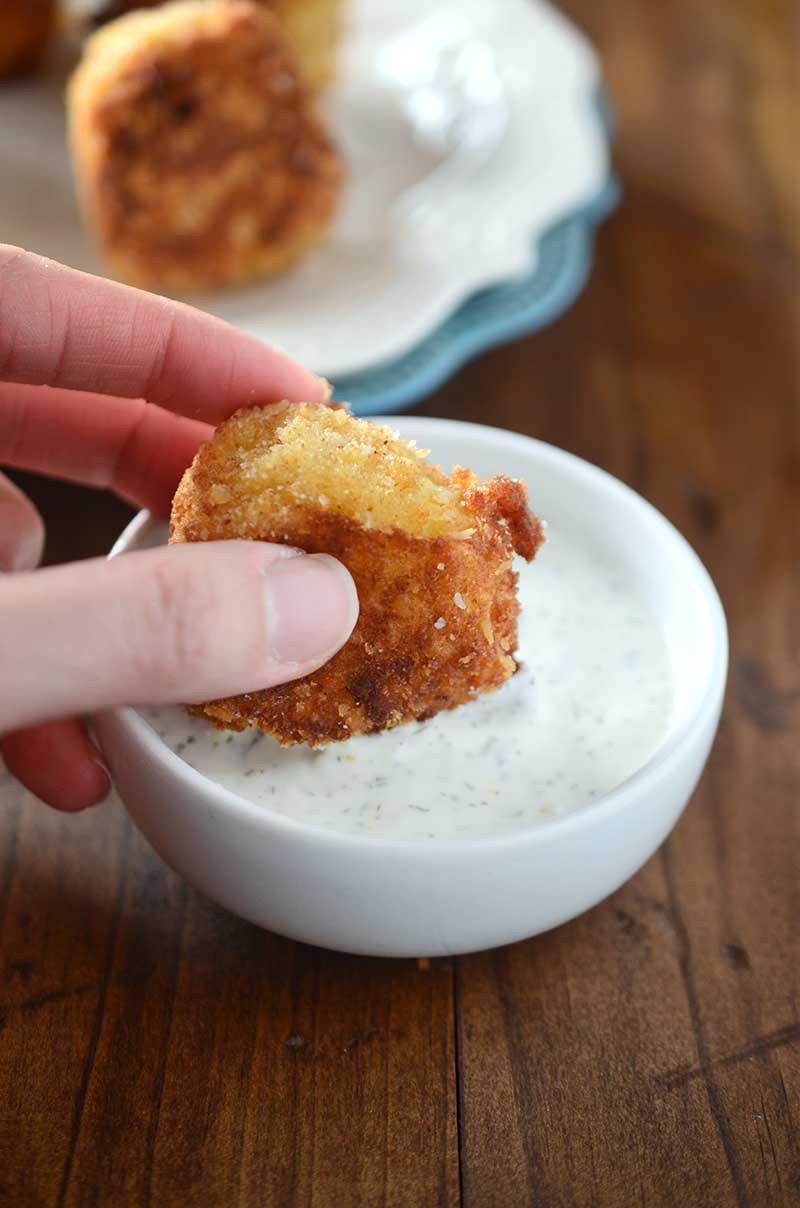 Updated: Originally posted in 2009. Recipe and photos updated 2016.

Cheesy Roasted Garlic Potato Balls Recipe
Ingredients:
1 bulb garlic
1 tablespoon butter
1 teaspoon lemon juice
kosher salt
2 cups leftover stiff mashed potatoes, at room temperature
2 cups freshly shredded Gruyere cheese
3 eggs
1 cup plain bread crumbs
1 cup panko bread crumbs
1 teaspoon granulated garlic
oil for frying
Instructions
1
Preheat oven to 400 degrees.

2
Cut 1/4 inch off the top of the bulb of garlic to expose the cloves beneath, but do not peel the garlic, you want to roast it in the skin. Place clove on a piece of aluminum foil, place butter on top, pour lemon juice over the garlic and sprinkle with kosher salt. Bring up all sides of aluminum foil and twist together to close. Cook for 60 minutes or until garlic cloves are soft and golden in color. Allow to cool.

3
Place mashed potatoes in a bowl. Once garlic has cooled use a fork to remove cloves. Add roasted garlic cloves to mashed potatoes. Stir in Gruyere cheese.

4
Using about a tablespoon of the mixture. Roll into balls.

5
In one bowl beat the eggs. In another bowl combine equal parts plain bread crumbs and panko bread crumbs.

6
Dip each ball into egg, then coat in bread crumbs. Then dip in egg and bread crumbs again to double coat. Repeat with remaining potato balls.

7
Heat 2 inches of oil in a large pan or pot. Once oil starts to shimmer sprinkle in a few bread crumbs, if it sizzles the oil is ready. Fry potato balls in batches until golden brown, about 3-4 minutes.

8
Using a slotted spoon transfer to a paper towel lined plate. Sprinkle with kosher salt, allow to cool for a couple of minutes.