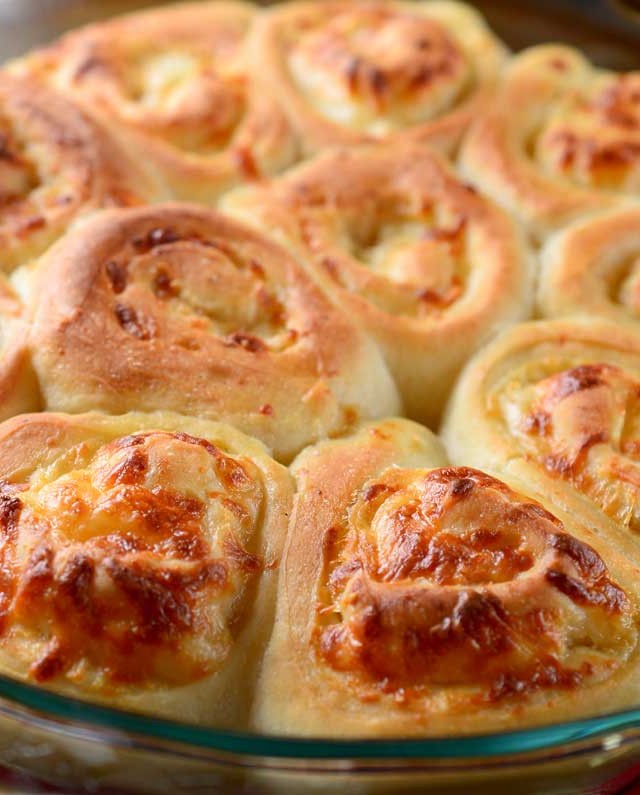 Cheesy Roasted Garlic Rolls
When it comes to Thanksgiving or Christmas dinner, my plate is usually so overloaded with turkey, mashed potatoes, stuffing and greens that the rolls never make it to the first plate. I always tell myself, I'll get one on the next round. But the next round comes and goes and no roll. It's not that I don't like rolls, they are just usually so ho-hum. That is, until now. These rolls are stuffed with roasted garlic, mozzarella and Parmesan cheese so needless to say, I will definitely be leaving room for these rolls on my plate this year.
I actually developed this recipe earlier this summer, on one of our Friday night pizza nights. I had an extra batch of pizza dough decided to roast some garlic, spread it on the dough and then top it with shredded cheese and roll the whole thing up, let them rise again and baked them like you would do with cinnamon rolls.
The result was cheesy, doughy, sweet roasted garlic goodness and my absolute favorite new roll.
This does take a little bit of planning time because they do need to rise twice. 45 minutes each time. You could also use a store bought pizza dough to save yourself one rise time.

Cheesy Roasted Garlic Rolls
Rolls with a cheesy, roasted garlic center.
Roasted Garlic Ingredients:
1

head garlic

olive oil

salt
Cheesy Roll Ingredients:
1 1/4

teaspoon

active dry yeast

2/3

cup

warm water

1 1/2

cups

all purpose flour

plus 1 tablespoon flour

1/2

teaspoon

salt

1/3

cup

shredded Parmesan cheese

1

cup

mozzarella cheese

2

teaspoons

olive oil

divided
To make the roasted garlic, preheat oven to 425 degrees. Cut the top 1/4 inch off the garlic head. Place the garlic on a sheet with aluminum foil. Drizzle with a little olive oil and sprinkle with salt. Close foil around garlic and roasted in preheated oven for 40 - 50 minutes or until cloves are golden brown. Remove from oven allow to cool.

While garlic is roasting, prepare dough by dissolving yeast in 2/3 cup warm water in the bowl of a stand mixer. Allow to proof for 5 minutes. Add in1 1/2 cups flour and salt. Turn mixer on to medium-high. And mix just until the dough comes together. If the dough seems sticky add remaining tablespoons of flour. Turn the mixer down to medium and continue mixing until a smooth ball forms. Cover with plastic wrap and allow to rise in a warm, dark place for 45 - 60 minutes or until it has doubled in size.

After dough has risen, punch it down and roll it out to an 11 x 9 rectangle.

Use a fork to remove the roasted garlic cloves. Mix roasted garlic with 1 teaspoon olive oil in a bowl. Spread on the dough. Sprinkle with Parmesan and mozzarella cheese. Working away from you, roll the dough. Use a serrated knife to cut the dough into 10 - 12 rolls.

Grease a 9 inch pie pan. Place the rolls in prepared pan. Cover and play in a cool dark place to rise for 45 minutes.

Preheat oven to 350 degrees.

Brush the rolls with remaining teaspoon of olive oil. Bake in preheated oven 15 - 20 minutes or until rolls have started to brown on top. Turn on the broiler for 2 minutes and broil until golden brown.
Keywords:
appetizer, bread, Christmas, rolls, thanksgiving