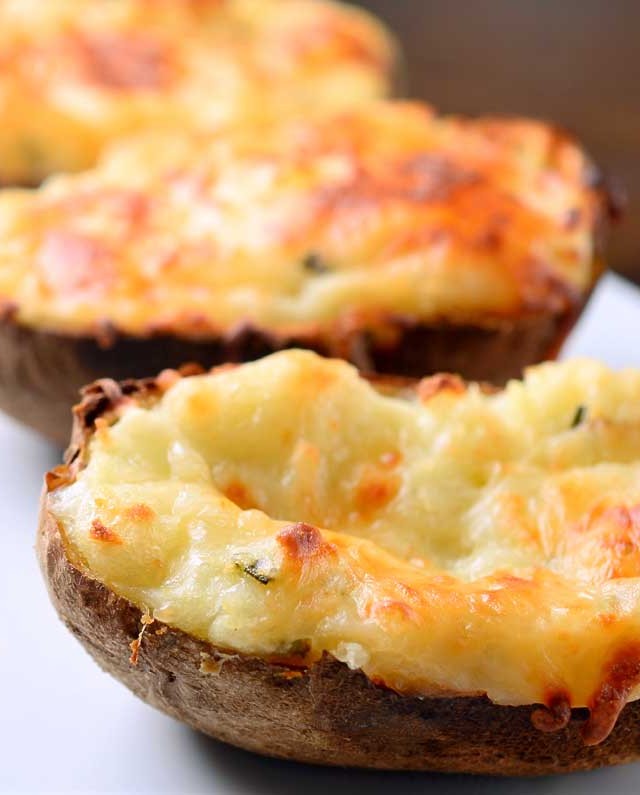 Cheesy Rosemary Twice Baked Potatoes
Mmm…twice baked potatoes. They are seriously the best of both worlds. I love baked potatoes and I adore mashed potatoes and in this dish the two are together. Not to mention the fact that twice baked potatoes are usually loaded with cheese. These Cheesy Rosemary Twice Baked Potatoes are no exception, they get a hefty helping of Kraft shredded mozzarella cheese.
Shredding cheese is probably one of my least favorite things to do in the kitchen. Maybe it stems from when I was a kid and whenever we would have a dinner with cheese, it was my job to shred it. It is because of this that one of my favorite shortcuts in the kitchen is to use Kraft Shredded Cheese. It cuts out all of that shredding time and the cheese always melts so nicely.
Take these twice baked potatoes for instance. I added some shredded mozzarella cheese into the mashed potatoes, along with some rosemary, before I added them back to the baked potato skin and then top them with more mozzarella. The result is a potato with perfectly melted, cheesy goodness throughout.
And since it is the holidays, and lot of us, myself included, are spending a lot of time at Target, the nice people over at Kraft are offering coupons available exclusively at Target so that you can get your holiday shopping done as well as pick up something for dinner.
From shopping for gifts to planning family dinners, it's hard to keep up with all your holiday to-do's. This year, Kraft is helping out with great weeknight meals and entertaining ideas to make the season a little bit easier. Plus, Kraft is offering up to $20 in coupons, redeemable exclusively at Target, to make food shopping easier and to help you have a happy holiday season.
This is a sponsored conversation written by me on behalf of Kraft. The opinions and text are all mine.
Cheesy Rosemary Twice Baked Potatoes
Twice baked potatoes with melted mozzarella and rosemary throughout.
Preheat oven to 400 degrees. Puncture potatoes with a fork about 6 times around the potato, this will allow steam to escape while they are cooking. Bake for 50-60 minutes or until the skins are crispy but the potato is soft. You should be able to insert a fork and remove it easily. Reduce oven temperature to 350 degrees.

Slice the potatoes in half lengthwise (Note: be careful they will retain a lot of the heat for awhile). Being careful not to puncture the skin, spoon out the insides, place them in a mixing bowl and set the skins aside.

To potatoes ad butter and milk. Mash. Then fold in 1/2 cup of mozzarella cheese and rosemary. Carefully spoon mash back into potato skins. Top with remaining mozzarella. Bake in preheated oven for 25 minutes or until cheese is melted. Turn on the broiler and broil for 2 - 3 minutes or until the cheese on top starts to brown. Serve immediately
Keywords:
cheese, Kraft, potato, side dish, Vegetarian