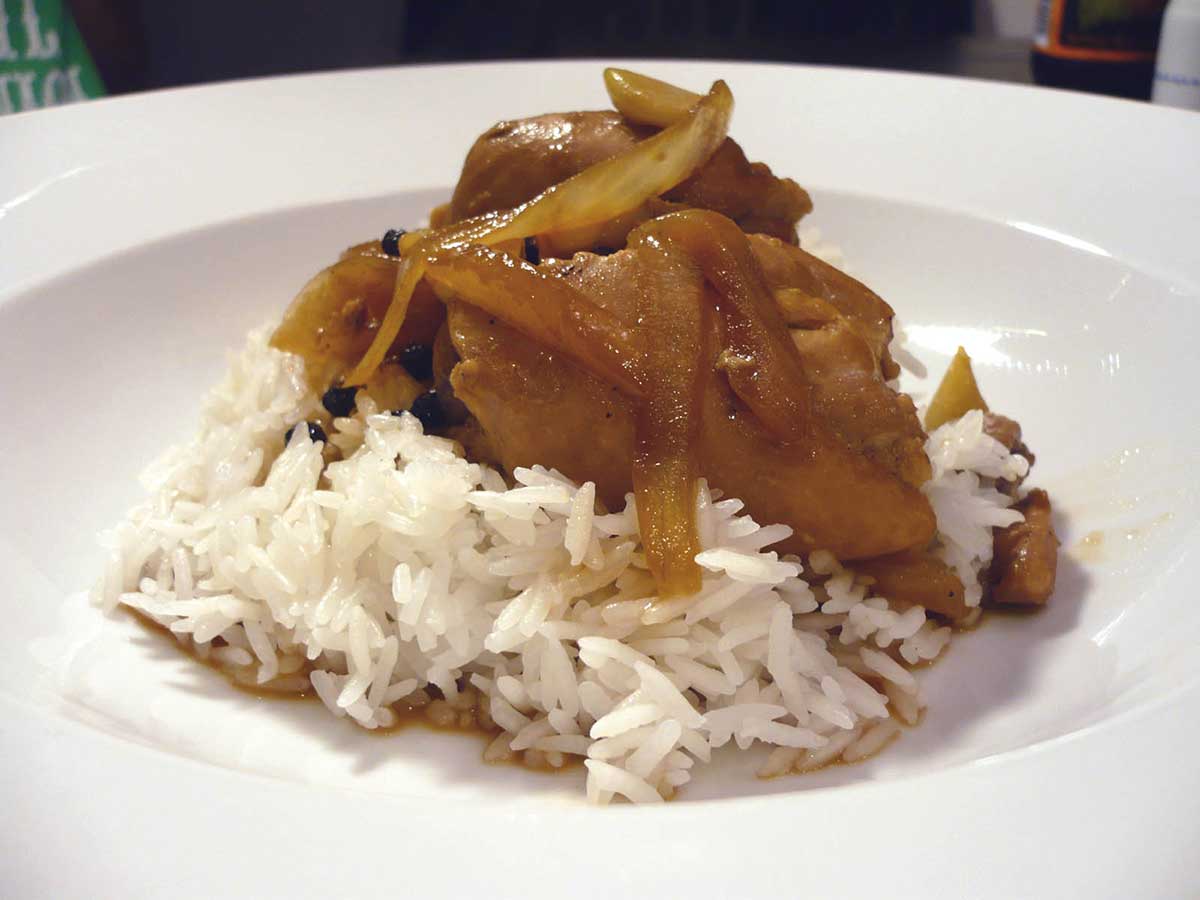 Chicken Adobo
Adobo a traditional Filipino dish. Being part Filipino, I have had many versions of this over the years. My grandmother used to make it, my dad makes it and a good friend of mine also makes it. After trying all of these different versions, I decided to make it my own. While it still holds some of the traditional flavors of soy sauce, vinegar, garlic and peppercorns, my sauce also has the added flavor of onions and chicken broth. My sauce is also a little thinner and goes nicely with steamed jasmine rice.
Chicken Adobo Recipe
Ingredients:
2 tablespoons of olive oil
1 1/2 pounds of boneless skinless thighs
10 garlic cloves, chopped
1/2 medium onion, sliced
2 tablespoons of whole black peppercorns
1/4 cup of soy sauce
1/4 cup of vinegar
1/2 cup of chicken broth
2 bay leaves
2 cups jasmine rice
Instructions
1
In a large skillet heat olive oil over medium heat

2
Add the chicken and 1/2 of the garlic to the skillet. Cook the chicken just until browned. In order to make sure it doesn't get too dry during the rest of the cooking process, it is important not to cook the chicken all the way through at this point. You may need to cook the chicken in batches.

3
Remove chicken and garlic from the pan and discard all but 1 tablespoon of the pan drippings.

4
Add the chicken, garlic back to the pan and add the onion, peppercorns and remaining garlic. Sauté for 2 minutes.

5
Add the soy sauce, vinegar, chicken broth and bay leaves.

6
Cover and cook for 20 minutes.

7
Meanwhile, start your rice and prepare according to the package instructions.

8
After 20 minutes, uncover the adobo and let the sauce boil until it reduces by 1/3. Remove the bay leaves.

9
Spoon the chicken and sauce over the rice and serve.
Notes
Note: The peppercorns can be a bit spicy and while I think that they really do make the dish, some versions I have had used coarsely ground pepper and that works as well. Enjoy!