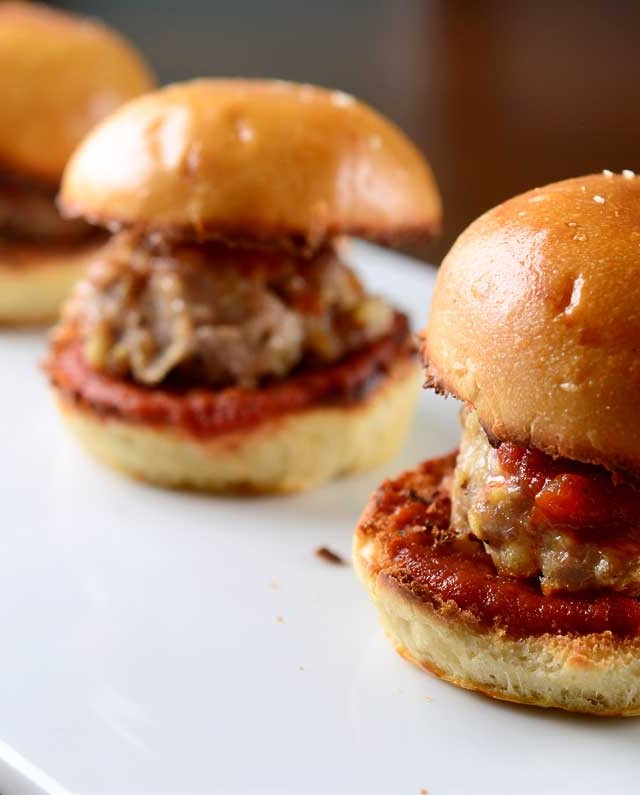 Chicken Parmesan Meatball Sliders
This is a sponsored post for Ragú. I am a brand representative and have been compensated for my time. All opinions are my own.
These Chicken Parmesan Meatball Sliders are one of my favorite quick and easy meals to make. They use a few simple ingredients: ground chicken, a few seasonings, mozzarella and of course Ragú® Old World Style® Traditional Sauce, which is made with 11 juicy tomatoes making it the thickest, richest sauce yet. And it adds just the right amount of delicious tomato goodness to these sliders.
You're probably familiar with the traditional dish: Chicken Parmesan that these are based on. And these sliders have a lot of the same flavor and all of the comfort but they do differ just a tad. First off there is no frying which means not as much mess. They don't take nearly as long to make, which makes them great for busy families. And they are super kid friendly. Which, in my opinion is the best part.
Having a two year old, I am constantly learning and looking for food that he will eat. He's gotten a little pickier the older that he's gotten. But all is not lost. One thing I've found to be successful, if you put meat between a bun, my little guy will gobble it up happily. And when the sandwich is delicious and just his size, like these sliders, it is even better.
This recipe uses only a cup of the jar of Ragú® Old World Style® Traditional Sauce so I think warming extra up and serving it on the side for dipping is a great option. Also, you'll have enough left over to make other recipes during the week.
This is a sponsored conversation written by me on behalf of Ragú®. The opinions and text are all mine.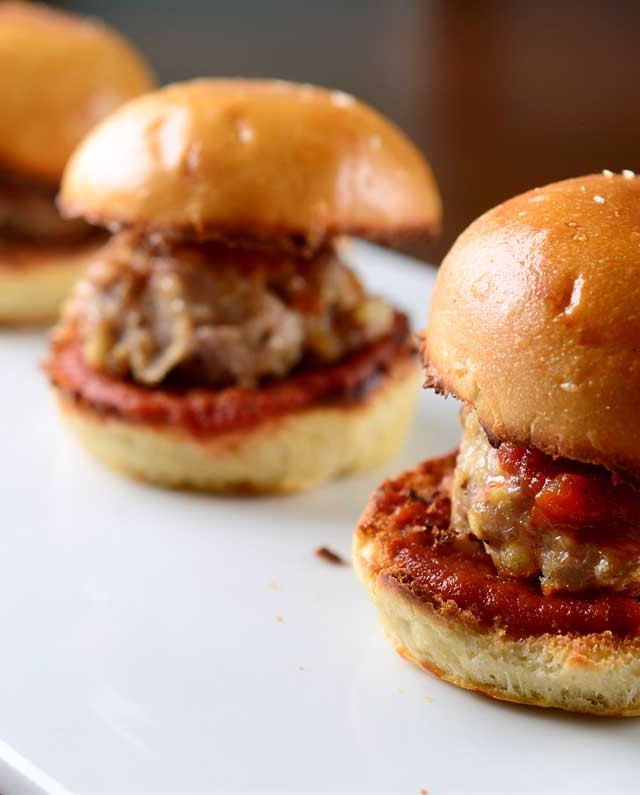 Chicken Parmesan Meatball Sliders
Quick and easy meatball sliders with all the flavor and comfort of Chicken Parmesan.
Preheat oven to 375 degrees

Combine chicken bread crumbs, garlic, oregano, salt, egg and mozzarella together in a bowl. Mix well and roll into 12 1 1/2 inch meatballs.

Place meatballs in a skillet and place skillet in preheated oven. Cook until meatballs are cooked through 20 - 25 minutes.

While meatballs are cooking, heat Ragu® Old World Style® Pasta Sauce until warmed through.

Toast the rolls.

Remove meatballs from oven,

To make a slider, spoon sauce on the bottom of a slider bun. Top with meatball and top of bun. Repeat with remaining ingredients. Serve.
Keywords:
chicken parmesan, meatballs, ragu old world traditional sauce, sliders