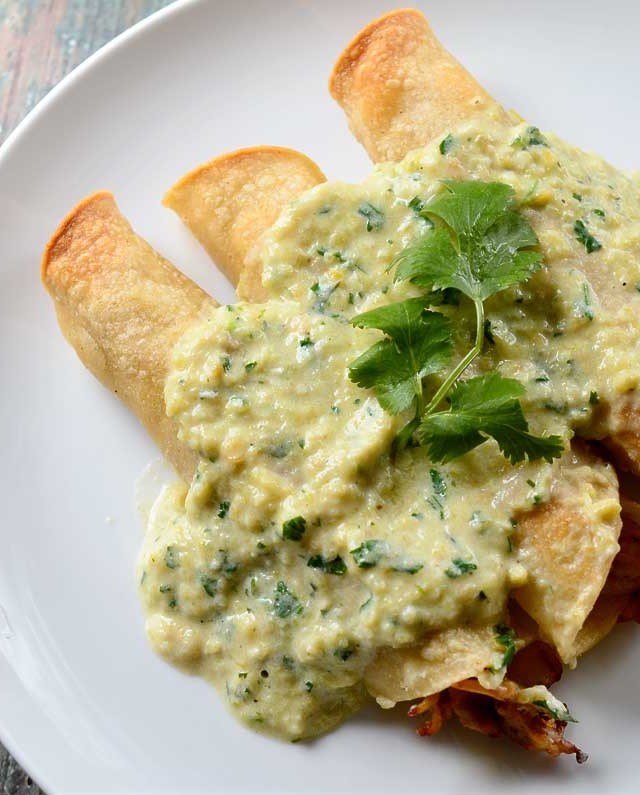 Chicken Taquitos with Creamy Green Chili Sauce
Now that Easter is over, I've shifted gears towards the next holiday: Cinco de Mayo. Well to be honest, this whole pregnancy has felt like one giant prep for Cinco de Mayo. Minus the margaritas of course. I have just wanted all things Mexican. Guacamole, salsa, tacos, black beans, enchiladas. You name a Mexican food and at one time or another during the last 7 months I've craved it.
Taquitos are another one to add to the list. I've always loved taquitos though. It started with my obsession with these Shredded Beef Taquitos from a local Mexican restaurant in my home town.
And just like tacos, I love experimenting with the different things that you can stuff taquitos with. This time around I did a simple stuffing of sauteed chicken, onions, cumin and pepperjack cheese. Then it's all rolled up and baked, because I prefer my taquitos baked 100% over the fried ones, and finally topped with a creamy green chili sauce. Don't they sound just perfect for your upcoming Cinco de Mayo celebration? I think so, in fact, I might just make them again.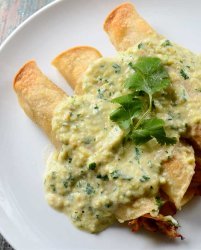 Chicken Taquitos with Creamy Green Chili Sauce
Crispy, baked, chicken taquitos with a cream green chile sauce.
Chicken Taquito Ingredients:
1

tablespoon

oil

plus more for frying tortilas

2

cups

shredded chicken

1/2

medium onion

diced

1/4

teaspoon

cumin

1

cup

shredded pepperjack cheese

12

small corn tortillas
Creamy Green Chili Sauce Ingredients:
Preheat oven to 425 degrees. Lightly spray a baking sheet with non-stick spray.

Heat tablespoon oil in a skillet over medium heat. Add the onions. Cook until they soften, about 10 minutes. Add in chicken, cumin and pepperjack cheese. Cook until the cheese has melted and the chicken is warmed through. Transfer to a plate.

In the same skillet, heat just enough oil to coat the bottom of the skillet. Fry the tortillas, one at a time, until soft and pilable. About 30 seconds per side.

Place a heaping tablespoon of the chicken mixture in the center of each tortilla and roll up. Place the taquitos seam side down. Repeat with remaining ingredients until you've made 12 taquitos.

Cook taquitos preheated oven 15 minutes or until crisp.

While taquitos are cooking, combine green chilies, garlic, cilantro and jalapeno (if using) in a food processor and pulse a few times. Transfer to a small pan and cook over medium heat to heat through and cook the garlic a bit, about 3 minutes. Remove from the heat and allow to cool.

Remove taquitos from the oven and transfer to a serving platter. Just before serving, stir yogurt into the cooled green chile mixture, season to taste with salt and pepper and spoon over the top. Serve.
Keywords:
appetizer, chicken, entree, tacos, taquitos