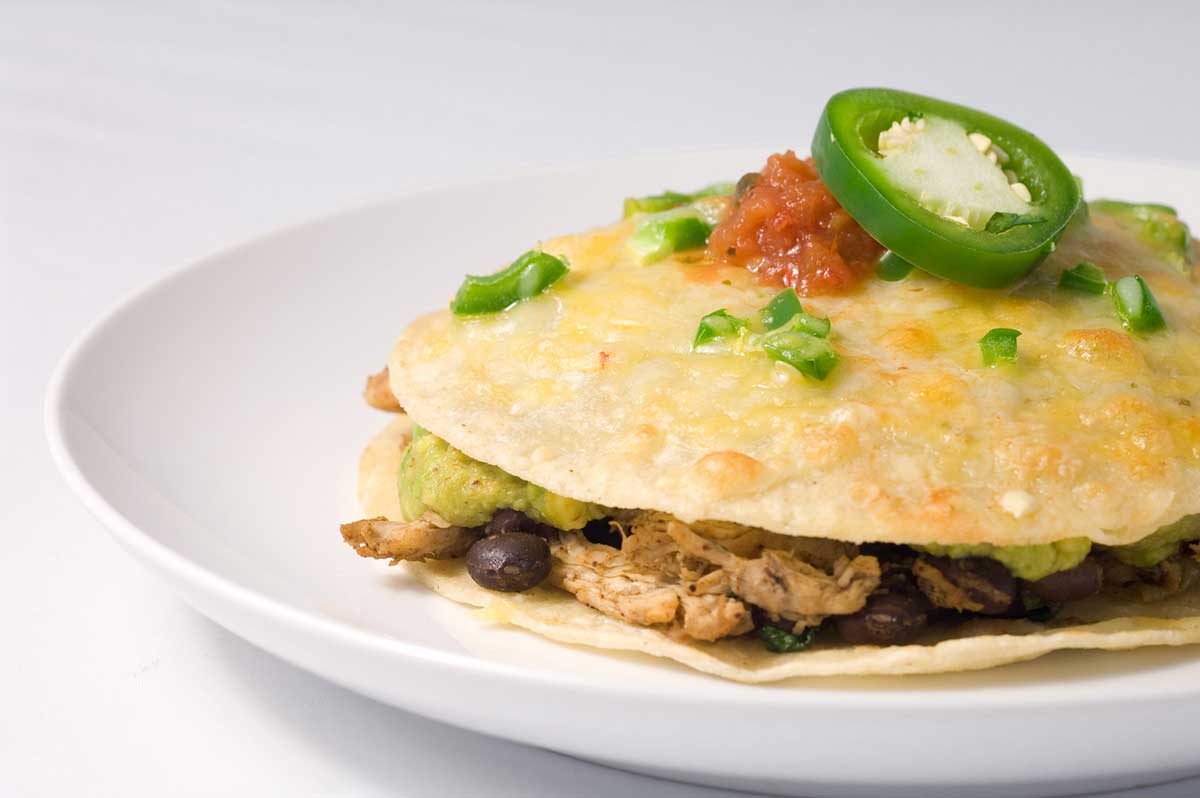 Chicken Tortilla Stack
Ryan is a huge Mexican food fan. So when I gave him a list of things I was thinking of making for dinner last week, I was not surprised that his first response was "oh the Mexican dish!" I have to admit I was not a huge Mexican food fan growing up, but have recently come to enjoy it a lot more. So in honor of  Cinco de Mayo, I decided to make this chicken tortilla stack.  I sandwiched a mixture of shredded chicken breasts, onions, jalapenos, black beans and guacamole between two crispy white corn tortillas. I then topped the stack with shredded cheese, and a couple more diced jalapenos. To finish, I broiled the stack just until the cheese was melted.
When I made this dish I didn't have any left over chicken so I cooked up some chicken breasts and shredded them. If you happen to have left over shredded chicken by all means use it in this recipe. It makes things super easy.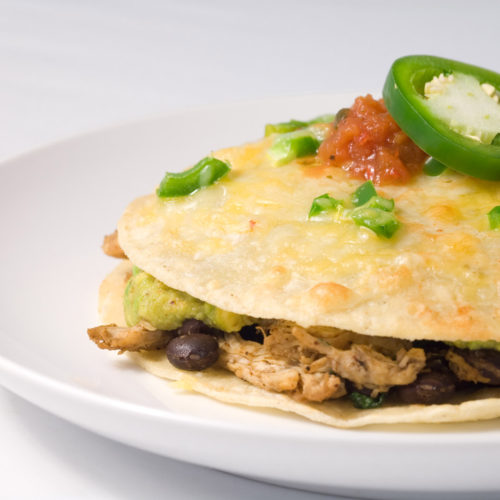 Chicken Tortilla Stack
A mixture of shredded chicken, onions, jalapenos, black beans and guacamole sandwiched between two tortillas, topped with cheese and broiled.
Ingredients:
2

tablespoons

olive oil

1.5

pounds

boneless skinless chicken breasts

about 2 cups

kosher salt and pepper

2

jalapenos

diced, divided

1/2

onion

diced

1/2

teaspoon

cumin

1/2

teaspoon

chili powder

juice of 1/2 lime

1

14.5 ounce can of blank beans, drained

1

handful cilantro

chopped

1-2

tablespoons

vegetable oil

8

white corn tortillas

About 1/2 cup guacamole

I made my own but you can use store bought

1

cup

shredded Mexican cheese blend

fresh salsa and sour cream for garnish if desired
Heat olive oil in a skillet. Season both sides of the chicken with salt and pepper. Cook 15 minutes or until cooked through. Remove. Reserve pan drippings. Allow to cool for several minutes. Shred.

In the same pan that you cooked the chicken, add onion and 1/2 of the jalapenos. Cook 3 minutes or until slightly softened. (Note: If you're using left over chicken, heat 2 tablespoons of olive oil in the pan before adding your onion and jalapeno.)

Return the shredded chicken to the pan. Stir in cumin, chili powder, lime juice, black beans and cilantro. Cook until beans are warmed through.

Turn on your oven broiler.

Heat a tablespoon canola oil in a small skillet over medium high heat. When hot, fry corn tortillas until they start to brown, about 2 minutes per side. Transfer to paper towel lined plate. Repeat until all are fried.

To assemble: Using two corn tortillas per stack, place chicken mixture on top of one tortilla. Spread about 1 tablespoon of guacamole on top. Place other tortilla on top. Sprinkle with shredded cheese and some of the remaining diced jalapeno. Broil until the cheese melts, about 2 minutes. Garnish with sour cream and salsa if desired. Serve.
Serve with an ice cold Coronoa or margarita and you have the perfect way to celebrate everybody's favorite Mexican holiday. You know, the one that people mistakenly think is Mexican independence day, but is actually celebrating the victory in a battle with the French. It is the same one that is celebrated more in the US than in Mexico, but is still a great excuse to eat yummy Mexican food and drink tequila. ;-) Enjoy!
Keywords:
black beans, cheese, chicken, chicken breasts, cilantro, cinco de mayo, Food, jalapenos, left over chicken, Recipe, shredded chicken