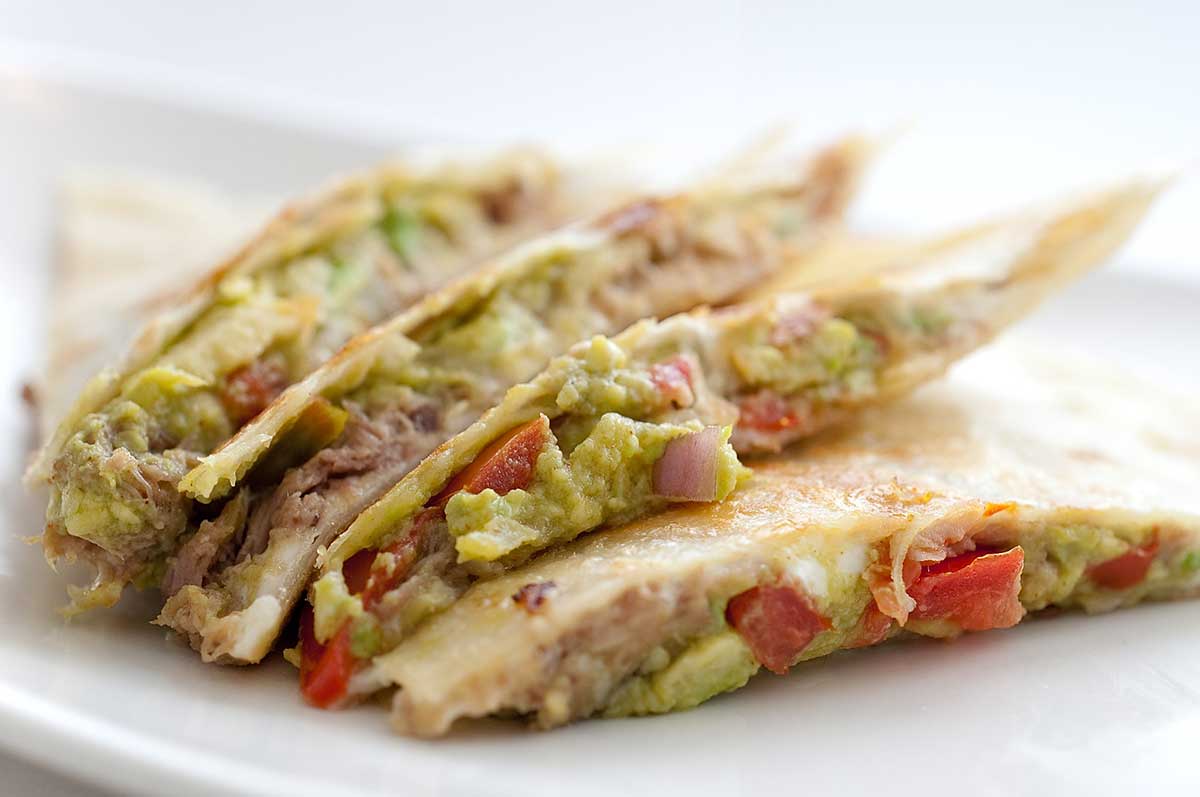 Chile Pork Quesadilla
Guess what! Pork shoulder was on sale this weekend! Why do I get so excited you ask? Well because when pork shoulder is on sale that means that I get to make pulled pork and in case you are not aware, pulled pork is one of the most delicious things ever. When cooked right its succulent, flavorful and melts in your mouth. Another one of the wonderful things about pulled pork is that is so versatile, you can make tacos, appetizers, BBQ sandwiches and Asian sandwiches. And if that wasn't enough, you can also make these chili pork quesadillas with green chilies, Asadero cheese and fresh guacamole.
This is a pretty budget friendly recipe but it does take a little pre-planning because it requires already prepared pulled pork. Below I've included a link to a recipe that I posted a little while back. I always prepare a rather large batch of it when I do make pulled pork for one very simple reason: Ryan and I usually get at least 2 dinners and a few lunches out of it. And when you can get that many meals out of one cut of meat that costs less than $10 I'd say its a pretty good thing.
I also served these with a chipotle dipping sauce. Give it a go if you want to give this dish a kick.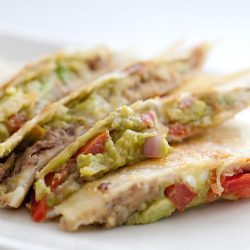 Chile Pork Quesadilla
Another way to enjoy the deliciousness that is succulent, melt in your mouth pulled pork.
Chile Pork Quesadilla Ingredients:
1

tablespoon

olive oil

plus more for cooking quesadilla

1/2

medium yellow onion

diced

1

4 ounce can diced green chilies

1 1/2

cups

shredded Asadero cheese

you can substitute monterey jack if you prefer

4

burrito size flour tortillas
Chipotle Dipping Sauce Ingredients:
To make the chipotle dipping sauce, combine sour cream, mayonnaise and chipotle peppers in a bowl. Chill for 20 minutes. Season to taste with salt.

Heat olive oil in a pan over medium heat. Add onion and cook just until softened, about 5 minutes.

Stir in pork and green chilies. Cook just until warmed through. Reduce heat to low.

In a large skillet heat enough olive oil just to lightly coat the bottom of the pan.

While oil is heating, assemble the quesadilla. Place one tortilla on a flat surface, layer half of the cheese, half of the pork mixture and half of the guacamole and place another tortilla on top. Repeat with remaining ingredients.

Cook in the heated skillet until flour tortillas have browned and cheese has melted. About 2 minutes per side.

Slice and serve.
Keywords:
diced chilies, Food, green chilies, man food, mexican, mexican cusine, mexican food, pork, pulled pork, quesadilla, Recipe, Shredded Pork