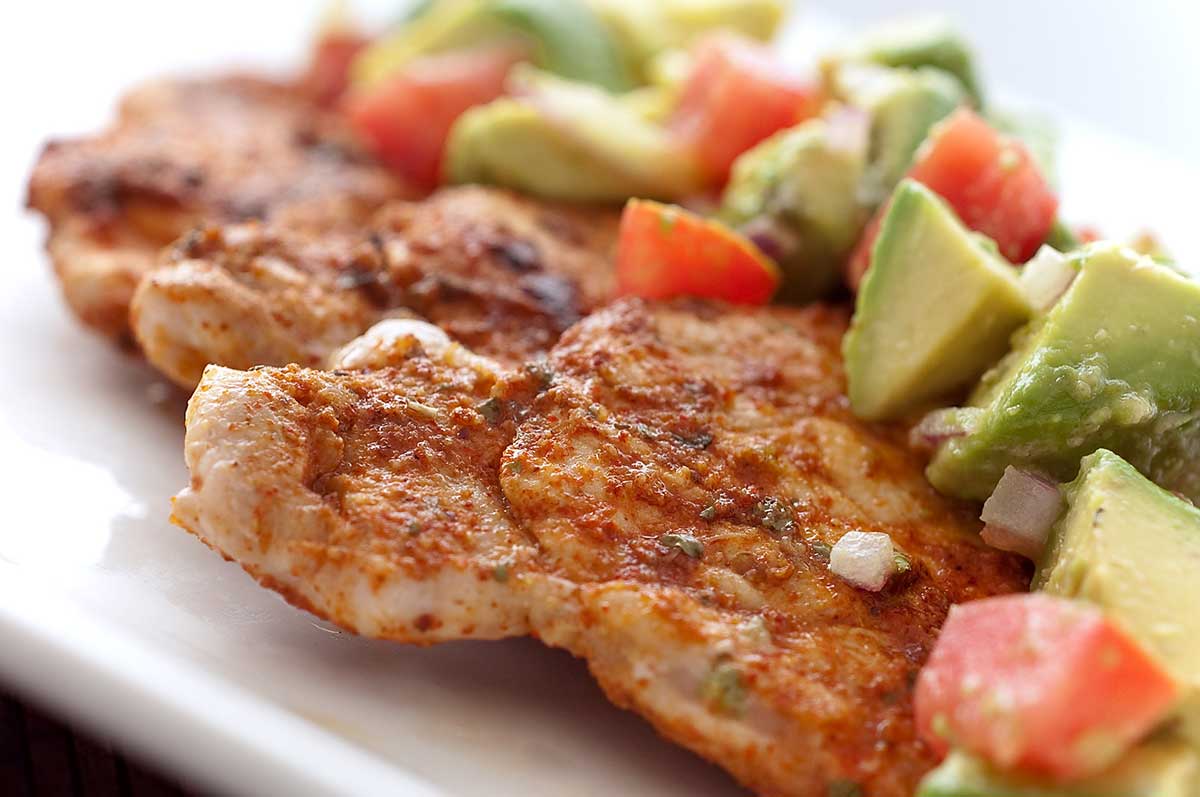 Chili Rubbed Pork with Avocado Salsa
When Ryan saw the title for this post he says "oooh that sounds fancy." Then I thought to myself, you know it really does sound a little fancy.  But I'm going to let you in on a little secret: This recipe is super easy. A simple blend of chili powder, cayenne pepper, cumin, garlic, cilantro, oregano and vinegar is rubbed over thin pork chops before they are sauteed. Then the chili rubbed pork chops are topped with a quick avocado salsa made with fresh avocados, tomatoes, red onion and lime juice. It so easy and quick that you can have dinner on the table in about 30 minutes.
This is another one of those dishes that was inspired by a visit to a restaurant, a Mexican restaurant to be exact. But like all recipes that are inspired by restaurant dishes, I took a few liberties when I made my own version at home. The version that I had at the restaurant was a little spicier so I dialed it down a couple of notches for this recipe, but it still has a kick to it. The version at the restaurant also didn't come with avocado salsa but I happened to have an avocado and thought what the heck. And if I may say so, I think it was a good move. The creamy avocado complimented the spicy pork chops very nicely.
Chili Rubbed Pork with Avocado Salsa Recipe
Ingredients:
1 avocado, pitted, removed from skin and diced
1 roma tomato, seeded and diced
1 tablespoon chopped red onion
juice of 1/2 lime
1/2 teaspoon kosher salt
1 teaspoon chili powder
1/4 teaspoon cayenne pepper
1/2 teaspoon cumin
1/2 teaspoon garlic powder
1/2 teaspoon dried cilantro
1/2 teaspoon dried oregano
1 tablespoon white distilled vinegar
4 pork chops, pounded to 1/4 inch thick
1 tablespoon olive oil
Instructions
1
Combine diced avocado, tomato, red onion and the lime juice in a bowl. Gently stir to combine. Cover and refrigerate for 30 minutes.

2
In another bowl combine salt, chili powder, cayenne pepper, cumin, garlic powder, cilantro, oregano and vinegar. Place pork chops on a plate and pour mixture over the top. Rub the mixture into the pork. Let sit for 20 minutes.

3
After 20 minutes, heat olive oil in a large skillet over medium heat. Pan fry pork chops until they are cooked through, about 3 - 4 minutes on each side.

4
Transfer pork chops to a serving platter, spoon chilled avocado salsa over the top. Serve.

Notes
If you'd like it a little spicier, serve it with a spicy Mexican hot sauce, I like Cholula. Enjoy!