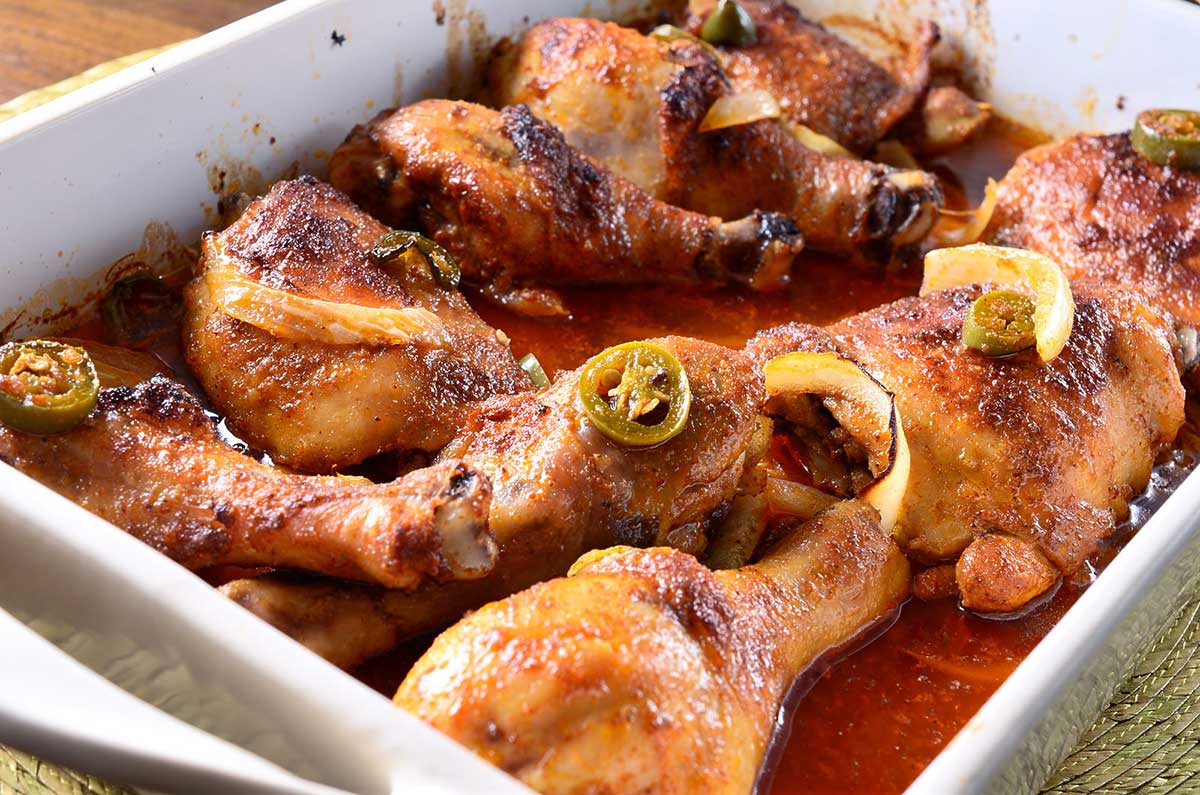 Chili Rubbed Roasted Chicken
We eat a lot of chicken in our house. I mean a lot. There are probably a couple meals a week where chicken is the star. When you eat it so often, you've got to find different ways to cook it. Different seasonings to use. However, in amongst those experiments, I like to go to a tried and true recipe that I love. This happens to be one of them.
I have been using the seasoning blend of garlic, chili powder, salt and cumin for quite some time. It's kind of like my spice blend. The flavors compliment each other so well, especially when sprinkled on chicken. Add some olive oil and vinegar and it makes the perfect marinade. It leaves the chicken tender, moist, flavorful and not to mention the chili powder gives it a really nice color. And the sauce is delicious spooned over some quinoa or rice.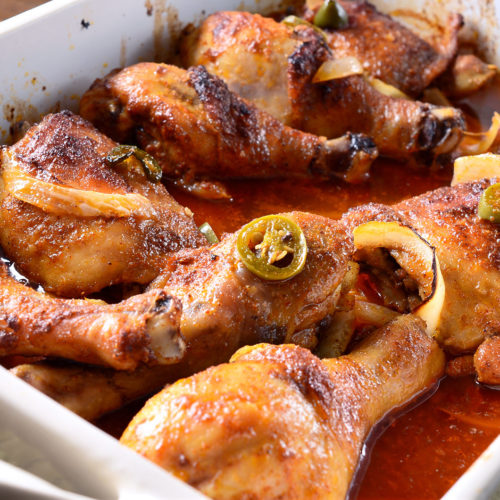 Chili Rubbed Roasted Chicken
Chicken rubbed with chili spice blend then roasted with onions and jalapenos.
Ingredients:
1/3

cup

olive oil

1

teaspoon

kosher salt

1

teaspoon

cumin

2

teaspoons

chili powder

2

teaspoons

garlic powder

1

tablespoon

white vinegar

4

chicken drumsticks

4

chicken thighs

2

jalapenos

stems removed, sliced

1/2

medium yellow onion

sliced

1

cup

chicken broth
Combine olive oil, salt, cumin, chili powder, garlic powder and white vinegar in a bowl and mix well.

Place chicken in a shallow dish. Pour marinade over the top. Toss chicken to coat completely. Cover and refrigerate for 6 - 8 hours or overnight.

Preheat oven to 450 degrees.

Spread sliced jalapenos and sliced onions on the bottom of a baking dish. Lay marinated chicken over the top. Pour any remaining marinade over the top. Pour chicken broth over the top.

Bake chicken in oven for 15 minutes at 450 degrees. Reduce heat to 350 and bake for 20 more minutes. Baste chicken pieces every 10 minutes. After 20 minutes, turn on the broil and broil for 10 minutes to crisp the skin. Transfer to a serving platter. Serve.
Keywords:
chicken, chili powder, entree, Food, Recipe, roasted chicken, spicy food