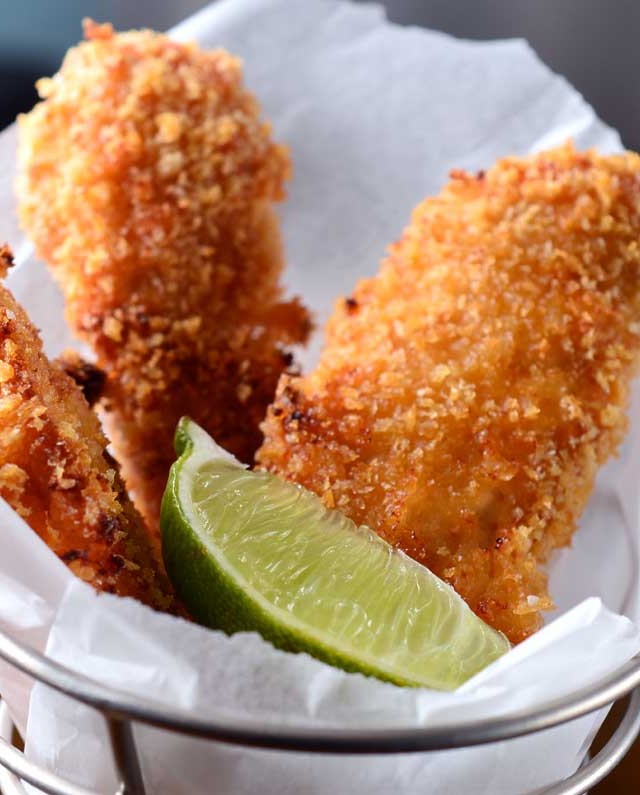 Chipotle Lime Chicken Fingers
Parents of toddlers who are picky eaters raise your hands.
::raises hand::
I used to not belong to this group. I was proud. My boy would eat anything and everything I put in front of him. But as he is getting older, that is changing. Now my sweet little baby that has always loved eating everything is becoming a little bit pickier. It's harder to find things that he will eat.
Oranges? No way.
Tomatoes? Nope.
Mashed potatoes? Shockingly no.
But when he finds something that he does love he can't get enough of it. Like peanut butter. Edamame. Black Beans and any kind of panko coated chicken.
I have always loved cooking panko chicken and because Kellan likes it so much I've been doing much more experimenting with it. Enter these chipotle lime chicken fingers. They are marinated in a creamy chipotle lime marinade, coated in panko and then oven baked until they are golden and crunchy. The result is a chicken finger that is moist and flavorful on the inside and perfectly crunchy on the outside.
Kellan adored them and ate them all. Point for mom and we all know moms can use lots of points! :)
P.S. If you're feeding little ones and are worried about the spice of the chipotle powder start out with 1/2 teaspoon, taste the marinade before pouring it over the chicken and work your way up to a spice that you know your kids will love.
Chipotle Lime Chicken Fingers Recipe
Ingredients:
1 1/2 pound chicken tender strips
1/3 cup mayonnaise
1 1/4 teaspoon chipotle powder
1 tablespoon lime juice
1/2 teaspoon lime zest
1/2 teaspoon salt divided
1 egg
1/4 cup milk
2 tablespoons oil
2 cups panko bread crumbs
1/4 teaspoon garlic powder
Instructions
1
Place chicken tenders in a resealable plastic bag.

2
Combine mayonnaise, chipotle powder, lime juice, lime zest and salt together in a bowl. Pour over chicken. Toss to coat. Close and refrigerate for 4 hours or over night.

3
Preheat oven to 425 degrees.

4
Whisk together the egg and milk. In another bowl combine panko, oil, remaining salt and garlic powder until panko is coated well.

5
Remove chicken from marinade. Dip the chicken in egg and milk. Dredge chicken the panko mixture. Place on a baking sheet. And bake in preheated oven for 15 minutes. Turn and bake for another 10 - 15 minutes or until chicken is golden brown and cooked through.