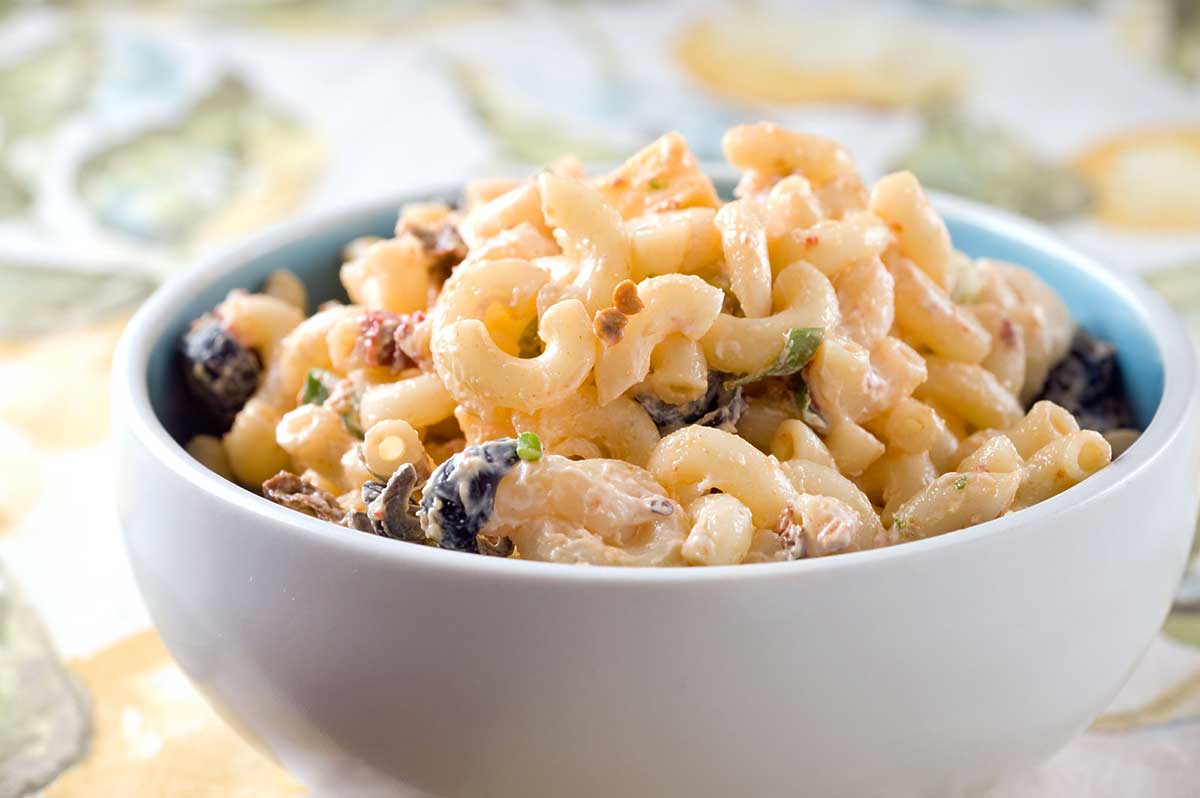 Chipotle Lime Macaroni Salad
I can pretend that the reason that I am choosing to share a macaroni salad during the week of the 4th of July is because I wanted to make something that would be perfect for the upcoming weekend. But the truth of the matter is that this little turkey that is growing in my belly has had a craving for anything and everything with mayonnaise in it. Egg salad, mayo on burgers, tuna salad. Pretty much just short of eating it right out of the jar. I know, weird right? I'll send for help if I have a sudden urge to dig in with a spoon. In the meantime, I'll continue to enjoy creamy pasta salads like this spicy chipotle lime macaroni salad.
Usually I enjoy a traditional macaroni salad. However, this past week I decided to go in a completely different direction. I decided to do a macaroni salad with a bit of a Mexican twist to it. It is full of all kinds of goodies like olives, cheddar cheese and of course chipotle peppers. The recipe calls for 2 chipotle peppers and it was just the right amount of spice for us. If you want something a little less spicy try just using one at first. If you want something more add another pepper or a teaspoon of the adobo sauce that the peppers come in.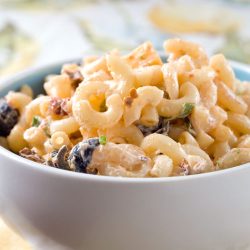 Chipotle Lime Macaroni Salad
For a creamy, spicy version of everyone's fave 4th of July staple macaroni salad, try this Chipotle lime version.
Ingredients:
2

cups

dried elbow macaroni

1/2

cup

mayonnaise

1

tablespoon

lime juice

1/4

teaspoon

ground cumin

1/4

teaspoon

kosher salt

1/2

teaspoon

lime zest

2

chipotle peppers in adobo

chopped

1

2.25 ounce can sliced black olives

2

green onions

diced

1/2

cup

diced cheddar cheese
Cook macaroni according to package directions. Strain under cold running water. Set aside.

In a large bowl whisk together mayonnaise, lime juice, cumin, salt and lime zest.

Stir macaroni and remaining ingredients into the dressing. Cover and refrigerate for at least an hour. After chilled, adjust seasoning with salt if needed and serve.
Keywords:
4th of July Recipes, bbq, chipotle, Food, macaroni salad, pasta, Recipe, salad, side dish, summer