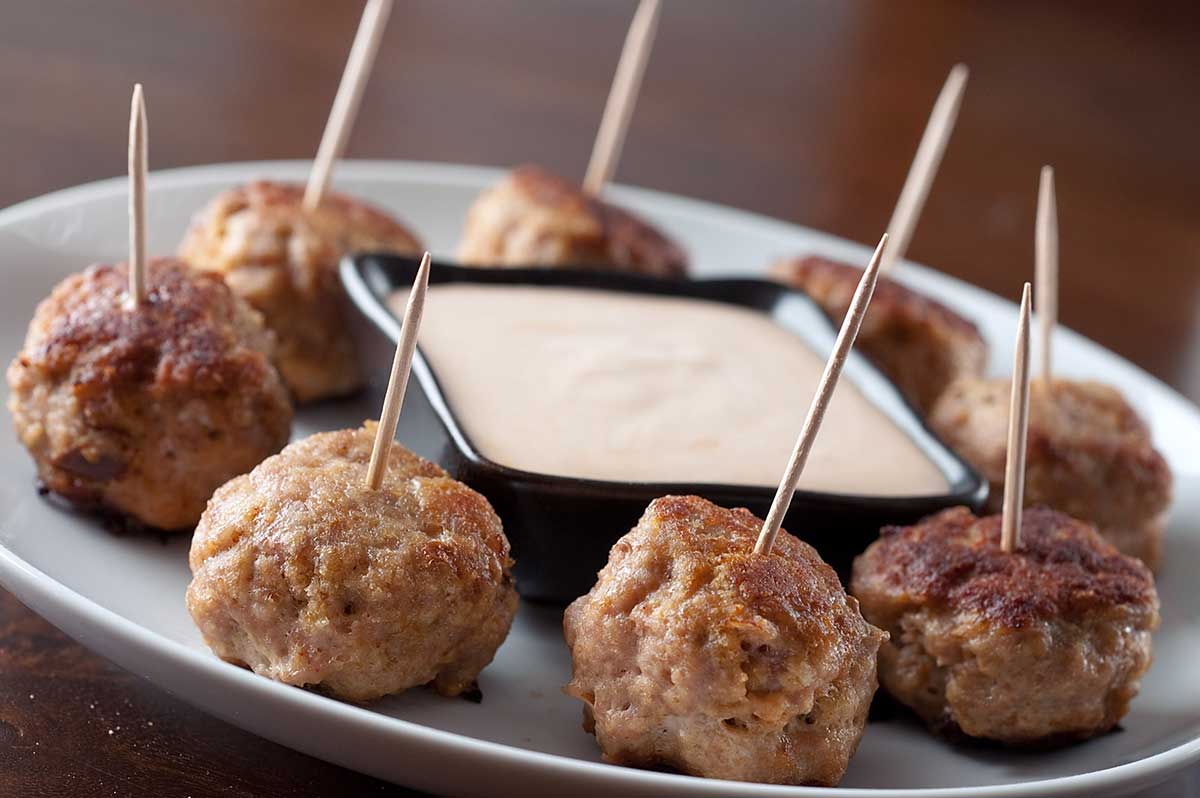 Chipotle Turkey Meatballs
Continuing my quest to find the perfect holiday appetizer I started asking people what they like to see at their holiday parties. Aside from Holiday sweaters of course. According to the majority of the people I talk to, it just isn't a holiday cocktail party without meatballs. There were suggestions of sweet n' sour meatballs, BBQ meatballs,  sausage meatballs, Swedish meatballs. It seemed like just about every corner of the world was covered. But I decided to tackle a Mexican inspired one since it was the one flavor profile that no one mentioned. What can I say, I like a challenge.
It wasn't until this year that I started using chipotle in every dish that I could. I don't know what took me so long to embrace this smoky, spicy pepper but now that I have I cannot get enough of it. You don't need a lot to kick up a dish. In this recipe I only use one chipotle pepper for 1 pound of turkey. The meatballs were a little spicy but nothing that most people couldn't handle. If you want to add a little more spice feel free to add one more chipotle pepper. If you're a glutton for punishment then add 3 more. At least maybe the dipping sauce will help cool you off.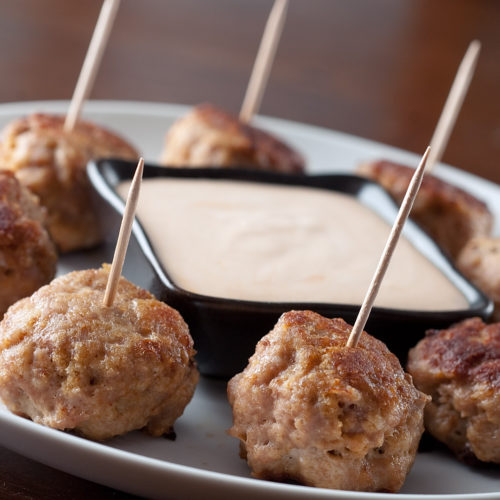 Chipotle Turkey Meatballs
Turkey meatballs get a kick from some chipotle pepper with a cool sour cream chipotle dipping sauce.
Chipotle Turkey Meatballs Ingredients:
1

pound

ground turkey

1/2

cup

plain bread crumbs

1

egg

beaten

1

chipotle pepper in adobo sauce

chopped

1

teaspoon

adobo sauce from chipotle pepper can

1

teaspoon

kosher salt

1

teaspoon

garlic powder

1

teaspoon

cumin

1/2

teaspoon

onion powder

1/4

teaspoon

chili powder

canola oil
Dipping Sauce Ingredients:
Preheat oven to 350 degrees.

Combine all of the ingredients for the meatballs, except canola oil, in a bowl. Mix well. Roll into about 20 meatballs.

Heat a thin layer of canola oil in a pan over medium heat. Once hot, fry meatballs until browned on all sides. Fry in batches if necessary. Transfer browned meatballs to a baking dish and finish baking in the oven until cooked through. About 10 - 15 minutes.

While the meatballs are cooking combine all of the ingredients for the dipping sauce in a bowl. Mix well.

Once meatballs are cooked through, place toothpicks in the top (if desired) transfer to a serving platter and serve with dipping sauce.
Keywords:
appetizer, Christmas, cocktail party recipe, Food, holiday appetizer, holiday party, party food, Recipe, snack, thanksgiving, turkey, turkey meatballs