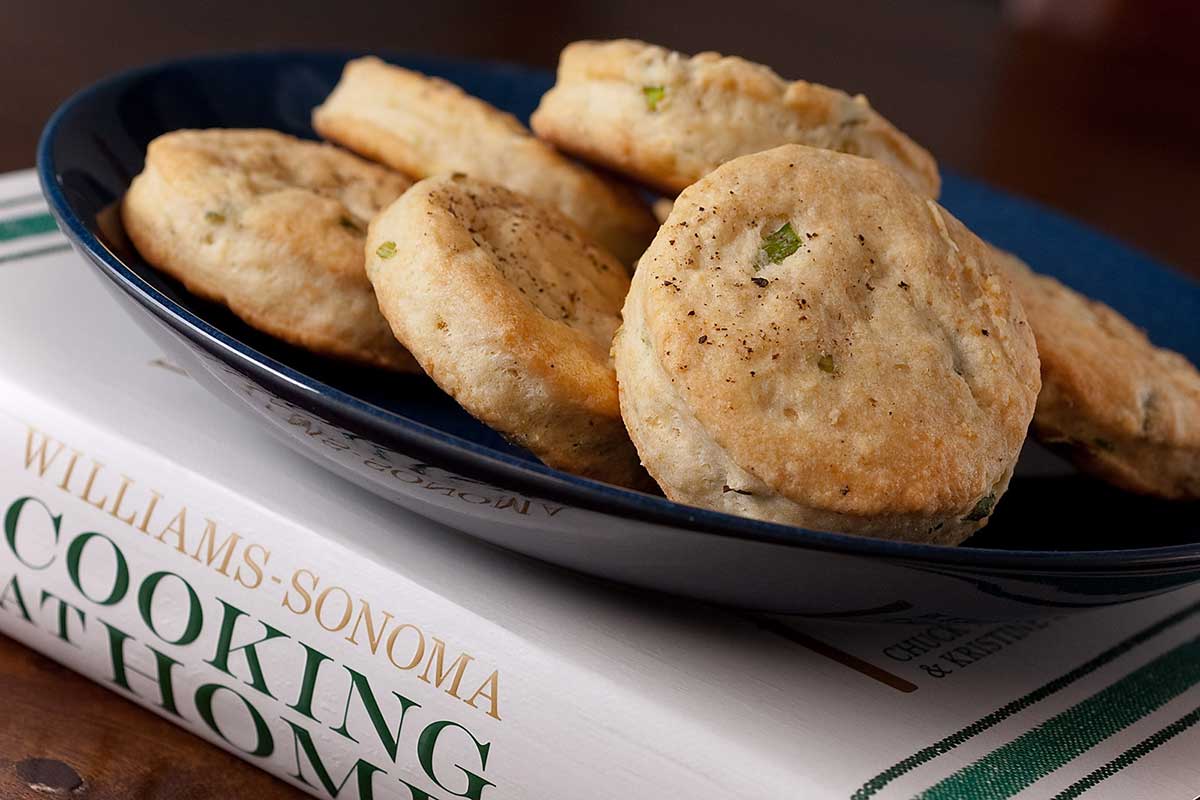 Chive Cream Biscuits
Alright folks, I am going to get real with you. This are delicious. They are flaky, they are oniony and they are sure to make an appearance on my Thanksgiving table. However, I cannot take credit for the deliciousness. You see, these little gems were the work of Chuck Williams and Kristine Kidd from the new book Cooking At Home.  I know, I know, I usually only share recipes that I create, but these were too good to pass up. Along with just about everything else in this must have cookbook. For this reason,  I am giving away a copy, to one of you, just in time for Thanksgiving.
I'm not gonna lie. I'm not much of a biscuit eater. At big family dinners I usually keep passing them on down the table.  However,  they are pretty much expected at a Thanksgiving table so I thought, before the big day,  I better find a recipe that I could use. And I have. These babies are delicious. Not only did I eat one as soon as I pulled them out of the oven. I also ate one while Ryan was taking a picture of them. And then I ate a couple more at dinner. Seriously, they were that good. If you win the cookbook, you must make them.
So what does it take to win this cookbook with an entire chapter on cooking basics, loads and loads of cooking tips throughout and not to mention 1000 down to earth, easy to understand, scrumptious recipes like these biscuits, Cider Glazed Turkey with Cider Gravy and Baked Sweet Potatoes with Creme Fresh? Simply leave a comment below telling me what you are most looking forward to eating this holiday season.  Me? I'm looking forward to eating my weight in mashed potatoes.
Reprinted with permission
Giveaway Rules:
One entry per person.
No entries after November 9, 2010 at 5pm PST .
Open to US residents only.

Disclosure: I was given a copy of this book to giveaway.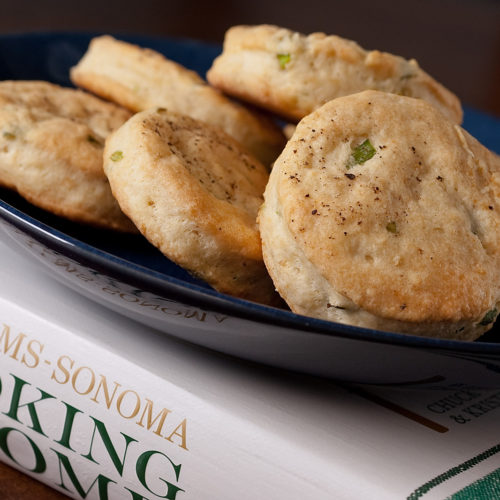 Chive Cream Biscuits
Chive Cream Biscuits are perfect for your Turkey day table. Plus a MUST HAVE cookbook giveaway.
Position a rack in the upper third of the oven and preheat the oven to 425 degrees.

In a large bowl, stir together the flour, chives, baking powder, salt and pepper. Gradually stir in enough of the cream to form a dough that comes together into a ball.

Transfer the dough to a floured work surface and knead gently, adding flour as needed to prevent sticking, until smooth, about 10 turns. Roll out the dough 1/2 inch thick. Using a round biscuit cutter 2 1/2 inches in diameter cut out as many biscuits as possible. Transfer the biscuits to an ungreased baking sheet, spacing them 1 inch apart. Gather together the scraps, roll out 1/2 inch thick and cut out as many additional biscuits as possible. Add to the baking sheet. Brush the biscuits with the melted butter and sprinkle with pepper.

Bake until light brown, about 15 minutes. Remove the biscuits from the oven and serve hot or let cool an the pan on a wire rack and serve warm.
Keywords:
biscuits, chives, Christmas, cookbook, Cooking At Home, cream, Food, giveaway, Recipe, side dish, thanksgiving, Williams Sonoma