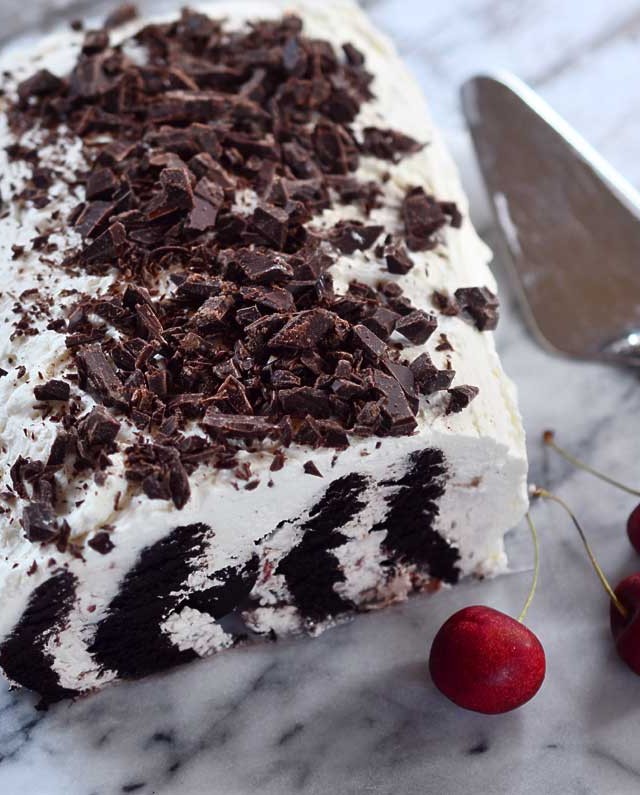 Chocolate Cherry Icebox Cake
Prior to my first pregnancy, I was never much of a dessert eater. Now, however, my sweet tooth is kind of out of control. During the fall and winter it's satisfied by cookies, cakes, brownies and of course pumpkin pie. In the summer though it just gets too hot to bake. And while ice cream and popsicles are great, sometimes I just want a cake. That is where ice box cake comes in. It's rich, decadent, delicious and 100% no bake. Perfect for hot summer days!
If you aren't quite sure what an ice box cake is, it is a dessert that is made by sandwiching crisp cookies with whipped cream and then topping the whole thing with more whipped cream. You then place it in the fridge for several hours, over night is best, and what you get the next day is in one word: amazing. The whipped cream softens the cookies so that they become cake-like. And the whipped cream…well it's whipped cream so it's heavenly.
For this version, I decided to do something a little different. I decided to incorporate the beautiful fresh cherries that are in season. Now, I am a firm believer in the phrase "If at first you don't succeed, try, try again". If I wasn't, I would've given up after the first time I attempted to make this cake. You see, I originally tried to make this cake with layers of double stuff Oreos, fresh chopped cherries and homemade whipped cream.
WOAH MAMA. It sounded good in theory but it was R.I.C.H.
Strike one.
The second time I made this cake, I took the stuffing out of the Oreos, still used fresh chopped cherries and homemade whipped cream.
It was pretty good, but I felt like the cherries were still a bit much.
Strike two.
Finally, I decided to ditch the Oreos and use Nabisco Chocolate Wafers because I wanted a cookie that was a bit bigger. Instead of a layer of fresh chopped cherries, I made a cherry whipped cream for the inside layers and a vanilla whipped cream for the outter layer. I did add some cream cheese to the whipped cream to make it a little heavier so it could hold the cherries. And finally, to get a bit more chocolate in, because more chocolate is always a good thing, I chopped some dark chocolate pieces and sprinkled it over the top.
Home. Run.
This dessert is decadent without being overly rich. The cookies turn into a moist cake layer. The cherry flavor in the cherry whipped cream is subtle but scrumptious. It is just all around a delicious dessert and one I will be making again and again this summer.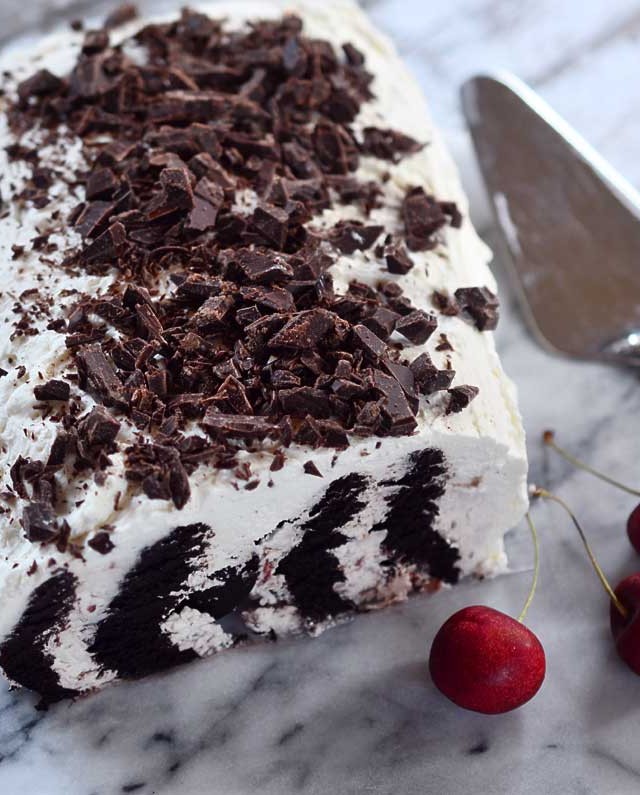 Chocolate Cherry Icebox Cake
A no-bake dessert with chocolate wafers, fresh cherry whipped cream, vanilla whipped cream and dark chocolate pieces.
Ingredients:
1 1/2

cups

halved and pitted cherries

8

ounces

cream cheese

softened

3/4

cup

powdered sugar

1

teaspoon

vanilla

2 1/2

cups

heavy cream

1

9 ounce package Nabisco Famous Chocolate Wafers

2

ounces

bittersweet chocolate

chopped
Place the bowl and beater of a stand mixer in the freezer for 10 minutes. If you aren't using a stand mixer, place a bowl and the beaters of a hand held mixer in the freezer.

Pulse the cherries in a food processor until finely chopped.

In the chilled bowl, beat cream cheese and powdered sugar together until smooth. Beat in vanilla. Slowly pour in heavy cream and beat, over medium speed, until stiff peaks form. About 3 minutes. Don't over beat or the cream will have a butter consistency.

Remove half of the whipped cream and set aside.

Gently fold the chopped cherries into the remaining half of whipped cream.

To assemble the cake, lay one wafer flat on your serving platter, top with about 2 teaspoons of the cherry whipped cream, top with another wafter to build a small tower. Continue building the tower with 19 more wafers. Turn the tower on it's side on the serving platter. Build another tower with the remaining cherry whipped cream and 20 more wafters. Lay that tower on it's side next to the other tower. You will have two cookie logs.

Spoon and spread the reserved vanilla whipped cream over the top of the logs until they are completely covered. Sprinkle with chopped chocolate. Cover and refrigerate for at least 6 hours. Overnight is best.

Slice on the diagonal and serve.
Keywords:
cherries, dessert, icebox cake, sweet, whipped cream