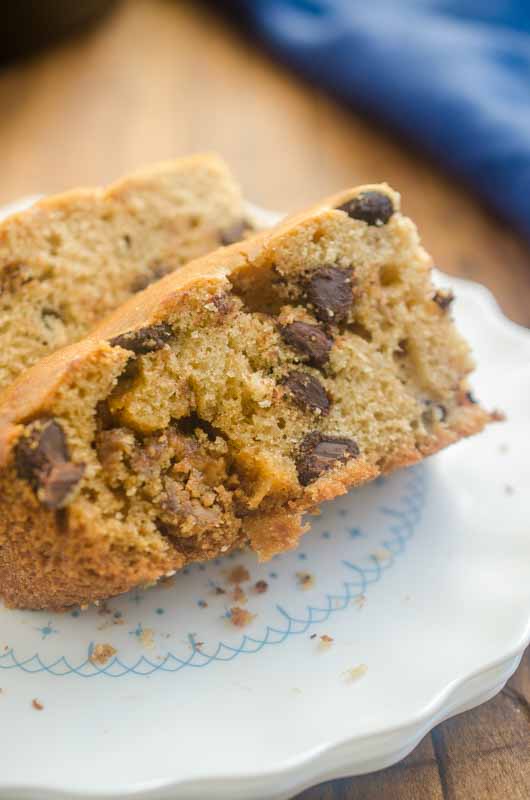 Chocolate Chip Cookie Butter Bread
If you like chocolate chip cookies and cookie butter, you're going to LOVE this Chocolate Chip Cookie Butter Bread. Its a perfectly sweet afternoon snack!
I'm going to let you in on a little secret: I've only been a coffee drinker for like 3 years. I was never a coffee drinker before I had my first cold brew a few years ago and now I can't get enough. Coffee has become my way of treating myself. I have quiet times in the morning drinking it after I drop Kellan off at school. Then in the afternoon, I enjoy another cup while the kids are busy playing.
Coffee time = me time.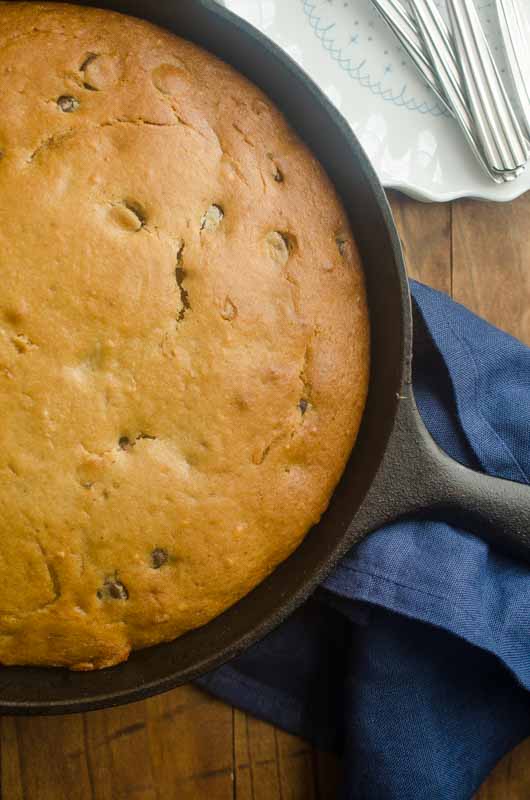 Speaking of me time, there is nothing better than sitting down to a hot cup of coffee and a sweet treat in the afternoon. Am I right?
This Chocolate Chip Cookie Butter Bread is exactly that. It's loaded with dark chocolate chips and swirled with spiced cookie butter. It's the perfect amount of sweet and perfect for afternoon snacking.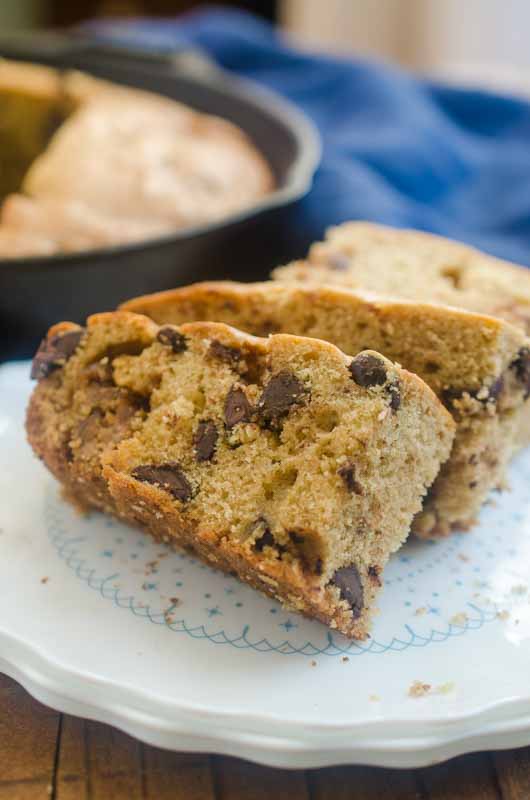 If you have never had cookie butter, it's basically a butter made out of spiced cookies. The first cookie butter I tried was Biscoff but alas, it can be kind of hard to find. Trader Joe's on the other hand, carries Speculoos Cookie Butter which is just as tasty and works perfectly in many recipes.
When I baked this Chocolate Chip Cookie Butter Bread, I thought back to the Dulce De Leche Banana Bread I made recently. I cooked that bread in a cast iron skillet. I love the crispy edges that the bread gets and I also love that it cooks pretty quickly.
That being said, you could cook this Chocolate Chip Cookie Butter Bread in a loaf pan like you would any other bread. You would just need to increase the cooking time to about 50 – 60 minutes.
Either way, this Chocolate Chip Cookie Butter Bread is bound to be your new favorite afternoon snack.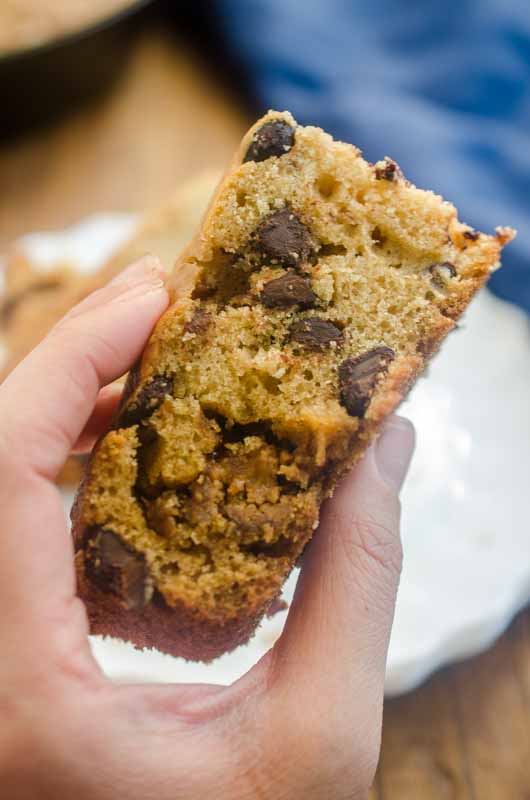 Or maybe breakfast, I won't tell.

Chocolate Chip Cookie Butter Bread Recipe
Ingredients:
1/4 cup melted butter
2/3 cup packed brown sugar
2 eggs
1 teaspoon vanilla
2 cups flour
1 teaspoon baking soda
1/2 teaspoon salt
1 cup buttermilk
1/2 cup cookie butter
1 cup dark chocolate chips
Instructions
1
Preheat oven to 350 degrees.

2
Whisk melted butter and sugar together. Whisk in eggs one at a time. Whisk in vanilla.

3
In another bowl combine flour, baking soda and salt.

4
Slowly whisk dry ingredients into wet ingredients. Whisk in buttermilk.

5
Fold in cookie butter and chocolate chips.

6
Spread batter into a 10 inch cast iron skillet. Bake in preheated oven 30 - 35 minutes or until a toothpick inserted comes out clean. Allow to cool, slice and serve.