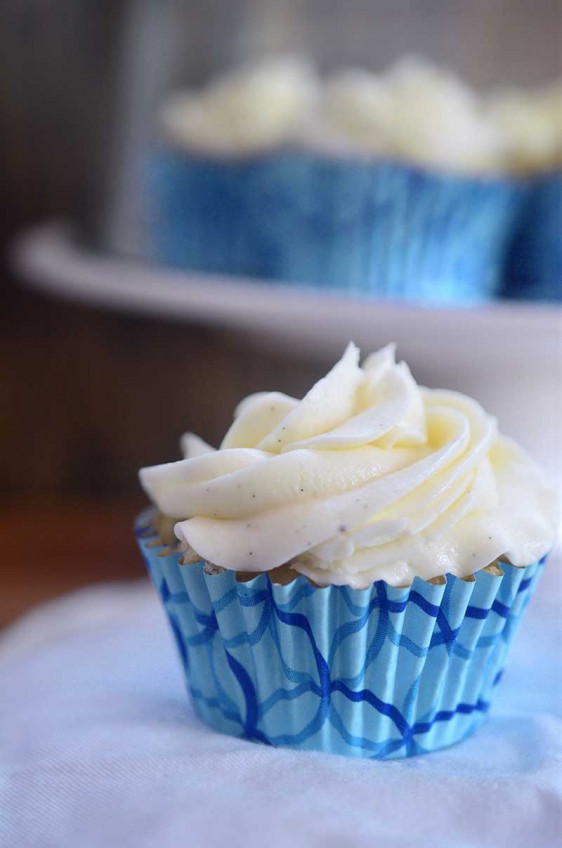 Chocolate Chip Cupcakes with Vanilla Bean Buttercream
I began thinking, as Ryan and I finished off the last of the Malted Mocha Chocolate Chip Ice Cream the other night, that it had been a long time since I've made a baked dessert. Then I thought, it's almost fall, it's time to get the oven going again. Every once in a while you need a good baked good, am I right? Enter these Chocolate Chip Cupcakes with Vanilla Bean Buttercream.
It has been warm here in the Pacific Northwest since about early May. That is just unheard of. There is this long running joke that our summer doesn't actually start until the 5th of July.
Not this year. This year it has been hot, hot, hot. That has meant a lot of grilling, a lot of salads and a lot of cool summer treats like popsicles and ice cream.
But then all of a sudden last week, fall hit. More like came in with a stormy bang that knocked power out to much of the city (luckily it just missed us). But it has been cloudy, cool and downright blustery for the last several days. And while it's not great for my garden that just finally started doing well after burning up in the intense heat, it does make me kind of happy.
I'm a northwesterner at heart and I admit it. I kinda like the rain.
I kinda like it because it means that I get to get into the kitchen and make things like these Chocolate Chip Cupcakes with Vanilla Buttercream.
I think cupcakes might be Ryan's favorite dessert. I'm guessing it's because they are basically a vehicle for frosting and he LOVES frosting. This Vanilla Buttercream one is simple and delicious. It is your basic buttercream except that you simply add the loveliness of the inside of a vanilla bean. It adds a wonderful vanilla flavor, and not to mention makes the frosting kind of pretty too with all the little flecks.
That is not to say, though, that these Chocolate Chip Cupcakes can't hold their own. They are decadent, soft and loaded with chocolate chips.
Basically, between the creamy vanilla bean buttercream and the decadent chocolate chip cupcake, these are the perfect dessert to welcome back baking season.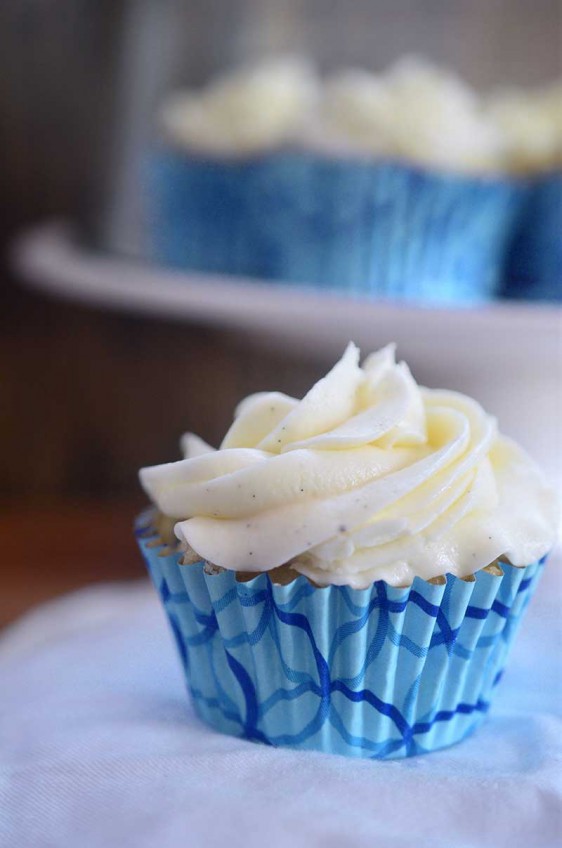 Chocolate Chip Cupcakes with Vanilla Bean Buttercream
Decadent chocolate chip cupcakes topped with a creamy vanilla bean buttercream.
Chocolate Chip Cupcake Ingredients:
Vanilla Bean Buttercream Ingredients:
1/2

cup

unsalted butter

2 1/2 - 3

cups

powdered sugar

pinch

salt

1/2

teaspoon

vanilla extract

2 - 3

tablespoons

whole milk

1

whole vanilla bean
Preheat oven to 350 degrees and line cupcake tin with cupcake liners.

In the bowl of a stand mixer, beat together butter and sugar until light and fluffy. Beat in eggs one at a time, scraping down the sides of the bowl after adding each egg. Beat in vanilla.

In another bowl combine flour, baking powder and salt.

Slowly add in 1/3 of the dry mixture. Then add in 1/3 of the milk. Repeat alternating until all ingredients have been added. Fold in chocolate chips.

Fill cupcake liners 2/3 of the way full (about 1/4 cup of mixture). Bake for 15 - 20 minutes or until a toothpick inserted comes out clean. Remove from oven, allow to cool several minutes then transfer to a cooling rack to cool completely.

Meanwhile make frosting by beating together butter and sugar until fluffy. Beat in vanilla extract. Beat in 2 tablespoons milk until a stiff spreadable mixture forms. If too stiff, add remaining milk.

Use a small knife to gently slice down the middle of the vanilla bean and scrape the insides into the frosting. Continue mixing just until combined.

Place frosting in a piping bag and pipe onto cupcakes. Serve.

If you refrigerate the cupcakes, take them out about an hour before serving.
Keywords:
buttercream, chocolate, chocolate chip, cupcakes, frosting