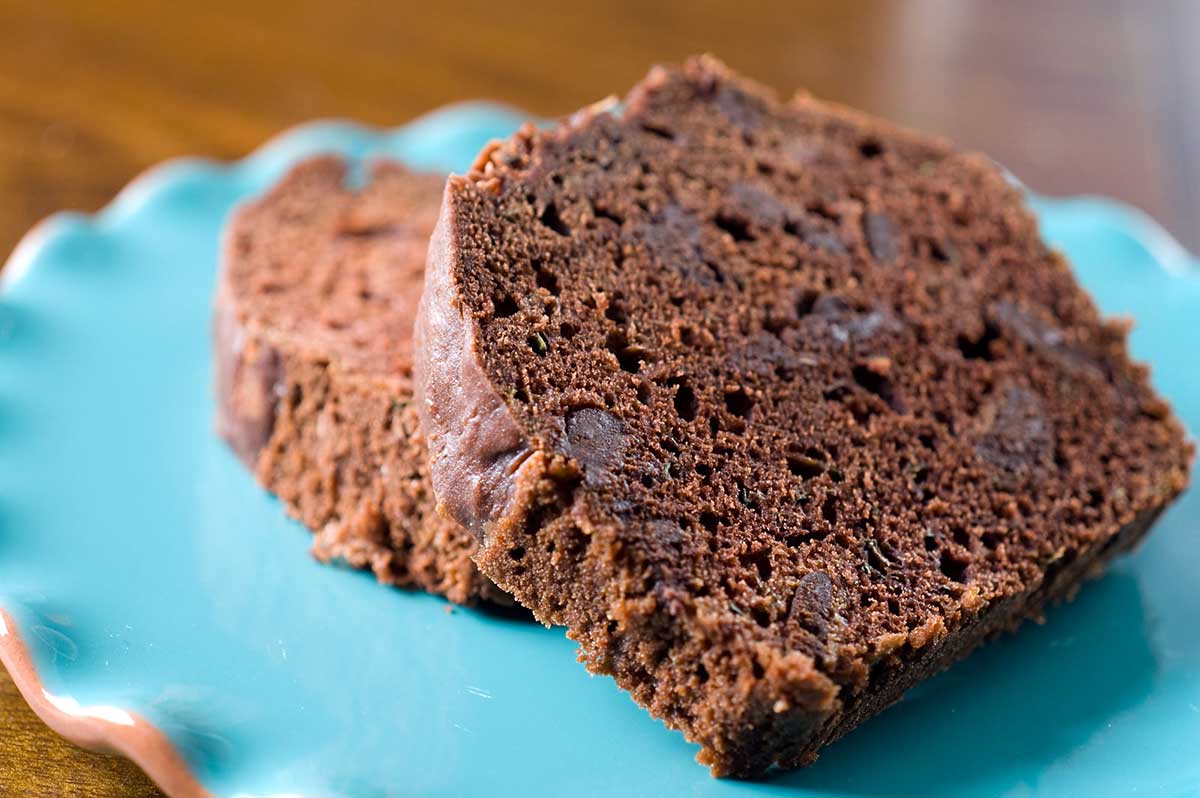 Chocolate Chocolate Chip Zucchini Bread
I know, I know, my last recipe showcased zucchini too but here's the thing, I went to the farmer's market to buy some of the last bit of summer's zucchini and they were huge not to mention half of what I would've paid had I bought the much smaller ones at the grocery store. So I made the executive decision to buy 4 of them knowing how versatile zucchini is. As a result, Ryan and I have been eating it with just about every meal. Or in my case, I've been eating this bread for just about every meal. Hey it is made with a vegetable.
I had seen recipes combining chocolate and zucchini before but I had never tried it myself. Since I had an abundance of zucchini I figured why not give it a try, if it doesn't work out I'll just make regular zucchini bread. And since I was experimenting I decided to not just add cocoa powder to the mix, but also folded some dark chocolate chips in too. The result was perfectly chewy, chocolaty bread with bits of melted chocolate throughout. Seriously, one try and you tell me that you wouldn't be eating it for every meal too.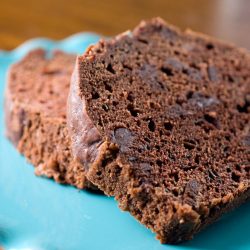 Chocolate Chocolate Chip Zucchini Bread
Chewy, chocolaty zucchini bread loaded with chocolate chips. Perfect for breakfast, lunch and dinner.
Preheat oven to 350 degrees.

Place shredded zucchini in paper towels and squeeze to remove the excess moisture. Set aside.

In a medium bowl whisk together flour, baking soda, salt and cocoa powder.

In another bowl, whisk together eggs, sugar, vanilla and butter. Stir in zucchini. Whisk in flour mixture gradually. Fold in the chocolate chips. Batter will be thick.

Grease a 9 1/2 x 5 1/2 loaf pan with a little butter and spoon in the mixture. Cook 50-60 minutes or until a toothpick inserted comes out clean.

Remove from oven, cool in pan for about 30 minutes. Remove from pan, place on cooling rack and cool completely before slicing.
Keywords:
appetizer, bread, chocolate, chocolate chip, chocolate zucchini bread, dessert, fall, snack, summer, zucchini, zucchini bread