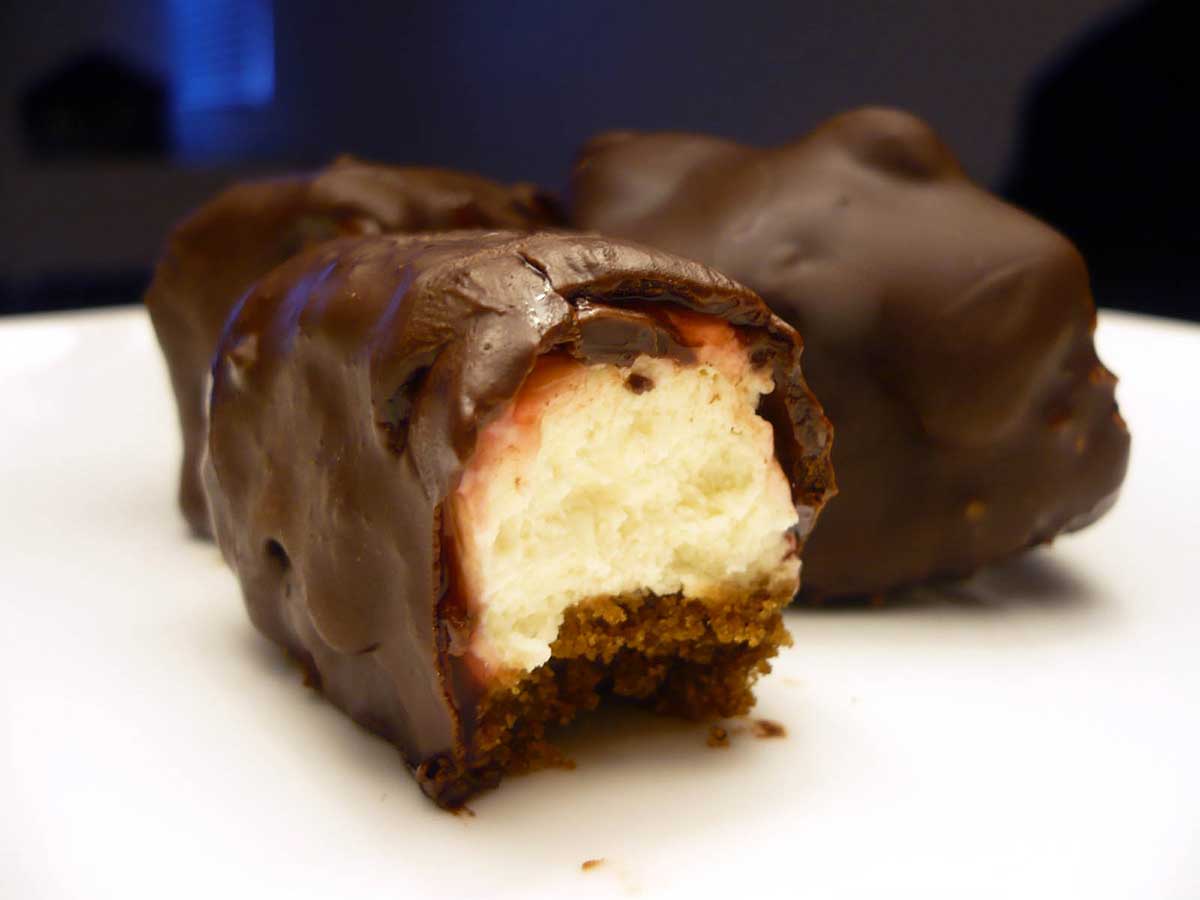 Chocolate Covered Cherry Cheesecake Bites
To me cheesecake is like heaven on a plate, but a whole cheesecake would never get eaten in our house because it is just the two of us. OK well never is a strong word, it would get eaten, but with all of the other goodies I am eating this time of year, I figured these little bites would be the better option. There is gingersnap crust, creamy cheesecake filling, and sweet cherries all coated in decadent dark chocolate. Pure bliss.
Chocolate Covered Cherry Cheesecake Bites Recipe
Ingredients:
2 cups gingersnap cookies, crushed
1 tablespoon of butter melted
2 (8oz) packages of cream cheese
1/3 cup sugar
1/3 cup sour cream
1 teaspoon of vanilla
2 eggs
1 can of cherry filling
12oz bittersweet chocolate chips ( I chose bittersweet because I really like dark chocolate but you can use semi sweet if you prefer)
1/3 cup shortening
Instructions
1
Preheat oven to 400 degrees.

2
Line a 8"x8" glass pan with foil, be sure to cover the sides, you are going to use this to lift the cheesecake out of the pan.

3
Combine the melted butter and gingersnap crumbs and press into the bottom of the pan. Cook for 10 minutes. Remove and set aside.

4
While your crust is cooking, in a medium bowl combine all of the ingredients for the cheesecake filling. Mix until creamy and smooth. Pour into the crust. Bake for 40 minutes or until the center is set.

5
Remove from the oven and set on a cooling rack for 40 minutes.

6
Put the cheesecake in the refrigerator for 2 more hours. Remove and spread the cherries on top. Now put the cheesecake in the freezer for 1 1/2 to 2 hours. Remove and slice into approximately 40 pieces.

7
You can make your chocolate sauce right before you pull the cheesecake out of the freezer. To make the chocolate sauce, melt the shortening and chocolate in a small sauce pan. Once melted remove from heat.

8
Using a fork gently poke the cheesecake bites and dip them in the chocolate, using a spoon to make sure they get completely coated. Set them on a cooling rack with wax paper underneath to catch the chocolate. You may want to spoon some over the top to cover your fork marks. Refrigerate for 15-20 minutes.
Notes
A couple of notes about these: First, they can get really messy when you are making them, I actually dropped a few in my chocolate sauce but don't let that discourage you! They are worth all of the work trust me. Second, they are not going to look perfectly smooth when you are done with them. But really who cares? Its chocolate covered cheesecake! Beautiful, sinful, luscious cheesecake. Enjoy!