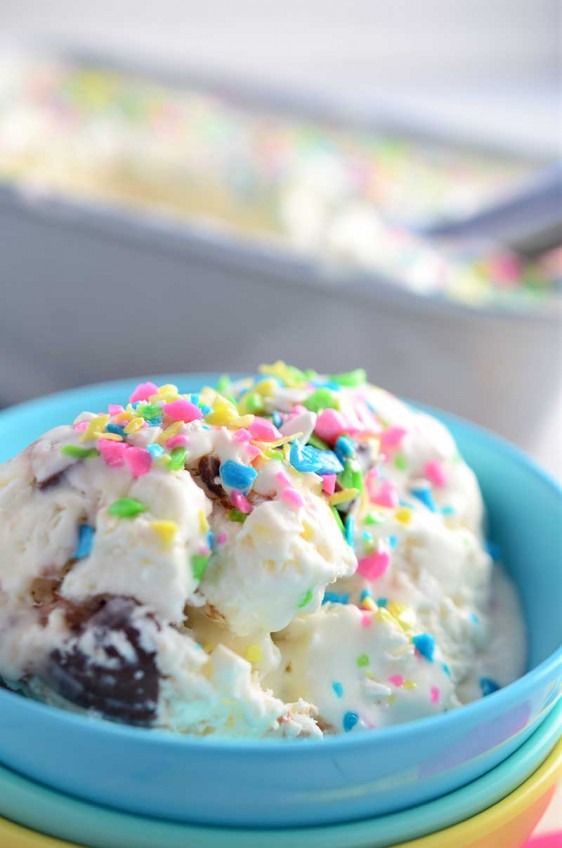 Chocolate Creme Egg No Churn Ice Cream
Chocolate Creme Egg No Churn Ice Cream. No ice cream maker required! And the perfect way to use leftover Easter candy!
I know that ice cream is traditionally a summer dessert and it is only March but I just couldn't resist. This Chocolate Creme Egg No Churn Ice Cream is just so springy. And with just five ingredients, including one that you're bound to have extra of after this weekend, this Chocolate Creme Egg No Churn Ice Cream will become one of your favorites.
One thing I don't like about making traditional ice cream is the fact that for some reason whenever I go to make it, I realize that I forgot to put the ice cream bowl in the freezer. It wouldn't be a problem if it needed only a little while to chill, but my ice cream maker requires 24 hours. Way too long to wait to satisfy an ice cream craving.
That is where no churn ice cream comes into play. Guys, it is SO stinkin' easy.  This is the first time that I have ever made no churn ice cream. One bite and I feel like I have been deprived for the last 32 years. No seriously, not only is no churn ice cream incredibly easy to make, it is also incredibly creamy and rich.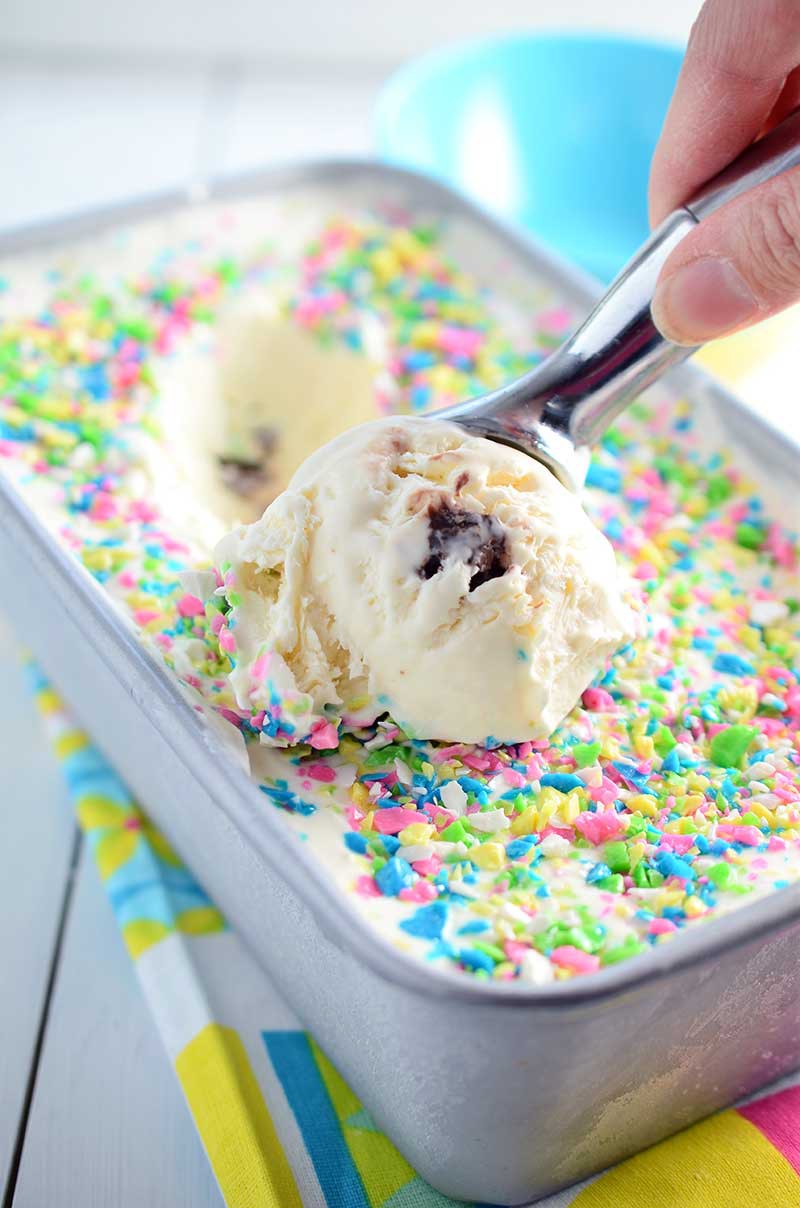 I followed the instructions that I found on theKitchn and in under 10 minutes I was popping this Chocolate Creme Easter Egg No Churn Ice Cream into the freezer. Yes, you still have to wait for it to freeze but it's totally worth it.
I chose to mix in chocolate creme eggs because they are one of my favorite Easter treats. I'm not big on the original creme eggs but the chocolate creme and caramel creme varieties are totally a weakness. I do recommend chilling the eggs in the refrigerator before making this. It makes them easier to cut.
Finally, I fully intended to buy regular sprinkles. What I actually bought was Tutti Fruity Candy Crunch Sprinkles . I thought about taking them back but decided to give them a shot because I could not get over how colorful they are. They kind of reminded me of pop rocks without the popping. They are chewy and crunchy and were an awesome texture contrast with the creamy ice cream and chocolate eggs.
And again….they are just so darn pretty!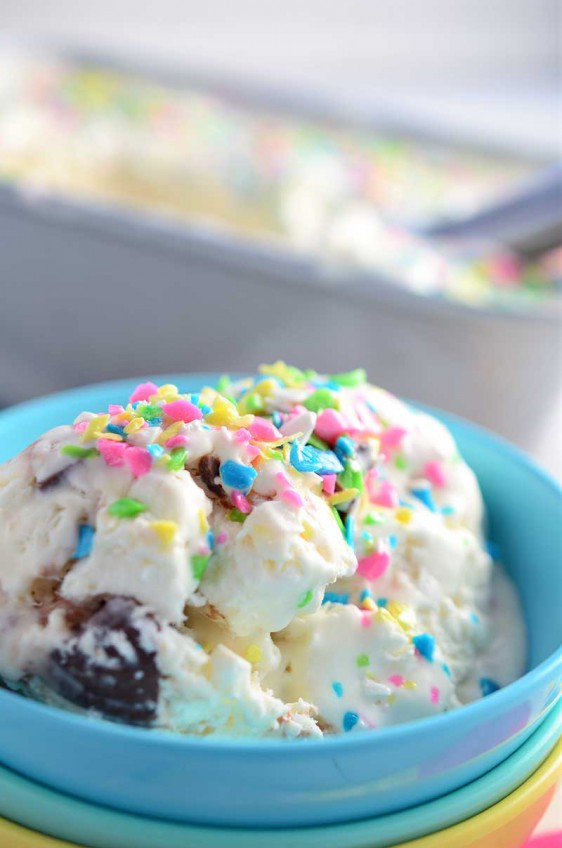 Chocolate Creme Egg No Churn Ice Cream
Chocolate Creme Egg No Churn Ice Cream. No ice cream maker required! And the perfect way to use leftover Easter candy!
Ingredients:
1

14 ounce can sweetened condensed milk

1

tablespoon

vanilla extract

2

cups

heavy cream

cold

4

chocolate creme eggs

chilled and cut into pieces

1/4

cup

candy crunch sprinkles
In a large bowl whisk together sweetened condensed milk and vanilla extract. Set aside.

In the bowl of a stand mixer with the whisk attached (or you can use a hand mixer) whip heavy cream until stiff peaks form, 3 - 4 minutes.

Gently fold one scoop of the whipped cream into the sweetened condensed milk. Once mixed, gently fold in the remaining whipped cream. Mix just until combined, don't over mix.

Spoon half of the ice cream mixture into an 9x5 bread pan. Scatter the chopped creme eggs over the top. Spoon the rest of the ice cream mixture over the top of the eggs. Gently stir to distribute the eggs.

Smooth the top of the ice cream and sprinkle candy crunch sprinkles over the top. Cover with plastic wrap and freeze for at least 4 hours, for firmer ice cream freeze overnight. Scoop and serve.
Keywords:
Easter, no churn ice cream, sweet