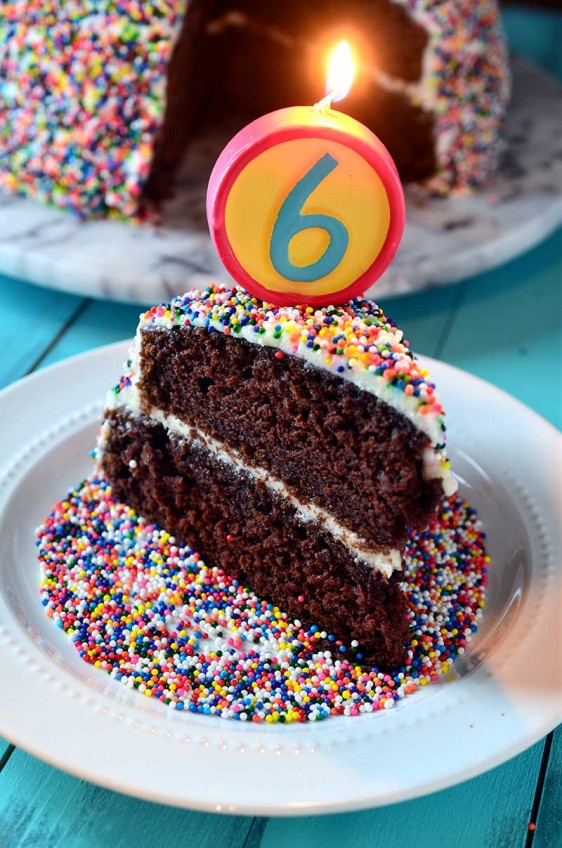 Chocolate Pumpkin Sprinkle Cake
Today is a special day, friends. Today is the day that Life's Ambrosia turns 6! Can you believe it? And what a better way to celebrate such a special occasion then with a cake with a bajillion sprinkles on it?
OK…Maybe not a bajillion, but it's close.
When I planned to make this cake, I planned to put sprinkles on it, because nothing says LET'S CELEBRATE like sprinkles. Am I right!?
What I didn't plan on was getting chocolate crumbs in my pretty white frosting resulting in me covering the entire cake in sprinkles. But, while I was covering the cake in sprinkles at 10pm on a Friday night (because that is when you decorate cakes when you have a toddler and 4 month old) and saw how pretty it was turning out to be, I was very happy that those little chocolate crumbs had a mind of their own.
Speaking of chocolate crumbs. These chocolate crumbs are down right delicious. Yes, I used pumpkin again, but only for the moistness factor. This does not taste like a pumpkin cake. And like the Pumpkin Chocolate Chip Cookies, it totally worked. It worked so well, in fact, it might just be the only way I make chocolate cake from now on.
In addition to making this delectably moist chocolate cake to celebrate, I also wanted to say thank you to all of you that read this blog. Thank you for making the recipes. Thank you for letting me know how they turn out. Thank you because your readership allows me and encourages me to continue to explore this passion for food I have. And as another way to say thank you, I'm giving away a box of my favorite things to one lucky winner.
Like last year, this box includes things that you'd find in my kitchen. Things that I love. Things that I would send to every one of you if I could, but alas, until I win the biggest jackpot in the history of jackpots, there can only be one winner. The one winner does win some pretty schanzy prizes though if I do say so myself. Check it out:
This year's Favorite Things Box includes:
1. A Signed Copy of The Flavor Bible – When I attended the International Food Bloggers Conference last month I actually got to meet Karen and Andrew and they signed a copy specifically for me to give away in this box. If I could give one to every single one of you I would, you NEED this in your kitchen.
2. A 2 ounce package Market Spice Spaghetti Seasoning Mix – Spaghetti is my favorite meal, probably ever. This is a mix from a spice store in Pike Place Market. I use it all the time, not just spaghetti but pizza sauce as well as dressings and marinades.
3. Jar of Maille Rich Country Dijon – This stuff is gold for sandwiches as well as vinaigrettes.
4. Jar of Maille Honey Dijon with Balsamic Vinegar of Modena – This is the stuff that I used to make my Crispy Chicken Thighs with Honey Dijon Balsamic Pan sauce. It works for that…or you can eat it with a spoon. Your choice :)
5. A 6 ounce jar San Juan Island Sea Salt – This is my favorite finishing salt. Just a simple sprinkle on tomatoes or fresh french fries…SWOON.
6. $50 gift card to Sur La Table – One of my favorite stores to buy all kinds of kitchen gadgets.
7. KitchenAid 3.5 Cup Food Processor – I adore having a big food processor but I use my smaller one more. It's easier to clean, and works great for small jobs like sauces, pesto and even hummus.
There you have it, friends! Just leave a comment below telling me your all-time favorite food. It can be a snack, meal, dessert or whatever you can't get enough of. Me: I can eat spaghetti every single day and never get sick of it.
The Deets: The jars of Maille Rich Country Dijon and Honey Dijon with Balsamic Vinegar of Modena were graciously donated by Maille. The KitchenAid 3.5 Cup Food Processor was graciously donated by KitchenAid. Due to shipping this giveaway is open to US residents only. The giveaway ends at 12AM EST 10/16/2014. Winner picked at random.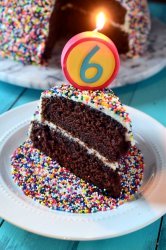 Chocolate Pumpkin Sprinkle Cake
A delectably moist chocolate cake with rich buttercream frosting and about a bajillion sprinkles.
Chocolate Pumpkin Cake Ingredients:
1

cup

unsalted butter

softened

1 1/2

cups

granulated sugar

2

eggs

1

teaspoon

vanilla

2

cups

all purpose flour

3/4

cup

unsweetened cocoa powder

2

teaspoons

baking powder

1

teaspoon

baking soda

1/4

teaspoon

salt

1

cup

pumpkin puree

1

cup

boiling water

3 1/2 - 4

ounces

sprinkles
Buttercream Frosting Ingredients:
1

cup

unsalted butter

softened

5 - 5 1/2

cups

powdered sugar

1/2

cup

whole milk

1

teaspoon

vanilla

1/4 - 1/2

teaspoon

salt
Preheat oven to 350 degrees. Butter and flour 2 (9 inch) cake pans.

In a bowl of a stand mixer or bowl with a hand mixer cream together butter and sugar until light and fluffy. Beat in eggs one at a time, be sure to scrape the sides of the bowl in between. Beat in the vanilla. Turn off mixer.

In a bowl combine flour, cocoa powder, baking powder, baking soda, and salt. Add mixture to the mixer. Turn mixer on to medium speed and beat for 3 minutes. Beat in pumpkin. Turn mixer to medium-low and pour in hot water. Mix 1 minute.

Pour cake batter evenly into prepared cake pans. Bake in preheated oven for 35 - 40 minutes or until toothpick inserted comes out clean. Allow to cool in the pan for at least 15 minutes. Gently remove cakes from pan and place on cooling rack to cool completely.

While the cake is cooling make the frosting by creaming together butter and 5 cups powdered sugar until fluffy. Beat in milk, vanilla and 1/4 teaspoon salt until the mixture becomes thick and spreadable. If frosting is too thin add remaining 1/2 cup powdered sugar. Adjust salt if necessary.

Place one of the cakes bottom side up on a cake stand. Spread a third of the frosting evenly on the top. Place the other cake, top side up, on top of the frosting. Frost the cake with remaining frosting, using smooth strokes.

Sprinkle sprinkles on the top of the cake until covered. To cover the sides, place sprinkles in the palm of your hand and gently press into the sides of the cake. Repeat until all the sides are covered. Slice and serve.
Keywords:
blogiversary, cake, dessert, giveaway, pumpkin