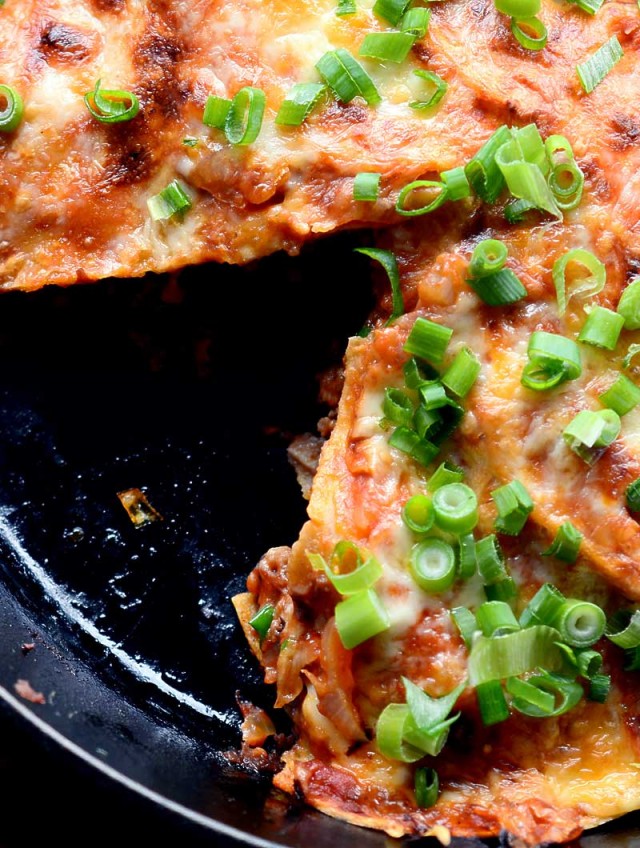 Chorizo and Hatch Chile Skillet Enchilada
I fully intended to post recipes this week that would be perfect for any Labor Day gatherings you might be having. I promise I did. But then the clouds rolled in, it started to sprinkle, it got windy and kind of cold and when things get cold, rainy and dark I crave all the cheesy things. Like this super cheesy, chorizo and chile filled skillet enchilada. And I just couldn't wait a second longer to share it with you. And besides, hatch chile season is just about over so you've got make this while you can!
This was one of those meals where I had originally planned to make something else entirely, in this case regular old enchiladas. But, if I'm being totally honest, when it came time to make dinner, I just didn't want to deal with softening the tortillas, rolling the enchiladas. Re-rolling the enchiladas that tore etc…So I didn't.
And just as I was about to give up and make plain ol' chorizo tacos (Not that there is anything wrong with chrozio tacos but the aforementioned rain any cool weather had me craving something a little heartier) I looked at my cast iron skillet and it hit me. Chorizo and Hatch Chile Skillet Enchiladas. All of the melty, cheesy goodness of enchiladas but cooked in a skillet, like a casserole. No rolling required. Just layer it all in the skillet and cook until it's perfectly golden and bubbly.
I don't think I'll ever be making regular enchiladas again. It's enchilada perfection friends. Enchilada. Perfection.
Like for reals.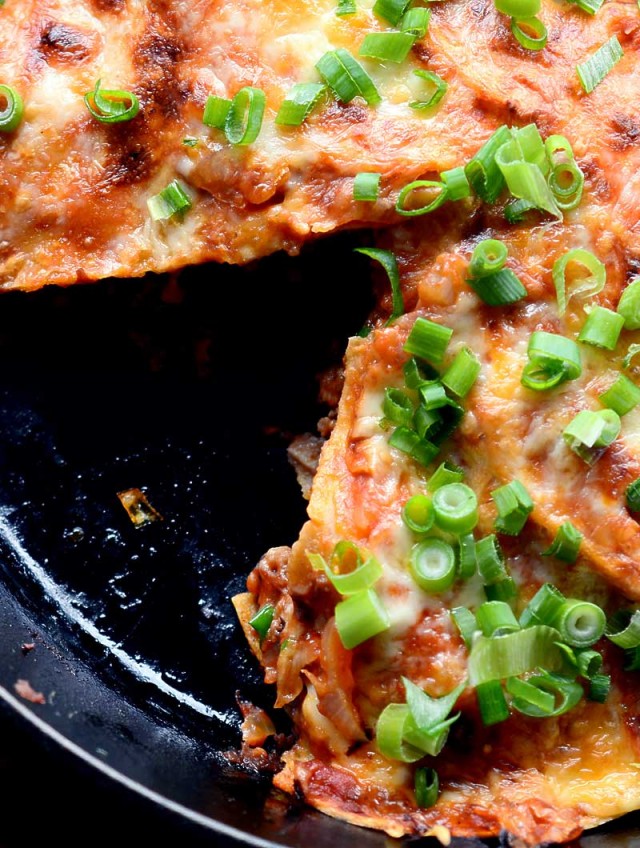 Chorizo and Hatch Chile Skillet Enchilada
Spicy chorizo, roasted chlies, tortillas and LOTS of cheese. AKA Comfort in a skillet.
Ingredients:
5

hatch chiles

1

medium yellow onion

diced (divided)

1

tablespoon

olive oil

1

tablespoon

all-purpose flour

1

7 3/4 ounce can Mexican tomato sauce

1/2

teaspoon

cumin

1

pound

chorizo removed from casing

12 - 15

small corn tortillas

1

16 ounce can refried black beans

1

cup

shredded Mexican cheese blend

2

cups

freshly shredded jack cheese

1/4

cup

diced green onions
Turn the broiler on to high. Place chiles on a baking sheet and roast 4 - 5 minute per side or until the chiles have blackened. Remove from the oven. Place in a paper bag. Allow to set for 15 minutes. After 15 minutes, remove the skins, stems and seeds from the peppers. Chop and set aside.

Heat olive oil in a skillet over medium heat. Add half of onion and cook 1 - 2 minutes or until onion has softened slightly. Sprinkle flour over the top. Mix. Allow to cook one minute. Pour in Mexican tomato sauce. Stir in cumin. Allow to simmer while cooking the chorizo.

Cook chorizo in a 12 inch cast iron skillet (or other 12 inch oven proof skillet) over medium heat. Once browned, add roasted chiles and remaining half of the diced onion. Cook just until onions have softened. Remove from skillet and set aside.

Preheat oven to 350 degrees.

Spoon 1/3 of the tomato sauce on the bottom of the skillet. Place 4 or 5 corn tortillas on the top, just to cover the bottom of the skillet. Spread 1/2 of the beans over the top of the tortillas. Spoon half of the chorizo/chile mixture over the beans. Sprinkle with 1/2 of the Mexican cheese. Top with 1/3 of the sauce. Place 4 - 5 tortillas over the top. Repeat layering with remaining beans, chorizo and Mexican cheese. Place remaining tortillas over the top. Top with remaining sauce and 2 cups jack cheese. Bake in preheated oven for 25 minutes or until the cheese is melted and bubbly. Place under the broiler for 2 minutes or until cheese is golden. Remove from oven. Sprinkle with green onions. Serve.
Note: If you can no longer find hatch chiles you can substitute a 7 ounce can of fire roasted diced green chiles.
Enjoy!
Keywords:
American, chorizo, comfort food, dinner, enchiladas, hatch chile, mexican, new mexican