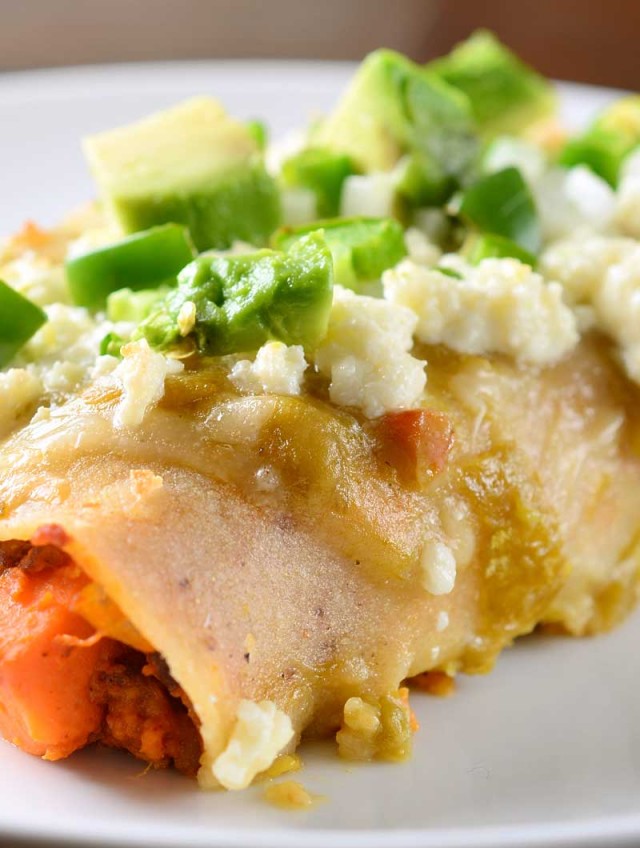 Chorizo and Sweet Potato Enchiladas
You guys, these Chorizo and Sweet Potato Enchiladas are pretty freaking amazing. Like serious. There is sweet potatoes, chorizo, green chile sauce, mozzarella and cotija cheese. They've got that whole spicy, sweet, cheesy, comforting thing going on.  And they are going to knock your socks off.
I have a confession. Brace yourselves. It's a doosey.
Wait for it.
I. Am. Not. A. Sweet. Potato. Fan. No sweet potato casserole. No sweet potato mash. And absolutely no sweet potato fries. EVER.
I just can't do the sweetness. Especially the sweetness, when I'm expecting something salty like with french fries.
Yet, for some reason, I bought some the other day. Perhaps it has something to do with all of the health benefits I hear. And after a friend mentioned that they go well with chorizo, I thought I'd give it a try in some enchiladas. And amazingly, I loved them. Like devoured them. It's something about the heat of the chorizo mixed with the sweetness of the potatoes I think.
I suppose the 2 cups of cheese doesn't hurt either.
And while I'll be making these over and over and over again this fall, I'm still not convinced I'll ever pick sweet potato fries over good ol' fashioned french fries. Just sayin…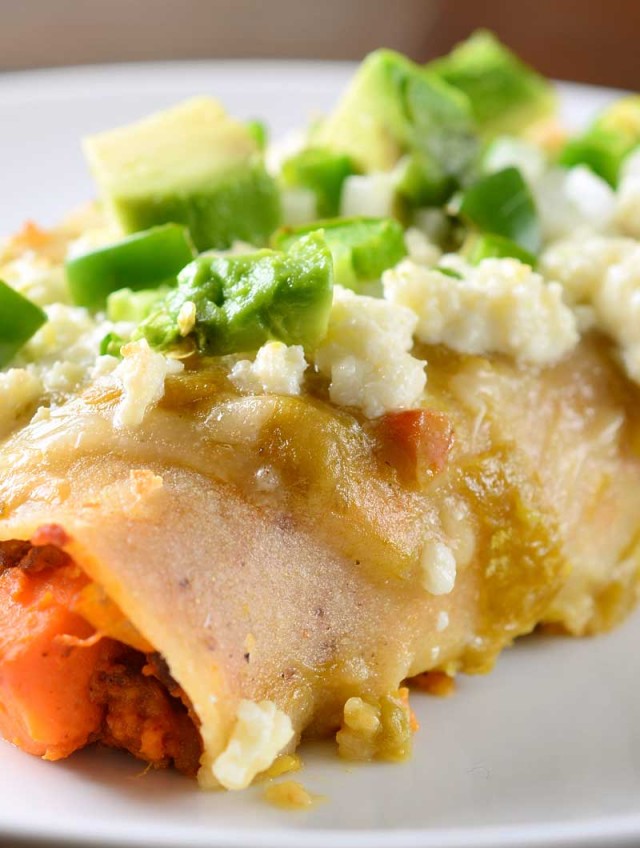 Chorizo and Sweet Potato Enchiladas
Sweet and spicy these Chorizo and Sweet Potato enchiladas with green chile sauce will knock your socks off.
Green Chile Sauce Ingredients:
Place the peeled potatoes in a large pot of water and boil until tender, about 20 minutes.

While potatoes are cooking prepare green chili sauce by melting butter in a pot over medium heat. Whisk in flour. Allow to cook for one minutes. Whisk in broth, followed by green chiles. Season to taste with salt. Reduce heat to medium low and simmer while you prepare the enchiladas.

Preheat oven to 350 degrees.

Drain the potatoes. Dice and mash slightly. Don't mash too much, some texture is good.

Place chorizo in a pan over medium heat. Cook until cooked through. Drain pain drippings but reserve 1 tablespoon. Add 1/2 of the chopped onion to the chorizo and cook just until softened, about 5 minutes. Add sweet potatoes and cumin. Mix well. Season to taste with salt. Transfer to a bowl and set aside.

In the same skillet that you cooked the chorizo in, heat just enough oil to cover the bottom of the pan. Fry one tortilla for 15 seconds on each side or until it is soft. Transfer to a paper towel lined plate and repeat with remaining tortillas.

Spoon some of the green chile sauce into a 9 x 13 inch baking dish.

Lay the tortillas out on a flat surface. Place about 1/4 cup of the chorizo mixture in the center and roll to close. Place the enchiladas, seam side down in the prepared baking dish. Spoon the remaining sauce over the top. Sprinkle with mozzarella cheese. Bake in preheated oven for 15 minutes.

Remove from oven, sprinkle with cotija cheese, remaining onion and jalapeno. Continue cooking for 5 - 10 minutes or until the cotija cheese starts to brown slightly.

Remove from oven, allow to cool slightly and serve.
Keywords:
chorizo, comfort food, enchilada, entree, sweet potatoes