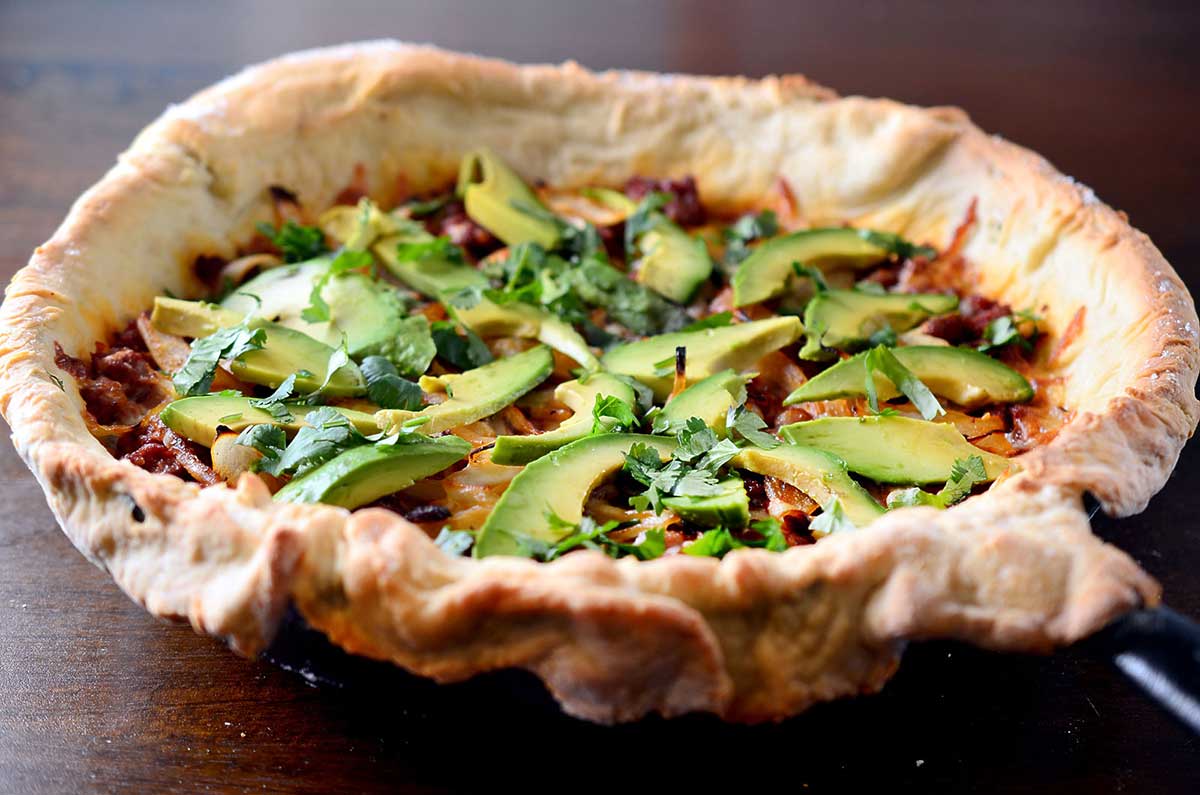 Chorizo Avocado Pizza
I'm usually a traditional American pizza kind of girl, you know pepperoni, sausage, mushrooms etc. Recently however, I've gotten a little more adventurous, like with the Pulled Pork Pizza and now this Chorizo Avocado Pizza. I'm really beginning to like all of this experimenting, especially when it turns out this good. The chorizo is spicy, the cheese melty, the crust crunchy yet chewy and the avocado creamy. It really is a perfect pizza.
I was first introduced to cast iron skillet pizza by a couple of friends a couple months ago. I had never tried it before but now that I have I am not sure that I will ever go back to simply baking it in a pan. The crust turns out absolutely perfect. Not too crunchy. Not too chewy. Seriously perfect. And the fact that the skillet is deep allows you to add just about any topping that you want.
There are a couple of things to keep in mind when making this pizza or any other pizza in a cast iron skillet. First you want to make sure your cast iron skillet is well seasoned. This will ensure that your pizza comes out of the pan easily. Second, you want to make sure that you've got all of your ingredients ready to go so you can quickly assemble the pizza before the dough begins to puff up. And finally, it can be a little tricky to get it out of the pan. Just loosen it and carefully remove it. I was a little nervous at first but it turned out beautifully.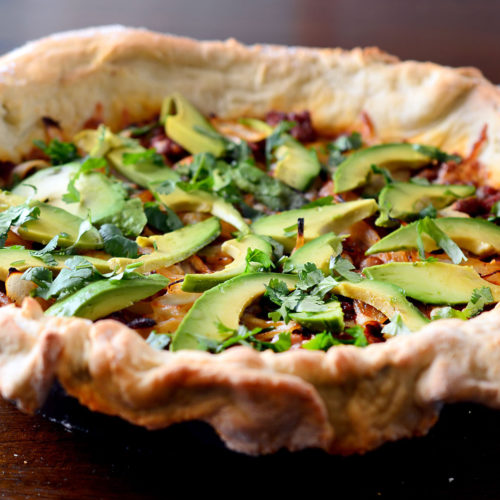 Chorizo Avocado Pizza
Hot chorizo, creamy avocado, spicy sauce and melted mozzarella = picture perfect pizza.
Ingredients:
2/3

cup

warm water

1

1/4 ounce envelope active dry yeast

2

cups

all purpose flour

plus more for flouring surface

2 1/2

teaspoons

kosher salt

2

tablespoons

olive oil

1

cup

tomato sauce

1

teaspoon

cumin

1

teaspoon

garlic powder

1/2

teaspoon

chili powder

1

pound

chorizo

casings removed

1

medium yellow onion

sliced

2

tablespoons

olive oil

2 1/4

cups

shredded mozzarella

1

avocado

sliced

1/4

cup

chopped cilantro
Pour warm water into the bowl of a stand mixer. Sprinkle yeast over the top and allow to set for 5 minutes.

Combine flour and 1 teaspoon salt together in a bowl. Add to proofed yeast. Add in 1 tablespoon olive oil. Use a dough hook on medium speed until the dough just comes together. Turn the mixer down to slow speed and allow to mix until a smooth ball forms, about 5 minutes. Place dough in a bowl rubbed with a little olive oil, cover tightly with saran wrap. Let rise in a warm, dark place for 40 minutes – 1 hour or until it has doubled in size. I put mine in a kitchen cabinet.

Once it has doubled in size, punch the dough to release the air bubbles. On a lightly floured surface roll out the dough to a circle shape.

Preheat the oven to 430 degrees.

In a small sauce pan cook tomato sauce, cumin, garlic and chili powder. Stir. Bring to a boil and reduce to simmer while you're cooking the chorizo and onions.

Cook the chorizo and onions together in the cast iron skillet until the chorizo is cooked through and the onions are browned and softened. Transfer to a plate. Set aside.

Leave the cast iron skillet on the burner and carefully place the dough into the skillet. Press up on the sides and just a little over the rim. Rub olive oil over the crust and quickly pour on the tomato sauce. Sprinkle the cheese over the top. Top with chorizo and onions. Continue to cook on burner over medium heat for another 3 minutes. Transfer to the preheated oven and continue to cook for 12 -15 minutes or until cheese is melted and crust has browned.

Remove from the oven, top with sliced avocado and cilantro.

Carefully loosen the pizza from the pan and use a spatula or turner to carefully transfer the pizza to a cutting board. Slice and serve immediately.
Keywords:
avocado, chorizo, entree, Food, football food, man food, mexican pizza, pizza, pizza dough, Recipe, super bowl