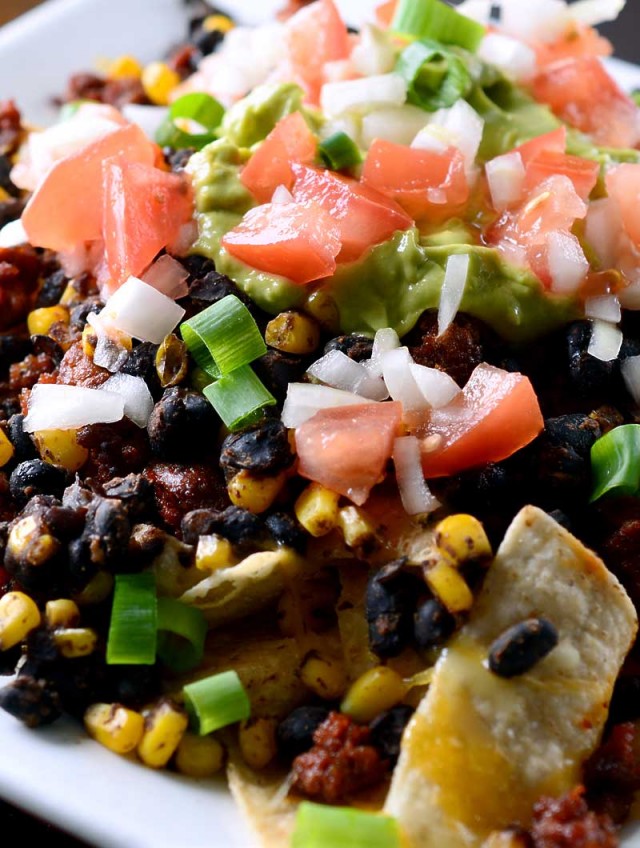 Chorizo Nachos with Chipotle Avocado Cream
Did you know that Cinco de Mayo is on Sunday? It just kind of snuck up on me. I like Cinco de Mayo because I use it as an excuse to eat my weight in guacamole and drink Corona. If you too like to use the 5th of May as a reason to eat Mexican inspired dishes, then you'll want to add these nachos to the list. They are quick, easy and packed full of flavor.
We eat nachos quite a bit. I have always been a fan of adding more than just your standard meat and cheese. I love to add fresh pico de gallo. Black beans. Corn. Jalapenos. Guacamole. For the meat, I would most often just use seasoned ground turkey and I thought all was fine and dandy.
Then I used chorzio.
Why I never thought to use chorizo on my nachos before is beyond me but it adds a wonderful spicy flavor that you just can't get from turkey no matter how much you season it. For this reason I now always use chorizo when I make my nachos.
Except that time I tried using a jalapeno mango sausage. But let's not talk about that. I don't count that as a kitchen success.
At all.
But back to Cinco de Mayo goodness, I also top these nachos with a spicy chipotle avocado cream. With the avocados, spicy chipotle hot sauce, tangy lime and creamy yogurt, trust me when I say you need it in your life.
Speaking of avocados, have you all seen the new cookbook, Absolutely Avocados, released by Gaby Dalkin? Tell me you have. If you haven't you need to. Like for reals. There 75 recipes using avocados. Recipes for breakfast, lunch, dinner and everything in between. Sounds amazing doesn't it? Yeah, it is.
And because I think it's so amazing and because I think everyone should have a copy in their kitchen I am giving away TWO copies today. All you need to do is leave a comment below telling me your favorite way to enjoy avocados.
Mine? With a spoon.
Giveaway Rules:
Giveaway ends Tuesday May 7 at 5pm PST.
US Residents Only.
Winners will be chosen at random.
I sponsored this giveaway. My opinions are my own.
Chorizo Nachos with Chipotle Avocado Cream Recipe
Ingredients:
1 large avocado
2 tablespoons fat free greek yogurt
1 tablespoon chipotle hot sauce
1 tablespoon plus 1 teaspoon lime juice
2 cloves garlic, divided
1/2 teaspoon salt divided
1 tomato, seeded and diced
1/2 yellow onion, diced
1 pound chorizo sausage, removed from casing
1 (14.5 ounce) can black beans, drained and rinsed
1 cup frozen corn
1/2 teaspoon cumin
1/2 teaspoon garlic powder
1/4 teaspoon chili powder
1 1/2 cups shredded pepper jack cheese
1 1/2 cups shredded medium cheddar cheese
16 ounce bag tortilla chips
3 green onions, diced
Instructions
1
Combine avocado, yogurt, hot sauce, 1 tablespoon lime juice, 1 clove garlic and 1/4 teaspoon salt in a food processor. Process until smooth. Cover and refrigerate for 30 minutes.

2
In another bowl combine tomato, onion, remaining garlic, remaining lime juice and remaining salt. Let stand at room temperature for 30 minutes.

3
Cook black beans in a pan over medium heat. Once warm add in frozen corn, cumin, garlic and chili powder. Mix well. Cook just until corn is warmed through, about 5 minutes. Reduce heat to low and cover until ready to use.

4
In another pan heat chroizo and cook 5 - 7 minutes or until cooked through. Remove from heat.

5
Preheat oven to 325 degrees.

6
Divide chips among four plates oven proof plates. Top with equal amounts of pepper jack and cheddar cheeses. Spoon some chorizo over the top. Spoon some of the black beans over the top. Place in the oven and cook for 3 - 5 minutes or until the cheese has melted. Remove from oven top with chipotle avocado cream, tomato mixture and diced green onions. Serve immediately. (Be careful of the hot plates. I serve mine on top of hot pads)