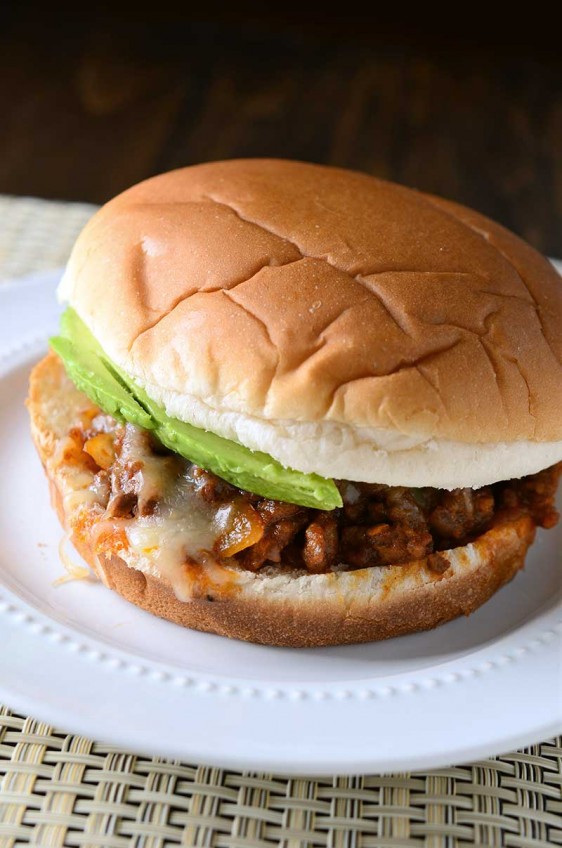 Chorizo Sloppy Joes
Whether for game day or a quick weeknight dinner, sloppy joes are the perfect choice. They are easy to make, crowd pleasers and lend themselves to dozens of interpretations. This is the latest version that we tried in our home. They've got a little bit of a Latin flavor going on with chorizo, enchilada sauce, avocado and pepper jack cheese. Basically, they are pretty flippin' delicious, friends.
When I think of the ultimate kid friendly food sloppy joes are one of the first things that come to mind. They are on a bun so they are easy to eat. They are messy and honestly what kid doesn't want to get messy when they eat?
My kid.
Wait. What?
That's right. My three year old hates getting messy. Any kind of sauce on his hand and he's crying for a napkin.
Dirt on his hands? Heck to the no.
I kid you not if this kid gets water on his shirt while washing his hands he wants to change and get a new one.
He cleans up any spills he makes and even picks up and puts away his toys.
This is totally going to last through his teenage years, right?
I'm not gonna lie though, it's pretty darn cute. One of my favorite thing about being a parent so far is watching the little person he is turning into. So independent. So funny. And an amazingly sweet big brother that asks to cuddle his baby (AKA his brother) first thing every morning when he gets up.
He's still a little bit of a picky eater though. We're working on that. In fact, he has his "Good Boy Chart" that has a slot for "Trying new food" and every time he tries new food he gets a sticker. It works like a charm. He's tried (and liked!) pomegranates, asparagus and kale to name a few.
These sloppy joes, however, they were a big hit.  He gobbled them up.
Neatly of course, napkin in hand.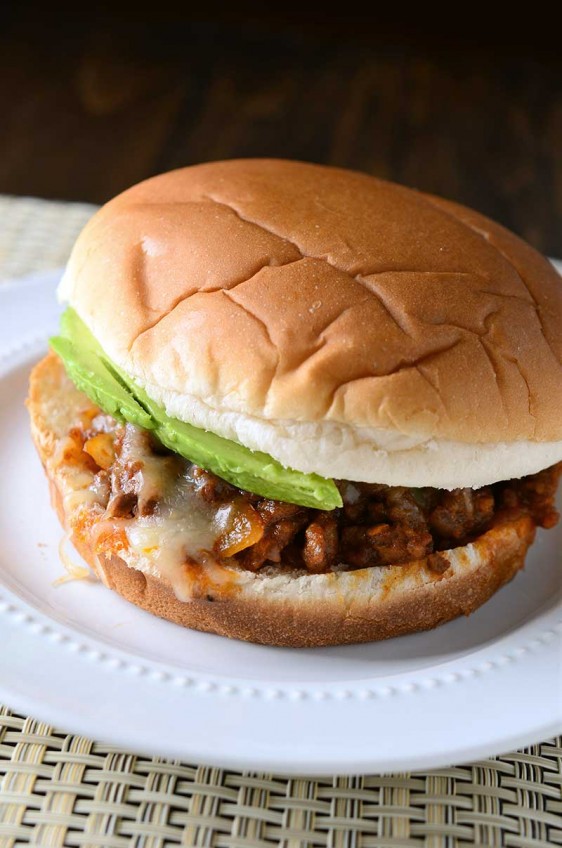 Chorizo Sloppy Joes
A Latin twist on sloppy joes with chorizo, enchilada sauce, avocado and pepper jack cheese.
Ingredients:
1

pound

ground chorizo

1/2

medium yellow onion

1

4oz can diced green chiles

3/4

cup

red enchilada sauce

3/4

teaspoon

cumin

1/4

teaspoon

chili powder

1

cup

shredded pepper jack cheese

4

hamburger buns

Sliced avocado
Cook chorizo in a skillet over medium heat until cooked through. Strain but reserve 1 tablespoon pan drippings.

Add onion and chiles to pan drippings. Cook until onion softens, about 3 minutes. Return chrozio to the pan. Pour in enchilada sauce. Add in cumin and chili powder. Mix well. Reduce heat to simmer and cook for 25 - 30 minutes or until mixture thickens.

Preheat oven broiler.

Spoon meat mixture equally onto the bottom half of hamburger buns. Place 1/4 cup shredded cheese on each sloppy joe. Place under the broiler and broil for about a minute or until cheese has melted. Remove from oven, top with avocado and top buns. Serve.
Keywords:
chorizo, sandwich, super bowl recipe