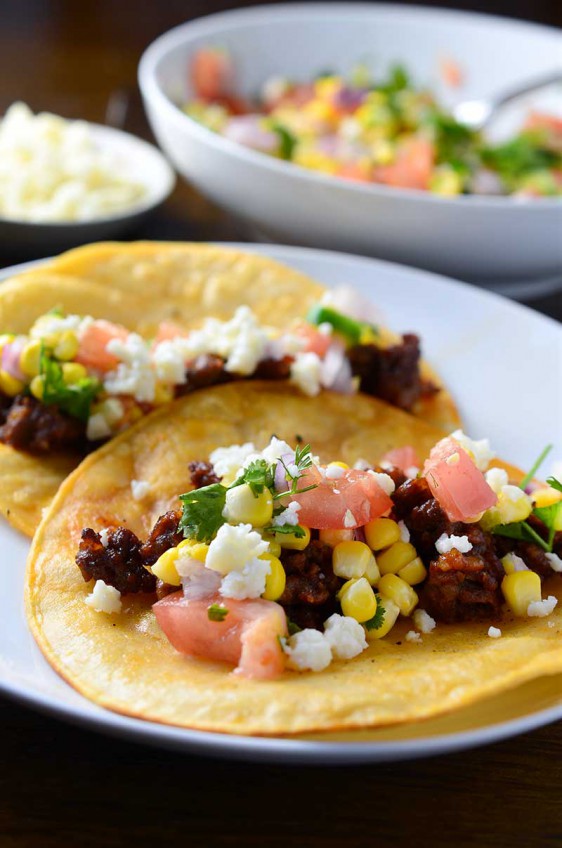 Chorizo Tacos with Sweet Corn Salsa
Tacos pretty much make a weekly appearance at our house. They are quick, easy and perfect for weeknights. Not to mention they are also family friendly and open to so many different variations that it is hard to ever get bored. So far I've made shrimp, steak, crispy fish, and even prime rib tacos. My most recent taco experiment was these Chorizo Tacos topped with a lovely new creation: sweet corn salsa.
While I experiment often with tacos, chorizo tacos are always our favorite. The chorizo always adds a nice spicy flavor and a great change of pace from ground beef. However, I think the main reason that chorizo tacos are our favorite, is because of a little secret of mine.
I have always fried my taco shells in just a little canola oil. However, whenever I make chorizo tacos, instead of tossing all of the lovely pan drippings that the chorizo makes when it's cooking, I mix it with a little canola oil and use it to fry the tortillas.
Oh man.
They are seriously the best taco shells. Ever. They are crispy and even have little bits of crispy chorizo all over them. I bet that once you try it, you won't cook your taco shells another way ever again.
Also delicious? The sweet corn salsa that I added on of these chorizo tacos.
There is nothing better than fresh corn salsa in the summer. It's light and fresh. This corn salsa is chock-full of fresh tomatoes, serrano peppers, cilantro, garlic and lime juice. It can be a bit spicy because the recipe calls for two serrano peppers. If you're unsure, I'd recommend using one at first and tasting before adding the other. I also recommend letting this refrigerate for at least 30 minutes but it gets even better the longer it sets.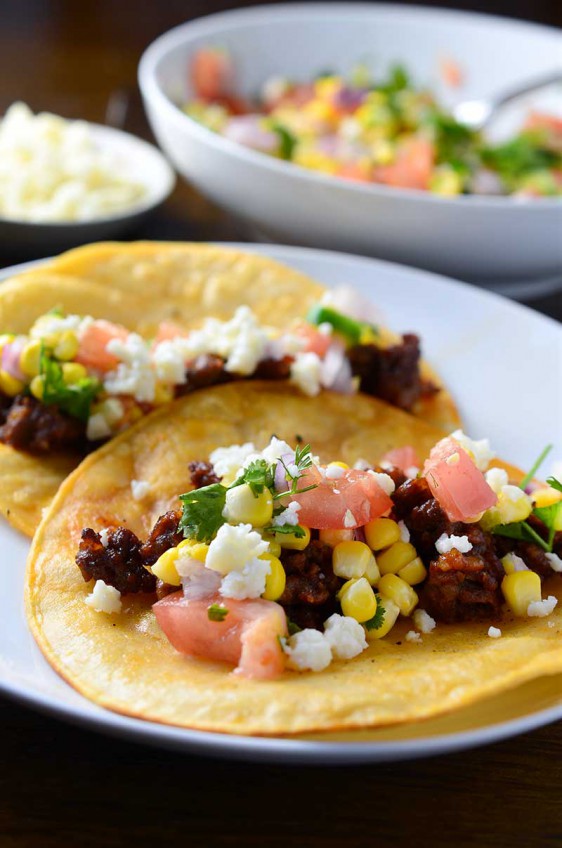 Chorizo Tacos with Sweet Corn Salsa
These tacos are loaded with chorizo, sweet corn salsa and cotija cheese.
Sweet Corn Salsa
1

ear sweet yellow corn

husk and silk removed

1/4

cup

chopped shallots

2

serrano peppers

sliced

1

clove

garlic

minced

1/4

cup

chopped fresh cilantro

1

tablespoon

lime juice

1/4

teaspoon

lime zest

salt
Bring a large pot of water to boil. Cook corn 2 - 3 minutes or until tender. Remove from water and allow to cool.

Once the corn has cooled remove it from the cob by holding the corn upright, and using a sharp knife to cut the kernels from the cob. Place in a bowl. Add in shallots, peppers, garlic, cilantro, lime juice and lime zest. Cover and refrigerate for at least 30 minutes. Season to taste with salt.

Cook chorizo in a skillet over medium heat until browned and cooked through. Reserve 2 tablespoons pan drippings.

Place 1 tablespoon pan drippings and 1 tablespoon canola oil in a skillet over medium-high heat. Cook shells one at a time 10 - 20 seconds per side. Transfer to a paper towel lined plate. When needed add remaining tablespoon of pan drippings and canola oil to finish frying the tortillas.

To assemble a taco, spoon chorizo into taco shell, top with sweet corn salsa and cotija cheese. Repeat with remaining ingredients. Serve.
Keywords:
chorizo, corn, salsa, tacos