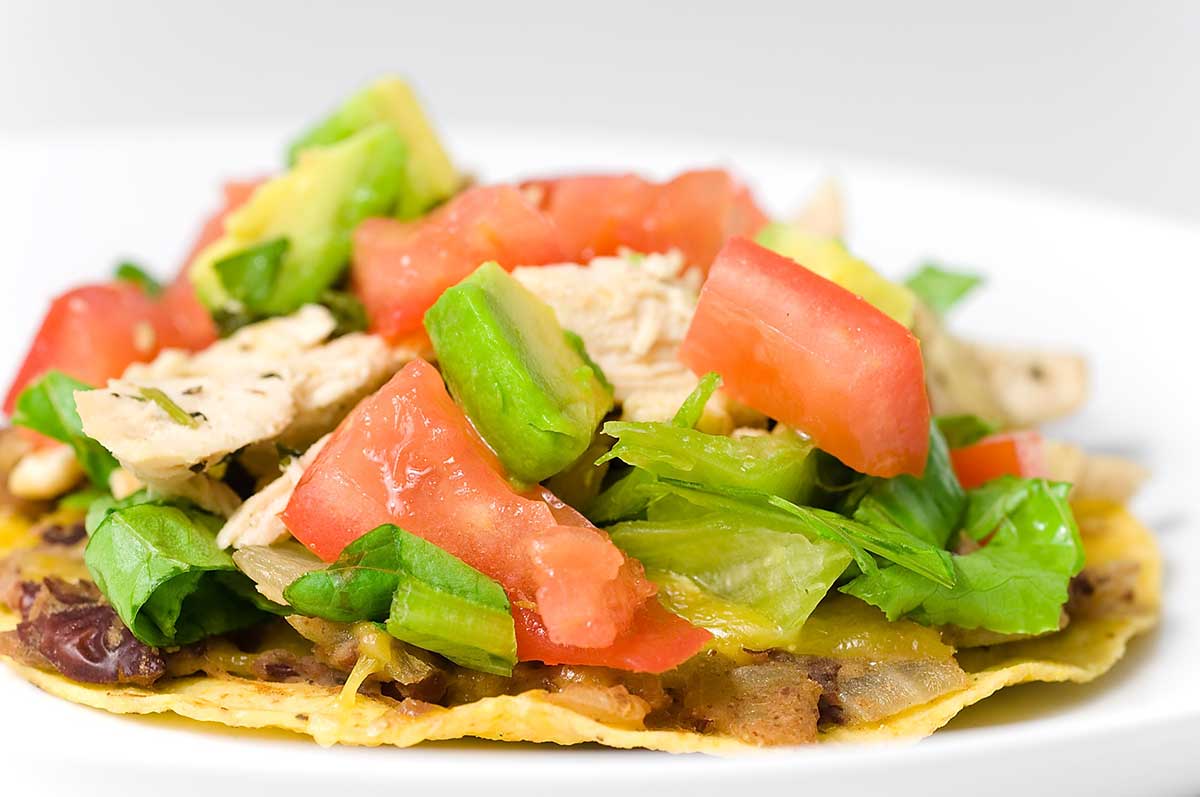 Cilantro Lime Chicken Tostada
Do you ever buy one of those big packets of chicken because it's on sale thinking to yourself that you will use some but put the rest in the freezer for later use? It appears that I do. While I was cleaning out the freezer the other day I found that I had quite a few of these packets. Apparently I bought one, used a few pieces of chicken out of it, put the rest in the freezer and the next time I went shopping I bought another one. It appears that this happened more than once, its a vicious cycle.  With this over abundance of chicken, I decided that I should cook some, shred it and use it in a variety quick and easy dishes like chicken salads, sandwiches, tacos and these cilantro lime chicken tostadas.
Since the chicken in this dish was pre-cooked, this recipe came together really quickly, which is always a plus on busy weeknights. I simply sauteed some of the leftover shredded chicken with onions, fresh cilantro and lime juice.  I placed the chicken mixture on a bed of mashed kidney beans and cheddar cheese and then topped it all with my favorite Mexican food fixin's: shredded lettuce, avocado and tomatoes.
Cilantro Lime Chicken Tostada Recipe
Ingredients:
4 tostada shells
2 tablespoons olive oil, divided
1 medium onion, chopped, divided
1 (15 ounce) can kidney beans, drained
1/2 teaspoon chili powder
1/4 teaspoon cumin
1/4 teaspoon cayenne pepper
1/4 teaspoon dried oregano
2 cups cooked shredded chicken
1 handful fresh cilantro
juice from 1 lime
1 cup shredded cheddar cheese
shredded lettuce
avocado
diced tomatoes
kosher salt and fresh cracked pepper
Instructions
1
Warm tostadas according to package directions. Set aside.

2
Heat 1 tablespoon of olive oil in a small sauce pan over medium heat. Add half of the diced onion. Cook 3-5 minutes or until softened. Add in beans, chili powder, cumin, cayenne pepper and dried oregano. Cook until beans are warmed through. Remove from heat. Using a potato masher, mash beans. The mixture will be chunky. Season to taste with salt and pepper. Return to low heat and cover while you prepare the chicken.

3
Heat remaining tablespoon of olive oil in a skillet over medium heat. Add remaining onion and cook 3-5 minutes or until softened. Add chicken, cilantro and lime juice. Season to taste with salt and pepper. Cook until chicken is warmed through.

4
Preheat your oven broiler.

5
To assemble the tostada: spread thin layer of bean mixture on top of tostada shell top with cheddar cheese. Cook in the oven until cheese melts, about 3 minutes. Top with chicken mixture, lettuce, avocado and diced tomatoes.