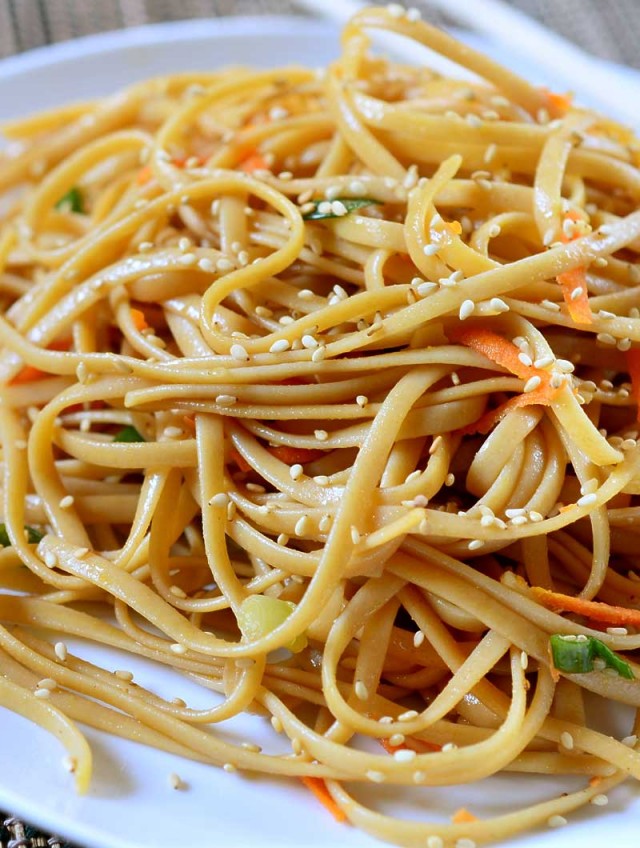 Cold Sesame Noodle Salad
Cold sesame noodle salad is a delicious and easy Asian side dish recipe, perfect for potlucks, summer picnics, or a light meal on its own.
Mmm sesame noodles. There is just something so satisfying about a plate of Cold Sesame Noodle Salad. It's kind of like my summer comfort food.
When Ryan and I go out for a quick sushi lunch, I always look forward to eating cold sesame noodle salad. We usually visit a local conveyor belt sushi place. We like it, especially with Kellan in tow, because we can sit down and start eating right away. No need to wait for a server. No need to wait for the kitchen to cook our food. Sit down. Grab. Eat. Pay. Go.
It's a very convenient dining style when you've got a 21 month old.
Holy cow.
Is that right? 21 months?
When did he get to be 21 months?!
Ahhh time really does go fast when you're an adult.
I hear it goes even faster after you turn 30.
Which I will be doing in October.
Holy cow.
Moving on…
Conveyor belt sushi can be a tricky game. You see the sushi chef put something on the belt that you really want and you wait. And you watch as it passes by each table hoping that the person right before you won't snag it before you do.
And that has happened to me many times, and always with the cold sesame noodle salad.
But once I finally get some, I'm in heaven. It's light, it's refreshing, and so so flavorful.
Which dressing do you use for cold sesame noodle salad?
The dressing for this cold sesame noodle salad is quick and uses a few kitchen staples. You will need soy sauce, sesame oil, ground ginger, garlic, sesame seeds and rice vinegar. I usually find the rice vinegar in the Asian foods aisle of my grocery store or at my local Asian market. But if you cannot find any, distilled vinegar would work in a pinch.
And it's not just me that loves it, Kellan loves it too.
And if a simple salad recipe like cold sesame noodles can please both an adult and a toddler? Well that, my friends, is what we call a win.
If you love the flavors of Asian salads, I know you'll love these recipes too:
Asian Cabbage Salad with Ponzu Dressing
Cold Sesame Noodle Salad Recipe
Ingredients:
1 ( 13.75 ounce) package whole grain thin spaghetti noodles
3 tablespoons soy sauce
1/4 teaspoon sesame oil
2 tablespoons rice vinegar (white vinegar will work as well)
1 teaspoon ground ginger
3 cloves garlic, minced
1 tablespoon roasted sesame seeds
1 carrot, grated
3 green onions, diced
Instructions
1
Cook noodles according to package directions. Drain and run under cool water. Let drain again.

2
While noodles are cooking whisk together soy sauce, sesame oil, vinegar, ginger, garlic and sesame seeds in a large bowl.

3
Place cooled noodles into bowl. Add in grated carrots and diced green onion. Toss to coat. Cover and refrigerate for at least 1 hour. Serve.

Notes
Note: Nutritional information not guaranteed.
Nutrition information
Amount per serving: 6 servings
Calories: 482 , Total Fat: 2.8g , Saturated Fat: 0.5g , Sodium: 470mg , Carbohydrates: 101.2g , Fiber: 0.8g , Sugar: 0.8g , Protein: 20.2g