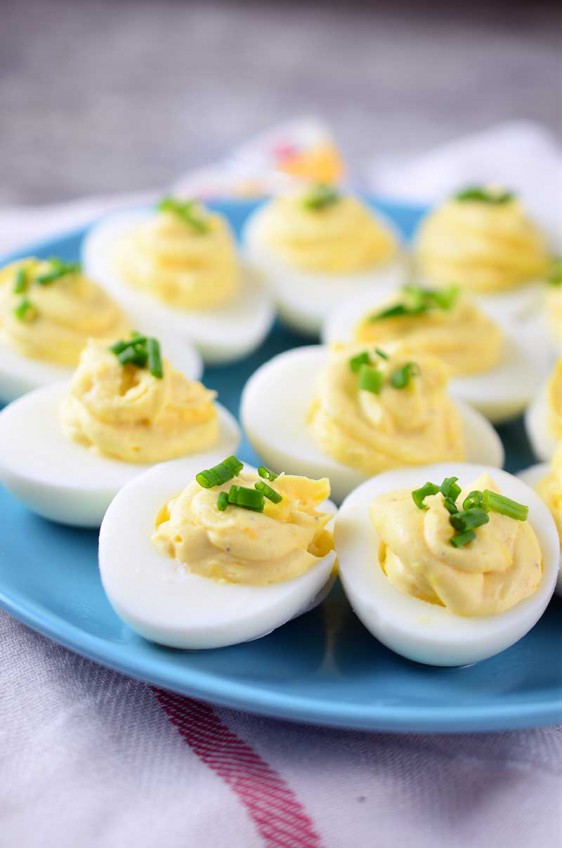 Creamy Asiago Deviled Eggs
It's beginning to feel a lot like Spring in here! And if you've taken a look at the calendar recently, you've seen that Easter is coming, and quick. This means that in a couple of weeks you're probably going to find yourself with an abundance of hard boiled eggs. They make a good breakfast and snack on their own but the best thing to do with those eggs, in my opinion, is turn them into deviled eggs. These Creamy Asiago Deviled Eggs are a cheesy twist on the classic and sure to be a winner.
For the longest time, I pretty much refused to jump on the fancy deviled egg bandwagon. I was a purest. Mayo, mustard, garlic, salt and pepper and that was it.  Then, in the midst of my sriracha obsession I decided to try Sriracha Deviled Eggs. LOVED THEM. Then my whole deviled egg world opened up and I've gone on to try a few others like Curried Deviled Eggs and Chili Spiced Deviled Eggs.  This recipe is the first time I've ever tried a cheesy version and I'm pretty confident, it won't be my last.
The creamy filling is always my favorite part of the deviled egg and I wanted to make sure it stayed creamy. That is why I stayed away from shredded or grated cheese in this recipe. Instead, I decided to use a soft spreadable cheese. I knew it would give a great flavor as well as keep the creaminess I love.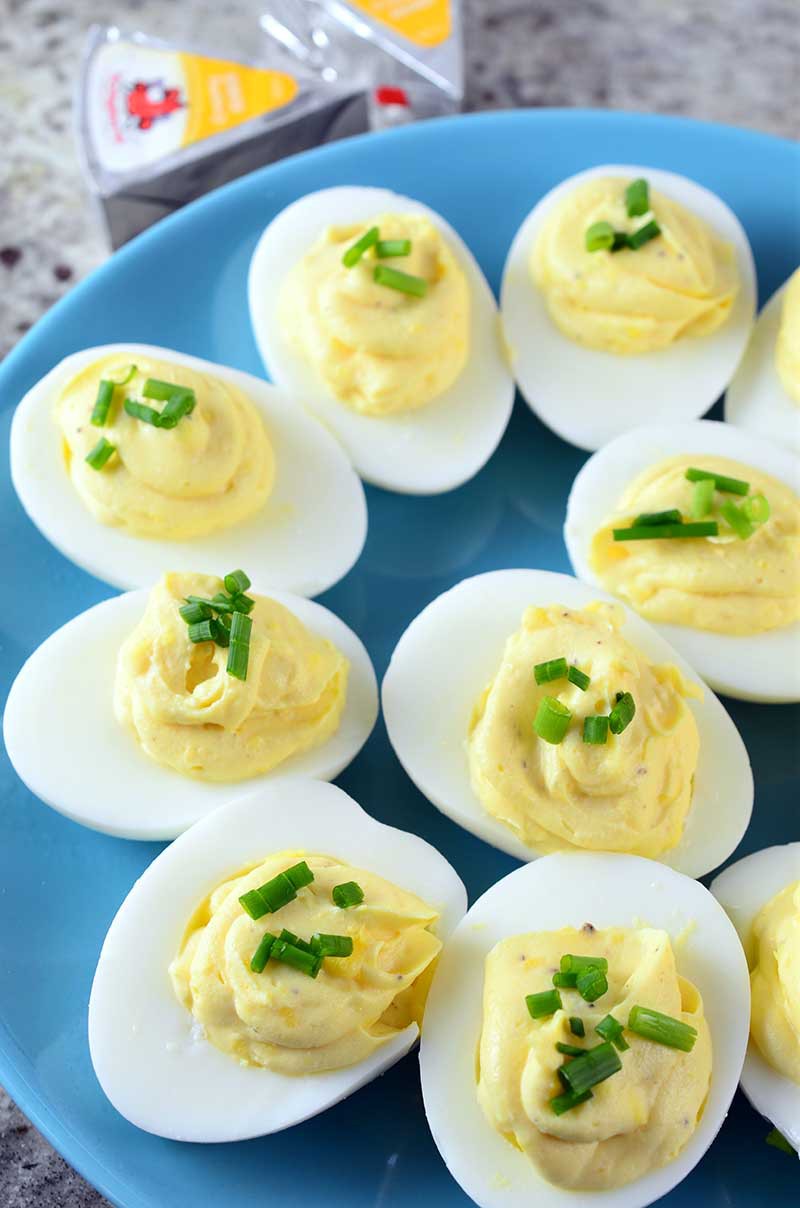 I went with the new Creamy Asiago Cheese from Laughing Cow. I am a huge fan of Laughing Cow cheeses and this new one might be my favorite one. Asiago, if you don't know has a similar taste to Parmesan and it makes the perfect cheesy addition to these deviled eggs.  I also decided to add some chopped chives to the top for a little oniony flavor, not to mention a pop of spring color.
Now that my world of deviled eggs has opened up to include cheese, I cannot wait to test other recipes. I'm thinking I'm going to have to try something with goat cheese next. :)
Disclosure: Laughing Cow sent me the Asiago cheese to try. All opinions are my own.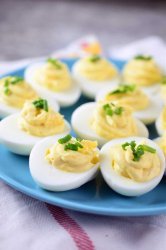 Creamy Asiago Deviled Eggs
Creamy Asiago Deviled Eggs are a cheesy twist on the classic and the perfect way to use up leftover Easter eggs.
Ingredients:
6

hard boiled eggs

peeled and halved lengthwise

4

wedges Laughing Cow Creamy Asiago

3

tablespoons

mayonnaise

2

teaspoons

dijon mustard

1/4

teaspoon

granulated garlic

salt and pepper

chopped fresh chives
Place all of the egg yolks into a bowl and mash.

Mix in asiago cheese wedges, mayonnaise, mustard and garlic. Mix until smooth. Season to taste with salt and pepper.

Place filling into a piping bag and pipe into eggs (or simply spoon filling into eggs) and sprinkle with fresh chives. Serve.
Keywords:
deviled eggs, Easter, laughing cow