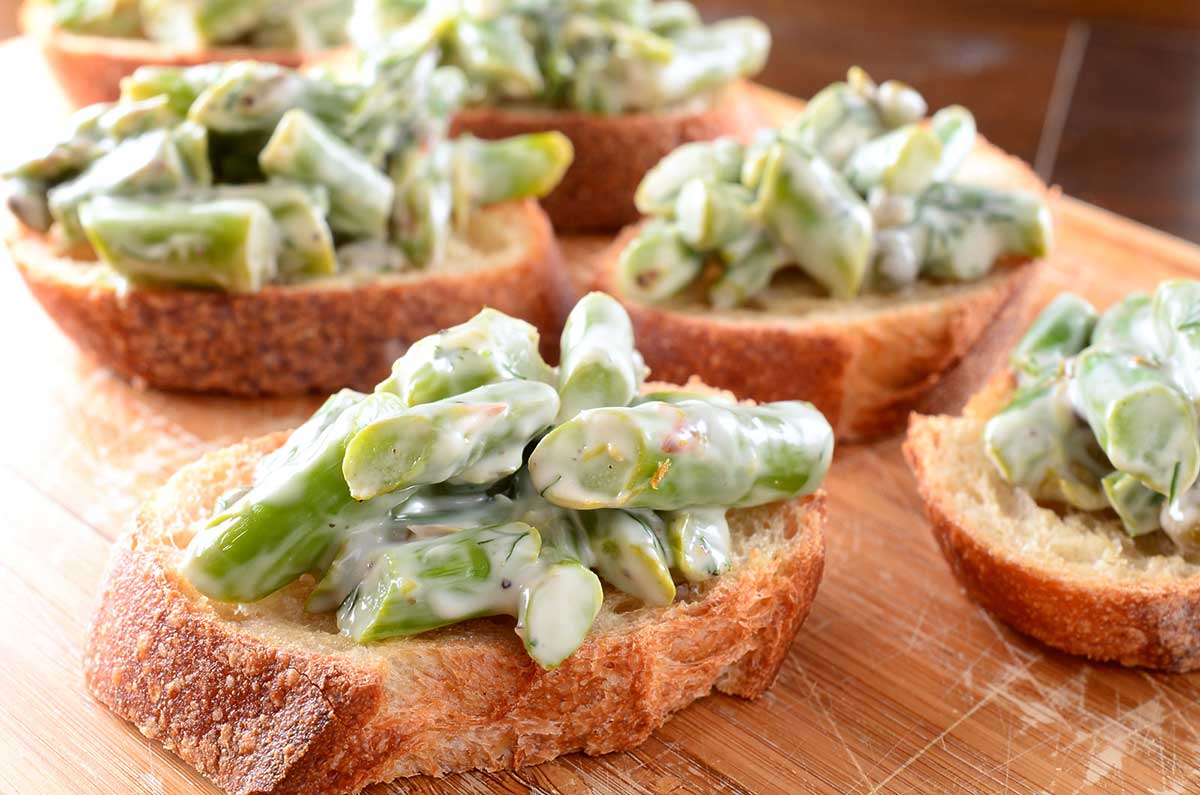 Creamy Asparagus Bruschetta
With Easter coming this Sunday I thought I would share a dish using one of my favorite spring time vegetables: asparagus. Asparagus always has a place at my Easter table. Usually I bake it, or maybe wrap it with some bacon. For this recipe however, I decided to go the appetizer route and make a creamy asparagus bruschetta. With flavors of fresh dill, briney capers and bright lemon juice it's the perfect spring appetizer.
It took a long time for my mom to sell me on asparagus. I was not a fan. Like. At. All. I think it was because for the longest time I had only had canned asparagus. You know the kind, it's mushy. Stringy. Bland. And just…not good. Then one day I tried fresh asparagus and my world opened up. Ok, that may be a bit drastic, but it was good I tell you. It was crisp. Flavorful. Just down right yummy. I've been eating it ever since and this bruschetta might be my new favorite way.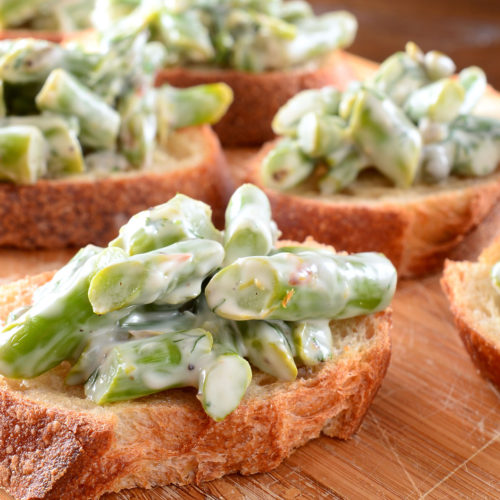 Creamy Asparagus Bruschetta
Asparagus in a creamy dill sauce atop garlic rubbed baguette slices.
Ingredients:
4

ice cubes

water

1/4

lb

asparagus

cut into 1/2 inch pieces

2

tablespoons

mayonnaise

1

tablespoon

chopped fresh dill

2

teaspoons

nonpariel capers

1

teaspoon

lemon juice

1/4

teaspoon

black pepper

1/4

teaspoon

kosher salt

8

baguette slices

1

clove

peeled garlic
Place ice cubes in a large bowl of cold water.

Bring a large pot of water to a boil and add in asparagus. Cover and cook for 4 minutes. Use a slotted spoon to remove and transfer immediately to the ice water.

In a bowl combine mayonnaise, dill, capers, lemon juice, pepper and salt. Mix well.

Remove asparagus from the ice water and pat dry. Stir into the mayonnaise mixture. Cover and refrigerate for at least 1 hour.

When you are ready to make the bruschetta turn on the broiler. Once hot, place the baguette slices on a baking sheet and broil for 2 minutes or just until lightly toasted. Remove from oven and rub with garlic clove.

Spoon chilled asparagus mixture over the top. Serve.
Keywords:
appetizer, asparagus, bruschetta, creamy, Easter, Food, Recipe, spring, Vegetarian, vegetarian snack