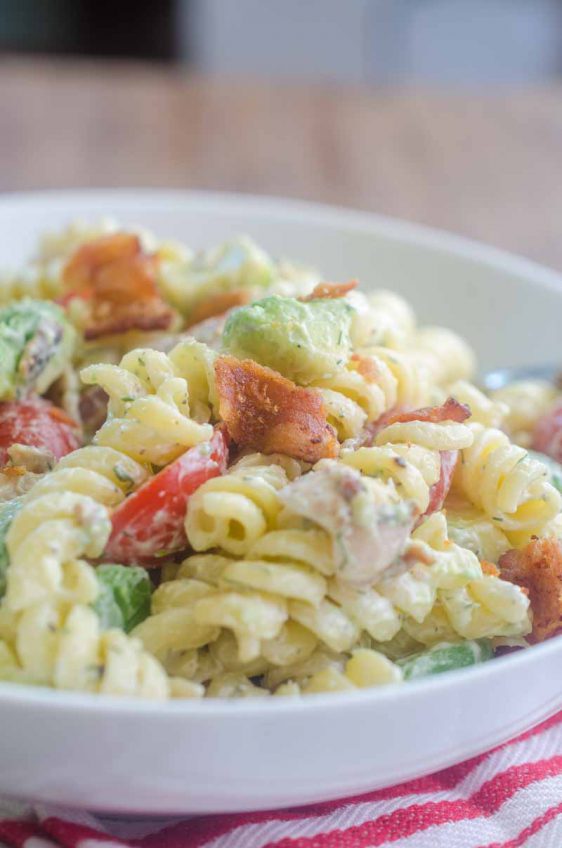 Bacon Tomato Avocado Pasta Salad
Bacon Tomato Avocado Pasta Salad will help you make all of the friends this summer. It's a family favorite side dish with crispy bacon, creamy avocado and sweet summer tomatoes.
Who is ready for summer?! It has finally started to feel like summer here in Seattle (I'm just going to ignore the weather forecast for this weekend). All of this sunshine has got me thinking of summer picnics, BBQs and parties.
All of this thinking has reminded me of my go-to pasta salad for all the pot-lucks, BBQs and patio dinners that summer brings. With this easy pasta salad recipe, I challenge you to forget the box; forget the pre-made stuff at your deli grocer. You aren't going to want it after you give this Bacon Tomato Avocado Pasta Salad a try.
Let's set the stage. First you've got a creamy refreshing lemon dill dressing. Then come the creamy avocados. Next the sweet tomatoes and finally the piece de resistance, crispy bacon.
It's like summer in a bowl.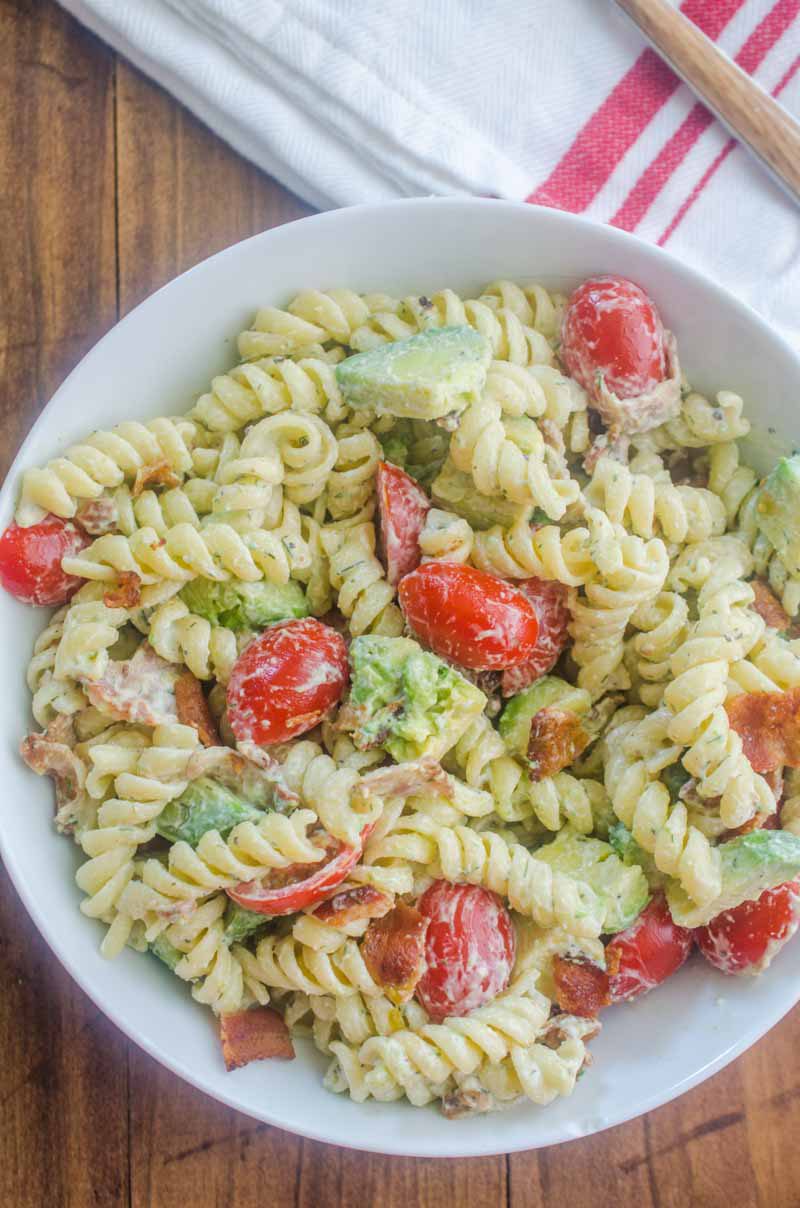 The idea for this Bacon Tomato Avocado Pasta Salad comes from one of my favorite sandwiches: Bacon, Lettuce, Tomato and Avocado.
Sure the traditional BLT is great, but add some avocado and I'll love you for life. What can I say? Avocados just do that to me.
I don't think it's too much of a stretch to say, I'm not alone in my love for avocados.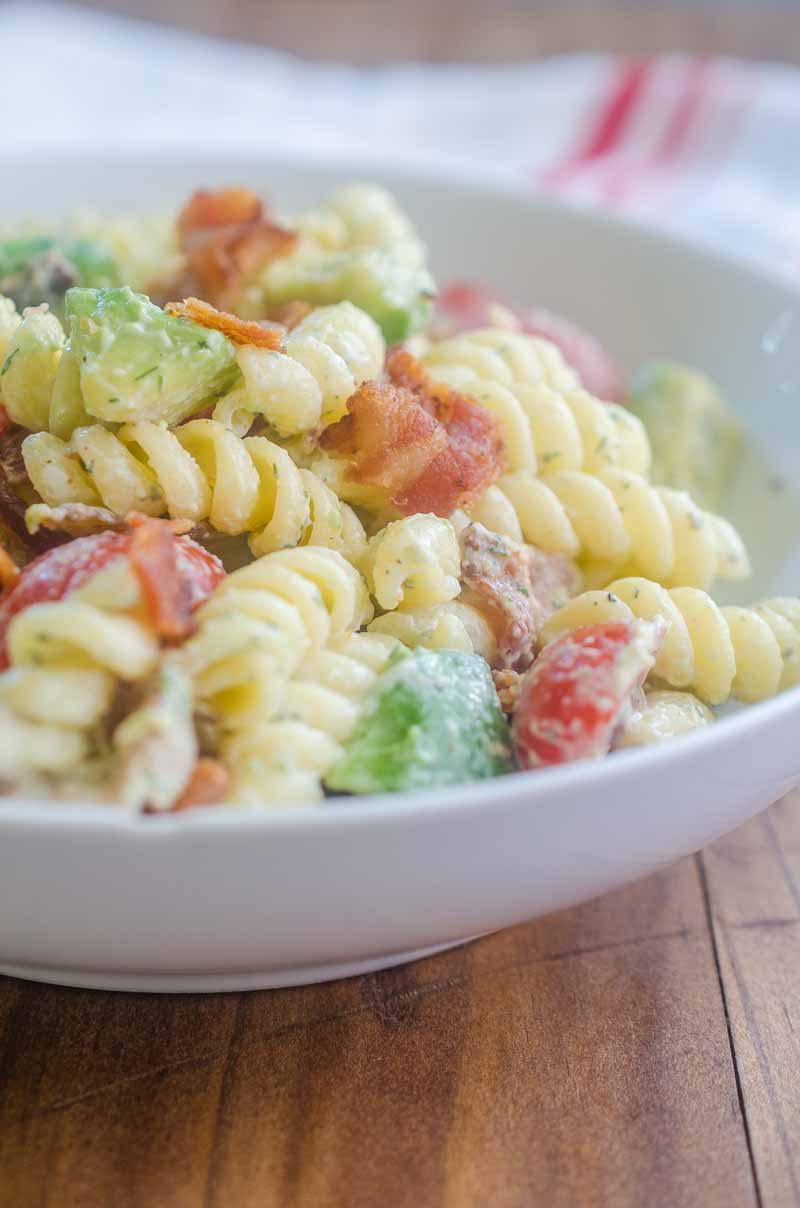 But enough about my slightly odd obsession with one of California's greatest exports aside from Mickey Mouse; let's get back to this easy salad. It really is quick, the whole thing comes together in the time it takes to boil the pasta. While, it's great right away, if you let it chill for about 30 minutes, all the flavors have a chance to mingle.
And make delicious flavor babies.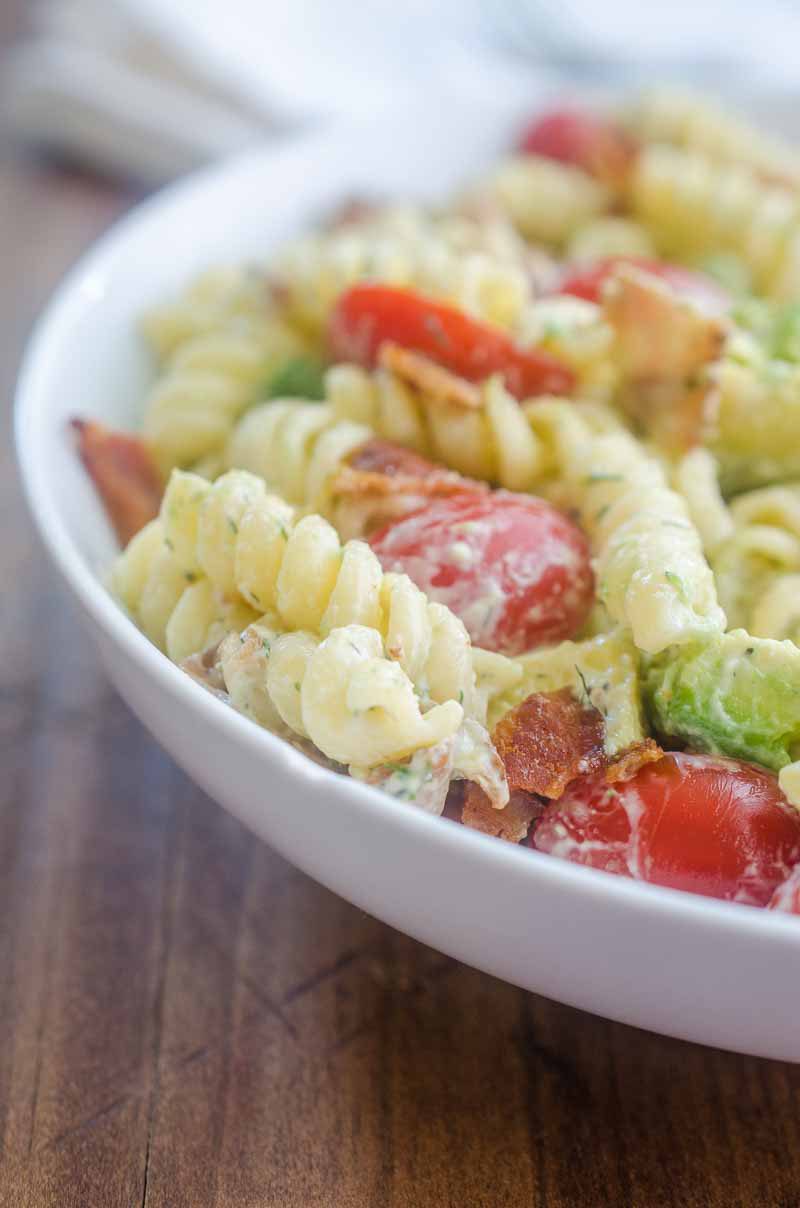 If you are making this Bacon Tomato Avocado Pasta Salad in advance (like a day or so), my advice is to add the avocado about 30 minutes before serving. 
Bacon Tomato Avocado Pasta Salad Recipe
Ingredients:
6 slices bacon, chopped into one inch pieces
1/2 pound dried rotini pasta
1/2 cup mayonnaise
1 tablespoon lemon juice
1/2 teaspoon salt
1/2 teaspoon garlic powder
1/4 teaspoon pepper
1 teaspoon dried dill
1 cup halved cherry tomatoes
1 avocado pitted and sliced
Instructions
1
Cook bacon until crisp. Transfer to a paper towel lined plate.

2
Cook pasta according to package directions. Strain. Run cold water over the top until the pasta is cooled.

3
While your bacon and pasta are cooking, whisk mayonnaise, lemon, salt, garlic powder, pepper and dill together in a bowl.

4
Stir cooled pasta, cherry tomatoes, sliced avocado and reserved bacon into the dressing. Toss to combine. Refrigerate for 30 minutes.