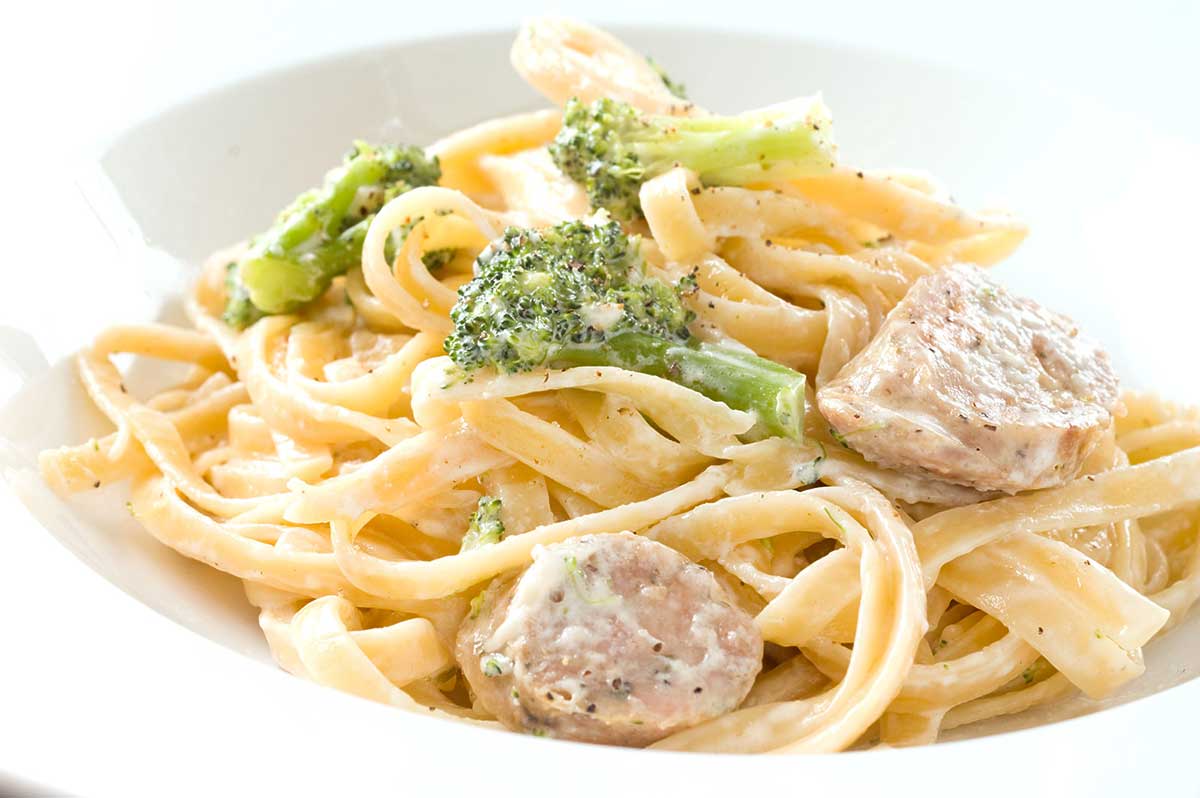 Creamy Broccoli and Sausage Fettuccine
I really love pasta dishes. I love them because I love pasta, I love them because they are comforting and most of all I love them because if you have a box of dried pasta and some meat or veggies, in this case fettuccine, broccoli and Italian sausage,  you've got yourself a meal. A meal that can usually be put together in about a half an hour. Which for me, at this point in my pregnancy has become more important than I ever thought.
I am currently 9 months pregnant. Yet I have about 4 more weeks to go. I feel like I've been lied to my whole life. Word to the wise you are actually pregnant for 10 months. Not that I am complaining, I'm just starting to get really uncomfortable. I have even noticed that these past few weeks I'm having trouble standing long enough to do any experimenting in the kitchen. As a result I have gravitated towards dishes like this pasta that are easy to make, sure to be crowd pleasers, limit the amount of time that I am standing and satisfy my pregnancy craving for anything creamy.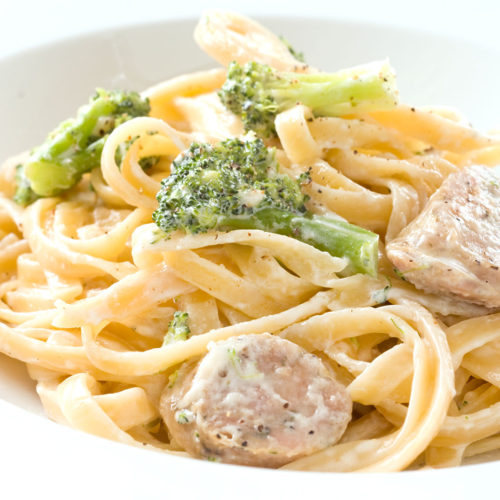 Creamy Broccoli and Sausage Fettuccine
An easy and creamy pasta with sausage and broccoli.
Ingredients:
1

tablespoon

olive oil

1

pound

Italian sausage links

1

pound

dried fettuccine

2

crowns broccoli

chopped into florets

4

cloves

garlic

minced

3

tablespoons

butter

2

ounces

cream cheese

1

cup

heavy cream

1

cup

shredded Parmesan cheese
Heat olive oil in a large skillet over medium-high heat, cook sausage until cooked through. Slice and set aside.

While you are cooking the sausage, bring a large pot of water to a boil and cook pasta according to package directions. During the last 3 minutes of cooking, add the broccoli florets to the water. Cook until they are bright green and have softened. Drain.

Melt the butter in the pan, stir in the garlic, cook for 30 seconds. Return the sausage, pasta and broccoli to the pan. Add in cream cheese and heavy cream. Stir continuously until cream cheese melts. Stir in shredded Parmesan cheese. Toss until combined. Turn off heat and let pasta set for 5 minutes while sauce thickens. Toss once more. Serve hot.
Keywords:
broccoli, dinner, fettuccine, Food, italian, pasta, Recipe, sausage