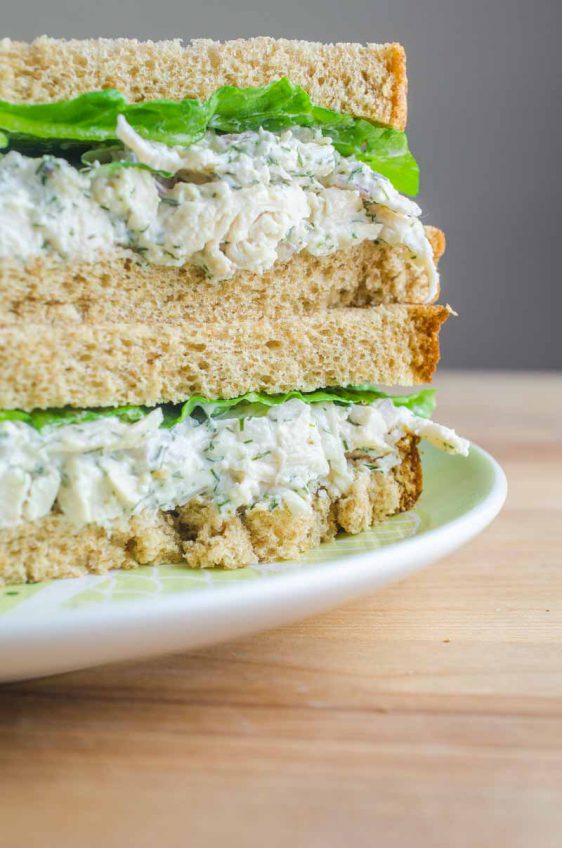 Creamy Dill Chicken Salad
A creamy dill chicken salad sandwich made with fresh dill, mayo, yogurt, garlic, chicken and red onion. The perfect summer sandwich.
Things like this Creamy Dill Chicken Salad Sandwich with fresh dill, mayo, Greek yogurt, a little dijon, garlic and red onion. It is the perfect summer lunch. Just think of it as a ranch chicken sandwich. And really, who doesn't love ranch?
I'm going to just go ahead and say it: Dill is my favorite summer herb. That's right, it beats out basil. I know, I know, basil is delicious. And I would never pass up a dish that uses the fresh basil of summer. But in the heat of summer I long for anything and everything with fresh summer dill.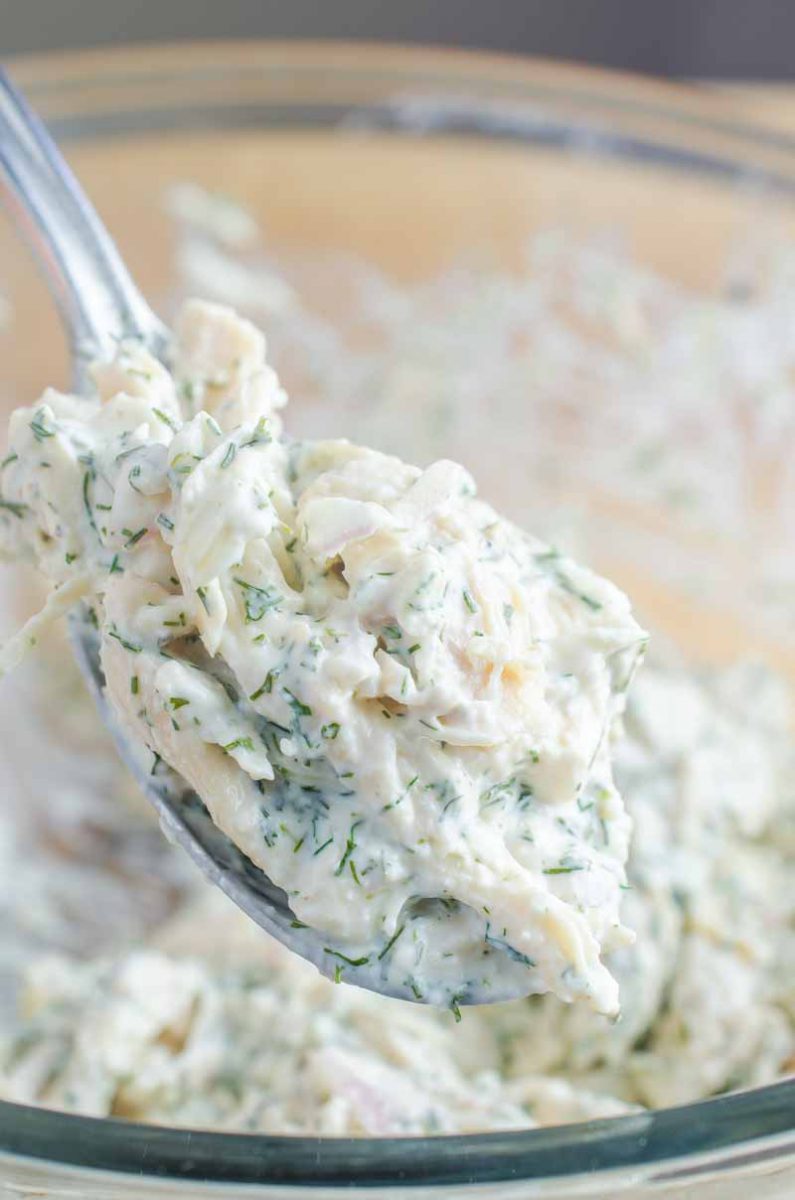 I mentioned on this post for Creamy Avocado Ranch Dressing that I am a ranch kind of girl. I always have been.
It probably goes back to that whole dill loving thing.
I love to dip just about anything in ranch. Veggies and fries are a good example. And bread too. That's right. Bread. In. Ranch. Don't knock it until you try it friends.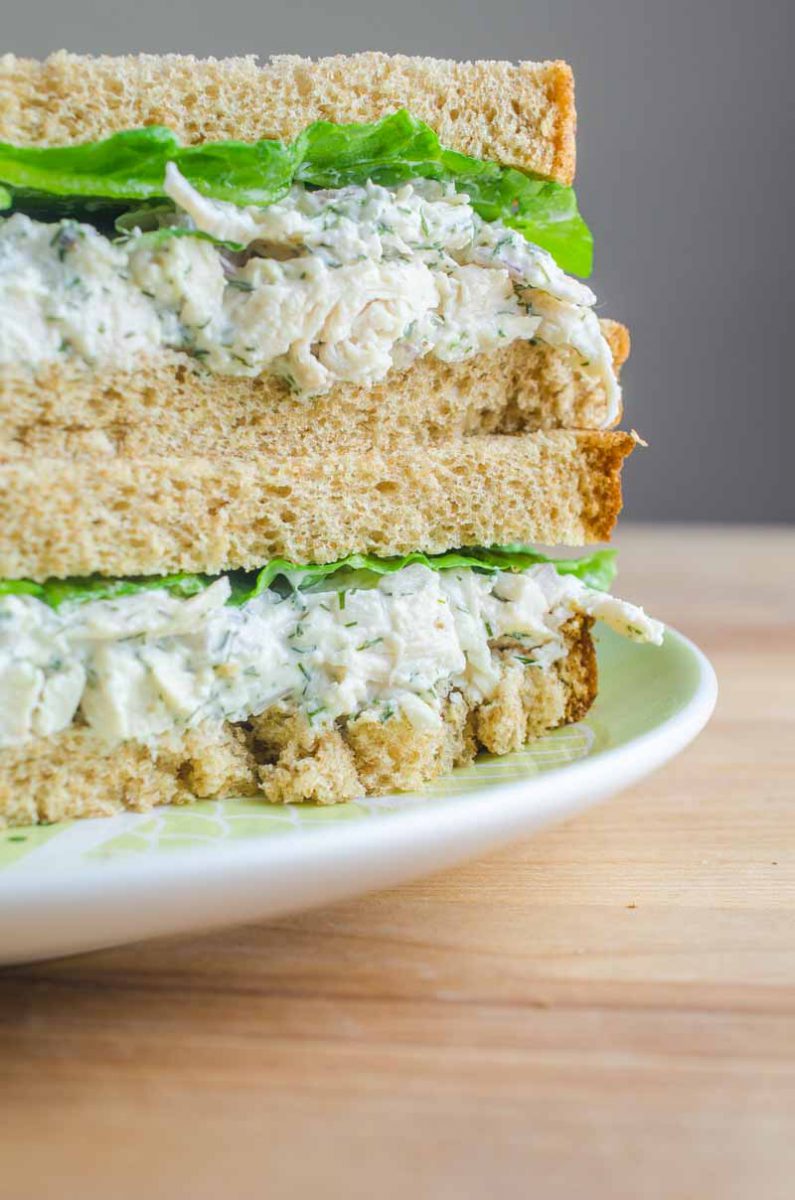 Dipping bread in ranch was a whole thing when I was a server. Maybe it's just a server thing. Because it wasn't just at work either. I would also ask for a side of ranch for my bread when I went out to other restaurants. And while my dining companions would look at me like I was a weirdo, the servers would just nod and smile. Like they knew.
Or they thought I was weird and were just being polite.
Which, now that I think about it, probably makes more sense. Hmmm…
Let's move on.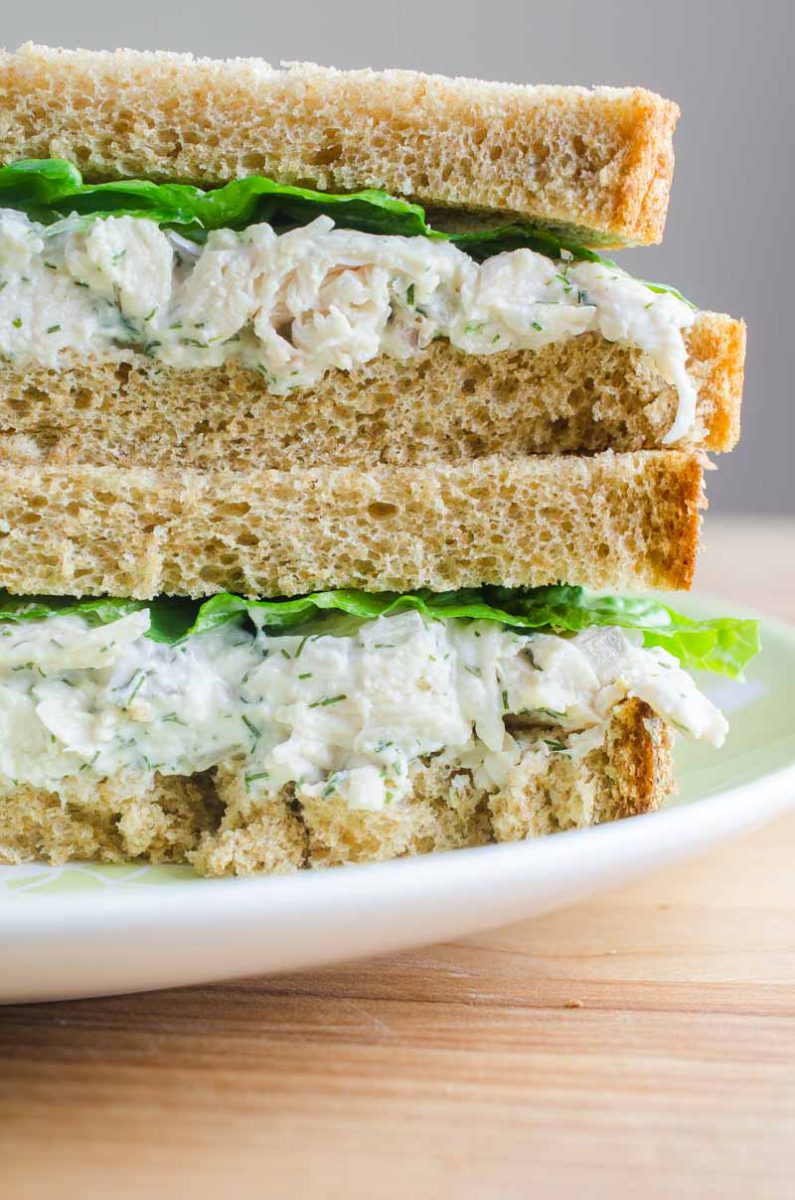 Dipping bread in ranch is where I got the idea for this Creamy Dill Chicken Salad Sandwich. We've established that I love dill and ranch and dipping bread in ranch. Well I also love chicken salad. So I got the crazy idea to put them all together.
And it worked.
It worked so well.
And the best part is, if you pick up a rotisserie chicken at the store (One of my favorite short cuts. The Costco one is yummo), there is absolutely no cooking involved. That, my friends, makes this Creamy Dill Chicken Salad Sandwich perfect for hot summer days.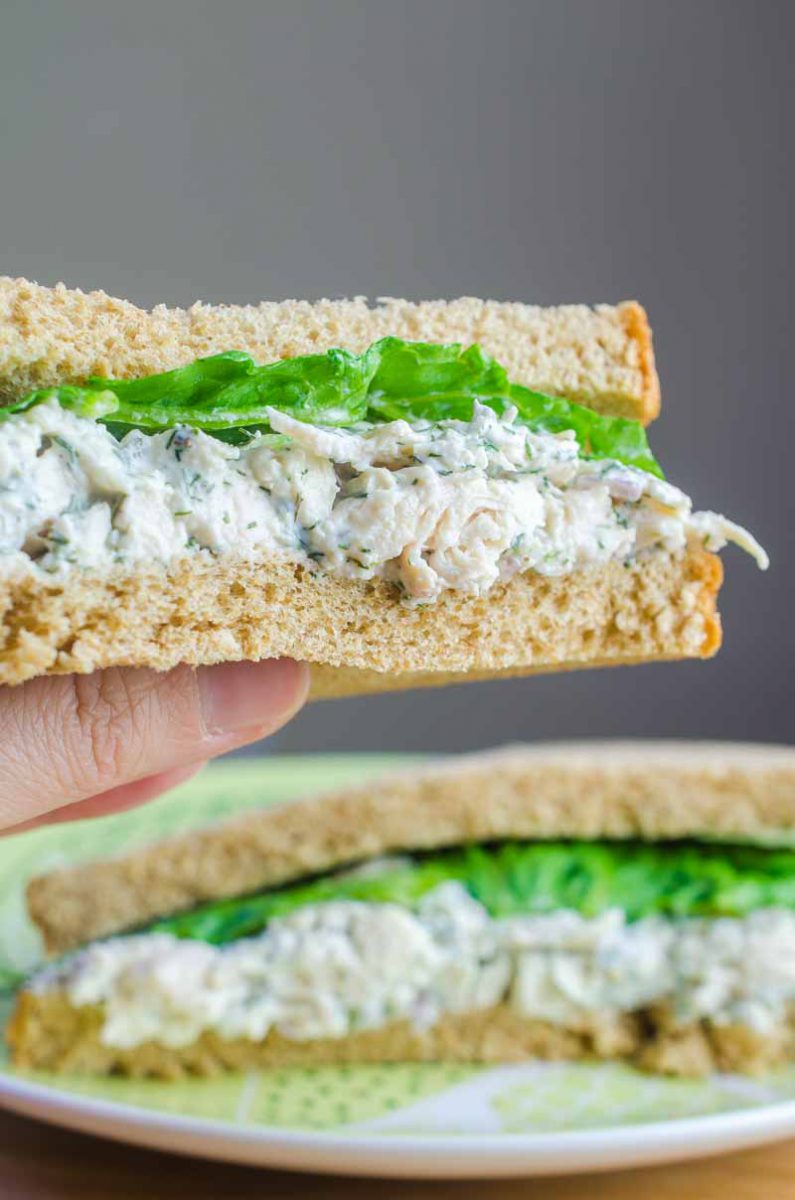 Finally, if you are looking for something to serve alongside your sandwich try these Garlic Chips and maybe you could even dip them in ranch.
This post was originally published in 2013 and was updated with photos and video in 2018. 
Creamy Dill Chicken Salad Recipe
Ingredients:
1/4 cup fat free Greek Yogurt
1/4 cup mayonnaise
1 tablespoon distilled white vinegar
1/2 teaspoon kosher salt
1/4 teaspoon fresh ground black pepper
1/2 teaspoon garlic powder
1 tablespoons plus 1 teaspoon fresh dill
1/2 teaspoon dijon mustard
1/3 cup diced shallots
3 cups cooked shredded chicken
8 slices multigrain bread
Lettuce
Instructions
1
Whisk together Greek yogurt, mayonnaise, vinegar, salt, pepper, garlic powder, dill and dijon mustard in a bowl.

2
Fold in red onion and shredded chicken. Mix well. Cover and refrigerate for at least 1 hour to let the flavors meld.

3
To make the sandwiches, spoon chicken salad onto one slice of bread. Top with lettuce and another slice of bread. Repeat with remaining ingredients to make 4 sandwiches. Serve.