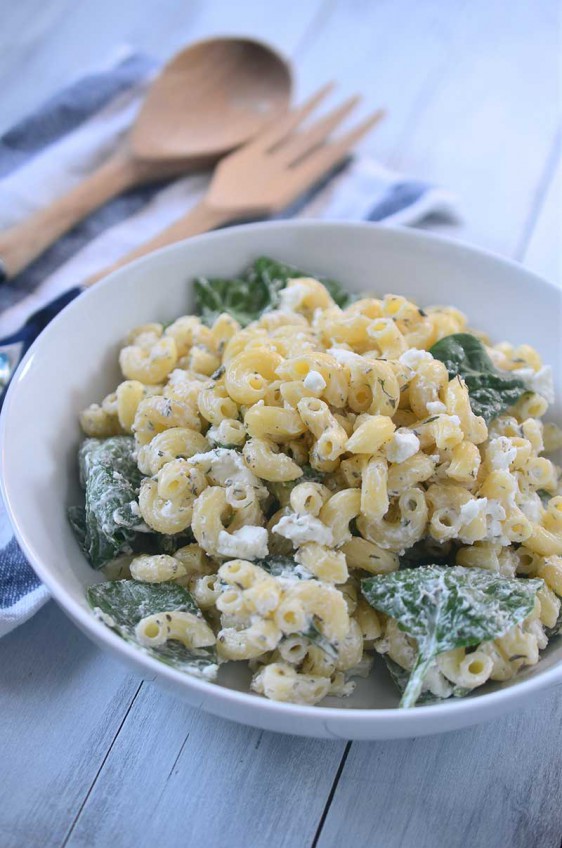 Creamy Goat Cheese Pasta Salad
Creamy Goat Cheese Pasta Salad is loaded with herbs, spinach and tangy goat cheese. It's the perfect easy side dish for all those end of summer BBQs and potlucks.
I can't believe it is already the last full week of August. I see posts on Facebook all the time about kids going back to school already. Summer is definitely winding down, but I think there is still a little more time to enjoy everyone's favorite summer side dish: pasta salad. This easy pasta salad recipe goes well with SO many different foods. Chicken, pork, beef… you name it!
Pasta salads are one of my favorite things to make in the summer. I enjoy making them because you can make and serve them one day, then have them in the fridge to enjoy for lunch for a few days. Or you can easily double the recipes to make them for a crowd. Pasta salad recipes are easily adaptable and seriously…pasta.
This creamy goat cheese pasta salad recipe is loosely based on a pasta salad that my mother-in-law buys when we visit sometimes.
That pasta is pretty creamy, garlicky, has spinach and feta. It's probably one of my fave deli salads. But she buys it at a place that we don't have here in Seattle, so when I got the craving for it a week ago, I decided to give it a go and make my own version.
I took some liberties and came up with this Creamy Goat Cheese Pasta Salad. I didn't use feta because I bought a huge thing of goat cheese at Costco (along with the huge thing of heavy cream I used in this ice cream recipe) and I am just really a huge goat cheese fan. I also decided to throw in some dill and summer savory to give the salad a little bit of herb flavor.
It turned out wonderful. We ate it for dinner one night and then I ate it for lunch for the next few days. It was so nice to have it in the fridge as an easy meal!
If you want to lighten things up a bit, you can also substitute Greek yogurt for the sour cream. I tried it that way too and it was all kinds of scrumptious.
Creamy Goat Cheese Pasta Salad Recipe
Ingredients:
2 cups dried elbow macaroni
1/3 cup mayonnaise
1/2 cup sour cream
1 tablespoon white wine vinegar
1 1/2 teaspoons dried summer savory
1/2 teaspoon dried dill
1/2 teaspoon garlic powder
1/2 teaspoon kosher salt
1/4 teaspoon pepper
2 cups packed baby spinach
1 cup goat cheese crumbles
Instructions
1
Bring a large pot of water to boil and cook pasta according to package directions. Drain and run cool water over the top.

2
Whisk together mayonnaise, sour cream, vinegar, summer savory, dill, garlic, salt and pepper.

3
Place pasta and spinach in a bowl. Pour dressing over the top and mix well. Fold in goat cheese. Cover and refrigerate for at least 1 hour. Season to taste with salt and pepper and serve.