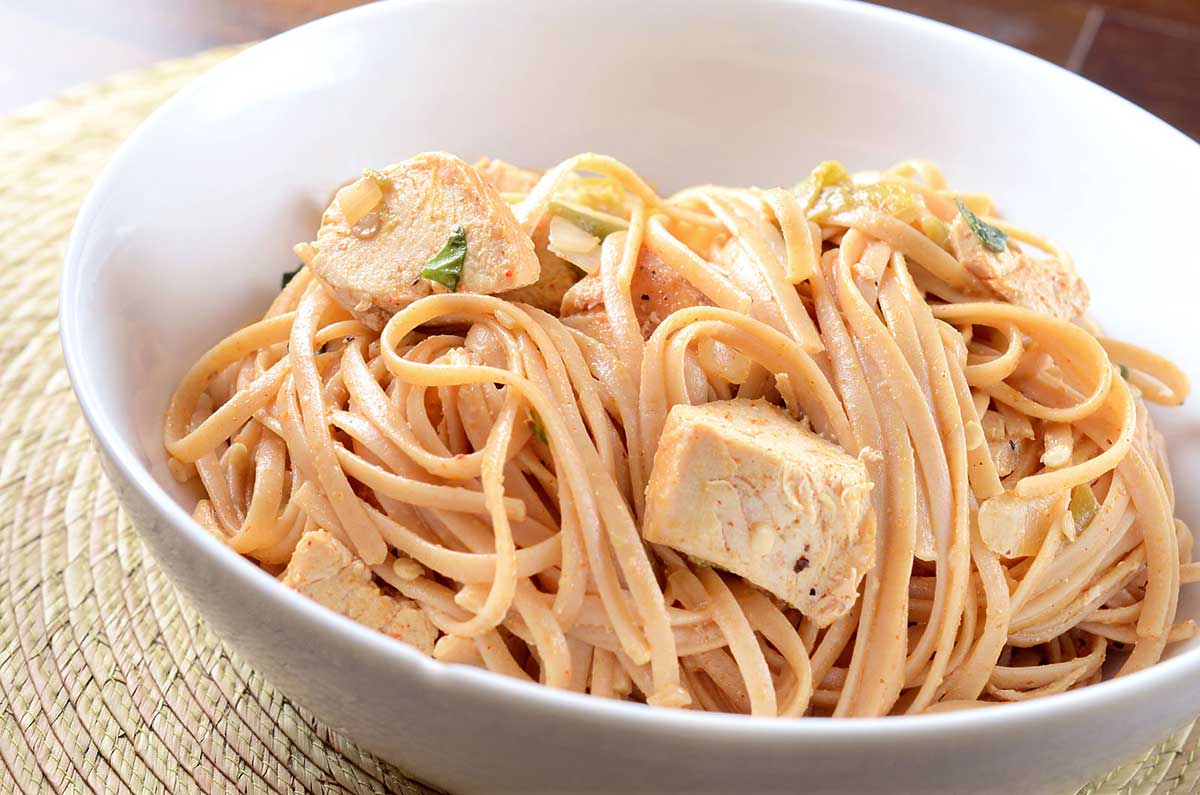 Creamy Hatch Chile and Chicken Pasta
I can't believe that last year was the first year that I discovered hatch chilies. I feel as if I had been deprived for the first 28 years of my life. They are just so unbelievably good. And now that I know just how good they are, I am buying them up by the reusable bag full and using them every way that I can. This pasta is the latest creation. With succulent chicken and tender pasta tossed in a creamy hatch chile sauce, trust me when I say, you want this in your life.
Last year I completely underestimated how good hatch chilies were. When I first saw them at the grocery store, there were signs saying "Hatch Chile Fever!" and freezer bags stacked almost as high as the peppers themselves. Apparently because the season is so short, people buy them, loads of them, roast them and freeze them. Not knowing how much I would like them, I only bought a couple. Silly, silly Des. Have no fear though, I learned my lesson. I am now one of those people that is buying tons. It's a good thing too so I can make this pasta throughout the rest of the year.
Note: Hatch chilies can be mild or they can be spicy, it really just depends on the pepper. If you don't like spice at all, remove the seeds after roasting them. I chose to leave them in and the sauce had a nice kick to it.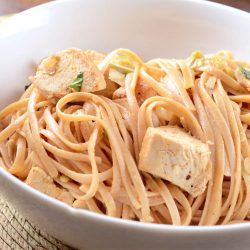 Creamy Hatch Chile and Chicken Pasta
Succulent chicken and tender pasta tossed in a creamy hatch chile sauce. You want this in your life. Trust me.
Ingredients:
5

hatch chilies

3

tablespoons

olive oil

1

pound

boneless skinless chicken breasts

seasoned with salt and pepper and diced

1

pound

dried linguine

1

medium onion

diced

3

cloves

garlic

minced

1/3

cup

chicken broth

1/2

cup

sour cream

1

teaspoon

chili powder

1

teaspoon

ground cumin

1/2

teaspoon

kosher salt

2

tablespoons

chopped fresh cilantro
Turn on oven broiler. Broil hatch chilies until skin is blackened about 2 - 3 minutes per side. Remove from oven. Place in a paper bag to sweat. Once cooled, peel the skin off. Remove stems. Remove seeds if desired. Dice and set aside.

Heat 2 tablespoons olive oil in a large skillet over medium heat. Cook chicken until cooked through. Remove from pan.

While chicken is cooking, bring a large pot of water to boil. Cook pasta according to package directions. Reserve 1/2 cup cooking water. Drain.

In the same pan that you cooked the chicken in, heat remaining tablespoon of olive oil. Cook onions, garlic and roasted peppers over medium-low heat until onions are translucent. About 2 minutes. Pour in chicken broth to deglaze the pan. Scrape up any brown bits off the bottom of the pan. Stir in sour cream, chili powder, cumin and 1/2 teaspoon salt. Return chicken to the pan. Mix well.

Add pasta to the pan. Toss to coat. If you want to thin the sauce out a bit, add a little of the reserved cooking water. Sprinkle chopped cilantro over the top. Toss once more. Serve.
Keywords:
chicken, creamy pasta, Food, hatch chile, hatch chilies, Kitchen Rendezvous, pasta, pasta recipe, Recipe, spicy