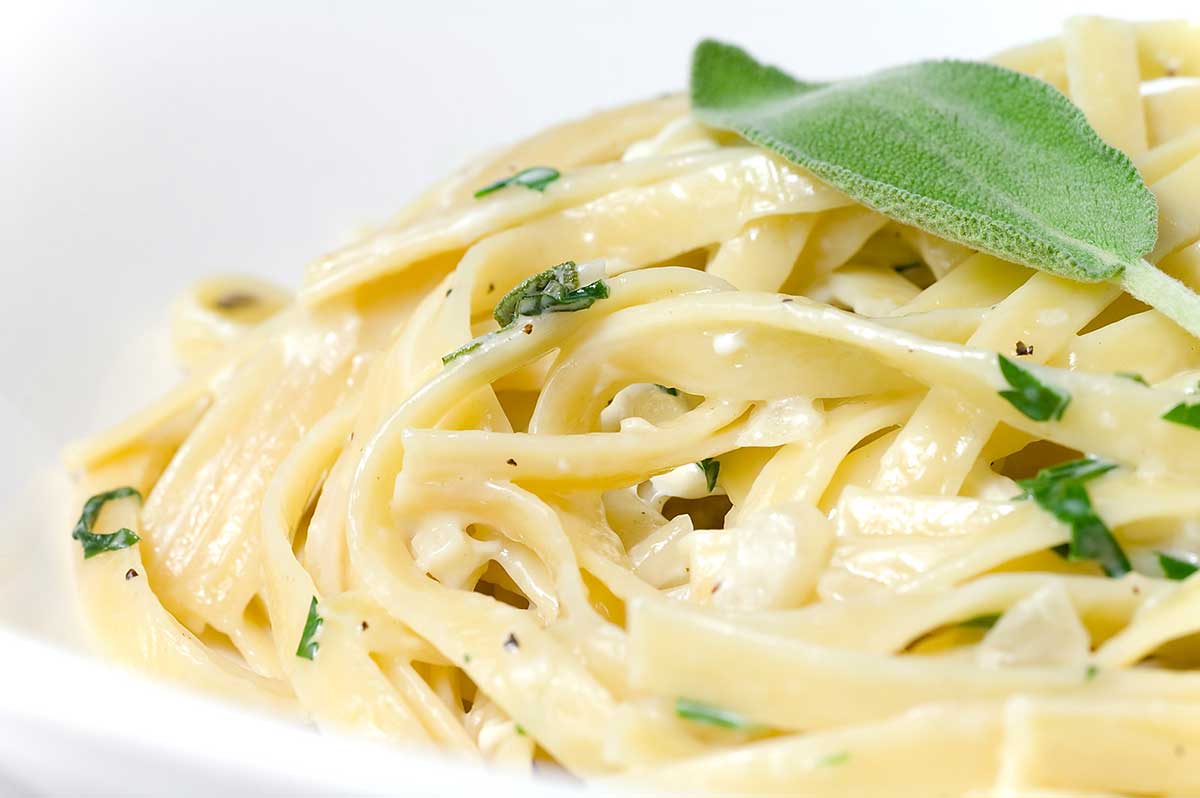 Creamy Herb Fettuccine
I am not going to be shy about it, this pasta is certainly a splurge. A deliciously scrumptious, I just might want to eat this every day for the rest of my life splurge. Not only is there heavenly heavy cream, but I also throw in some cream cheese and butter for good measure. Mixed with fresh oregano, sage and parsley, this creamy pasta has a wonderful fresh earthy flavor.
I am a planner. Especially when it comes to the kitchen. There is nothing worse than going to the cabinet and not finding a key ingredient. For this reason I plan out my grocery list before I head out. And things usually go as planned, except for yesterday.
Sunday is usually my grocery shopping day. Its a good day for me because I am not rushed and I usually go right after breakfast so I am not hungry.  But this week I had to go on Monday. Mistake 1.  Monday must be the day before they get new shipments after the weekend because yesterday my grocery store was out of everything. When I say everything I mean that not only were they out of canned pumpkin and mayo but they were even out of milk. Seriously, at least 1/2 the things on my list were sold out. Mistake 2 was going after work, apparently everyone and their brother goes at that time.
The crowds, combined with the lack of products, left me wandering around aimlessly for about an hour as I scratched what I originally planned and searched for something to make for dinner. After picking up a few bags of chips and cookies that I probably don't need, I walked down the pasta aisle, saw a box of fettuccine and made the executive decision to make creamy fettuccine for dinner. Praying that they had what I needed, I quickly pushed my cart through the crowds of people back to the dairy aisle, found some heavy cream and then, I kid you not, grabbed the last of the fresh oregano and sage from the produce section.  Thank goodness. Who knew grocery shopping could be so difficult?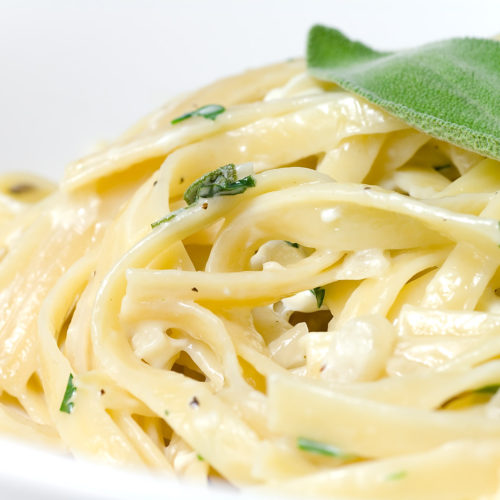 Creamy Herb Fettuccine
Fettuccine tossed in a creamy sauce with sage, parsley and oregano.
Ingredients:
1

pound

dried fettuccine

1

tablespoon

olive oil

1

tablespoon

butter

1

shallot

chopped

2

cloves

garlic

minced

1

cup

heavy cream

2

tablespoons

cream cheese

cut into 1 inch cubes

2

tablespoons

chopped fresh oregano

1 1/2

teaspoons

finely chopped fresh sage

2

tablespoons

chopped fresh parsley

fresh cracked pepper and kosher salt to taste

freshly grated Romano cheese

if desired
Bring a large pot of water to a boil. Season liberally with salt before adding pasta. Cook pasta according to package directions. Meanwhile start your sauce.

In a skillet large enough to hold the cooked pasta, heat olive oil and 1 tablespoon of butter over medium heat. Once butter melts add shallot and garlic. Cook 1 minute. Reduce heat to medium-low and slowly whisk in cream. Add cream cheese and continue stirring until cheese has melted. Continue cooking until thickened, it should coat the back of a spoon, about 5 minutes. Stir in chopped herbs. Season to taste with salt and pepper. Note: Try not to let the sauce boil, but if it does it is not the end of the world, just turn the stove down a notch.

Strain your pasta very well. Add strained pasta to the sauce. Toss to coat. Reduce heat to low, let stand for 5 minutes. Toss once more.

Transfer to serving platter. Grate some Romano cheese over the top, if desired. Serve.
So aside from the fact that I may need to find a new grocery store, I will chalk this spur of the moment dinner up as a success. Enjoy!
Keywords:
butter, comfort food, Cream Cheese, creamy pasta, dried pasta, entree, fettuccini, Food, heavy cream, herbs, italian parsley, olive oil, parsley, pasta, quick pasta, Recipe, sage, shallot