Creamy Leek and Bacon Fettuccine
A few weeks ago the nice folks at Cappello's Gluten Free offered to send me some of their products for review. And that is what I was going to do. I was going to simply  try the pasta, share it with you and let you know how I felt about it. But then I made this Bacon and Leek Fettuccine and I fell in love. And I thought there was no way that I could tell you about how good the pasta is without sharing with you the recipe that made me love it so much.
We are probably the last family that could follow a gluten free diet. I mean seriously, my grocery cart usually has 3 loaves of bread, a few different kinds of pasta, probably some flour tortillas and if I'm going to do baking that week probably some flour too. It's not that I try to make sure we have gluten in our meals, it's just that we do. And to be honest, I've always been a little leery of specialty gluten free products like pasta, I just didn't think that I'd be a fan. But then I tried Cappello's and I must say, I was pleasantly surprised.
The package that I was sent contained fettuccine, gnocchi, lasagna sheets and cookie dough. I decided the best way to determine if I would like the product was to compare it to something I use a lot so I chose to give the fettuccine a go first.
We love fettuccine in our home. It's one of my favorite cuts of pasta because it's thick and works well with many different sauces, especially Alfredo. Instead of wheat flour, the Cappello's fettuccine is made with primarily almond flour and egg. Since we usually use dried pasta in our house, the main difference that we noticed was the texture. It was totally a good change though. Cappello's fettuccine is firmer and tastes much more like fresh pasta.
To be completely honest, if I didn't know that it was gluten free, I never would've known.
Gluten free or not, it's simply good pasta, friends. That is all there is to it.
And when you take a good pasta and you toss it in a creamy leek and bacon sauce, well that right there, is pasta heaven.
Disclosure: I was sent the product to try and chose to create a recipe and write about it. All opinions are my own.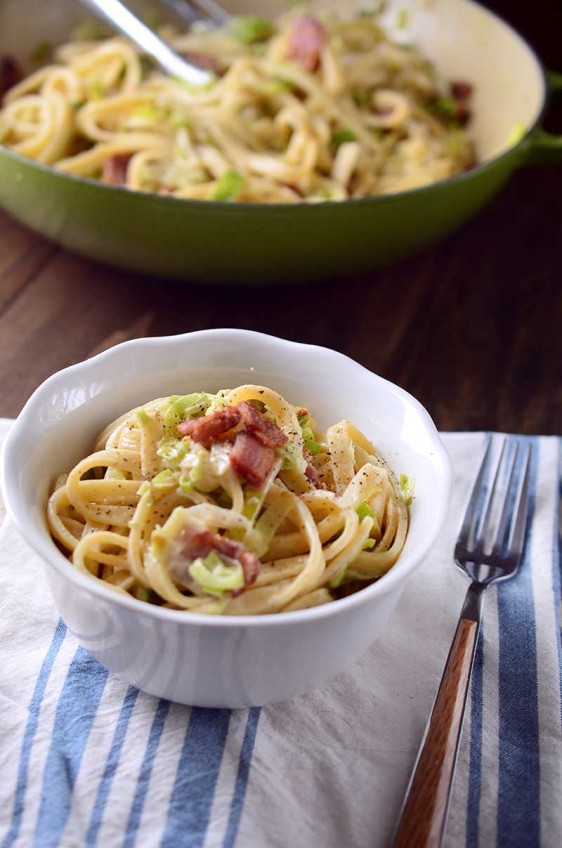 Creamy Leek and Bacon Fettuccine
Gluten free pasta tossed in a creamy leek and bacon sauce.
Ingredients:
5

slices

thick cut bacon

diced into 1 inch pieces

2

9oz packages Cappello's Fettuccine

1

tablespoon

butter

1

tablespoon

olive oil

1

whole leek

diced and rinsed

3

gloves garlic

minced

1/2

cup

heavy cream

1/4

cup

freshly grated parmesan cheese

room temperature

salt and pepper
Cook bacon over medium heat until cooked through. Transfer to a paper towel lined plate.

Bring a large pot of water to boil and cook pasta according to package directions. Reserve 1/4 cup of pasta water. Drain and run under cool water to stop the cooking.

Heat butter and olive oil in a large skillet over medium heat until butter melts. Cook leeks until they begin to soften, about 5 minutes. Add in garlic, cook just until fragrant, about 30 seconds. Stir in cream and parmesan cheese. Add in bacon and pasta. Toss to coat. If sauce is too thick add reserved pasta water. Allow to set for 5 minutes. Season to taste with salt and pepper. Serve hot.
Keywords:
alfredo, bacon, cappellos, gluten free, leek, pasta