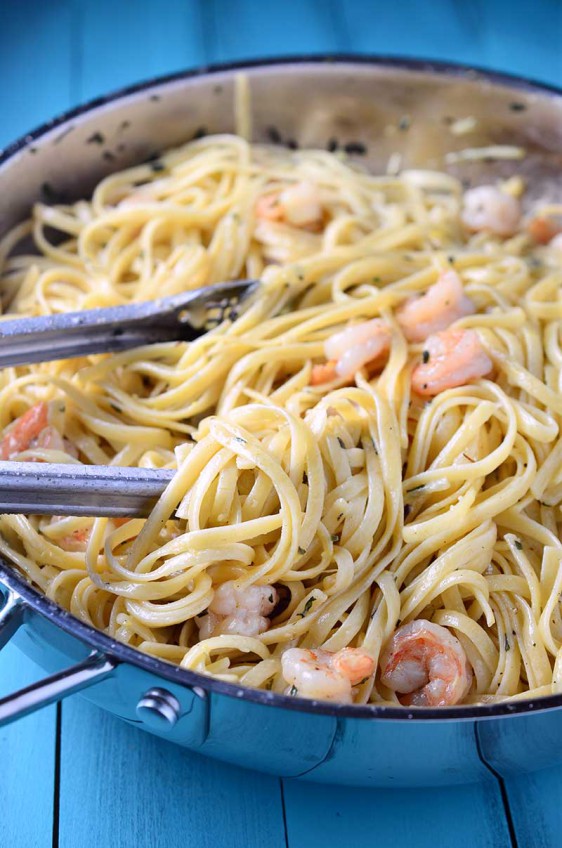 Creamy Tarragon Shrimp Pasta
Valentine's Day is just a few short days away now. Are you doing anything special? If you haven't made plans yet but still want to wow your sweetie then this Creamy Tarragon Shrimp Pasta is just what you need. It's fancy enough for a date night at home and easy enough to pull together quickly after the little ones are in bed.
We are actually going out to dinner for Valentine's Day this year. My in-laws are coming to help babysit and the hubs and I are headed out to an Italian restaurant to get our pasta, bread and vino on sans babies. But this is the first time in, I don't know, maybe 5 years or so that we have actually gone out for Valentine's Day. Usually we stay at home, in our pjs and make a fancy dinner.
And by fancy dinner I mean either a steak or pasta dish. It's usually pasta though because there is just something so romantic about Italian food to us.
I'm guessing it has something to do with our honeymoon in Italy. It was a little over 7 years ago but I still day dream about it. I still miss the sights, the smells, the wine and the food. Oh the food.
I may or may not have gained 10 pounds on our 2 week honeymoon.
But that let's not talk about that.
Instead let us talk about this creamy, lemony, herby pasta. It's loaded with succulent shrimp, garlic, lemon zest, cream, wine and tarragon. Now tell me…doesn't that sound just perfect for Valentine's Day?
You can even eat it all Lady and the Tramp style if you want ;-)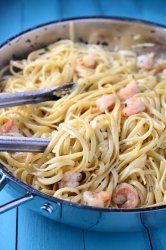 Creamy Tarragon Shrimp Pasta
A creamy pasta with shrimp, lemon, garlic and tarragon.
Bring a large pot of water to boil and boil pasta according to package directions. Drain.

While pasta is cooking, heat butter and olive oil together in a large skillet over medium heat just until butter melts. Add in garlic and shallots. Cook until garlic is fragrant, about 1 minute. Add in shrimp and cook 2 - 3 minutes or just until they start to turn pink. Pour in lemon juice and wine. Scrape up any bits that have stuck to the bottom of the pan.

Reduce heat to medium low and slowly whisk in cream. Stir in lemon zest and tarragon.

Add cooked pasta to the shrimp sauce. Toss to coat. Remove from heat and allow to sit for 5 minutes. Toss once more and serve.
Keywords:
pasta, seafood, shrimp, tarragon, valentines day