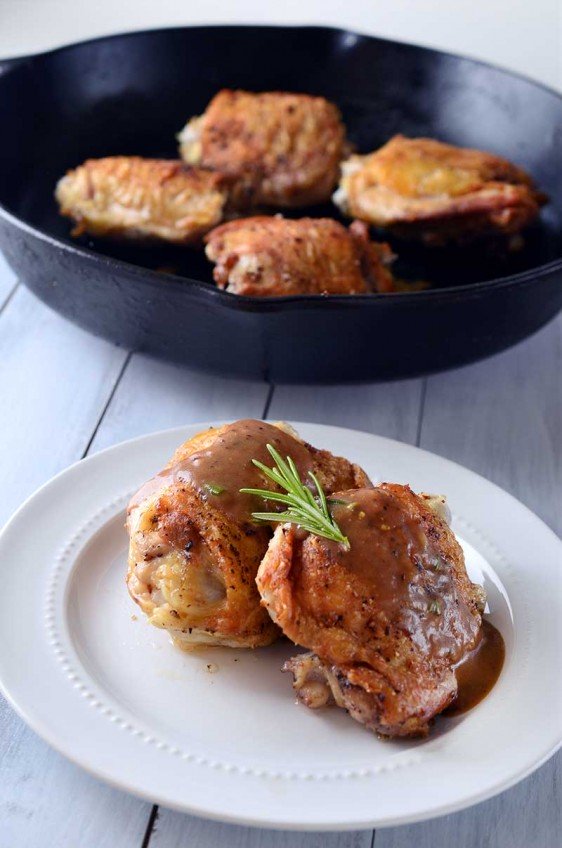 Crispy Chicken Thighs with Honey Dijon Balsamic Pan Sauce
After last week's pumpkin fest, you know the one with the Pumpkin Cheesecake Cookie Ice Cream, the Pumpkin Chocolate Chip Zucchini Muffins and the Pumpkin Gingersnap Icebox Cake, I thought it was time to get back to some savory dishes. After a quick survey on Facebook, it was decided that it would be this recipe for Crispy Chicken Thighs with Honey Dijon Balsamic Pan Sauce.
I recently read an article that said that if you start chicken in a cold pan, you can get super crispy skin. And I am alllllll about the super crispy skin so I had to give it a whirl.
This is not the first time that I have tried a cold fry technique. The first time I tried it was when I made these Garlic Fries. I was really surprised how well it worked. Who knew? But because that recipe worked so well I had really high hopes for trying the chicken in a cold pan. And I was not disappointed.
You don't add anything to the pan. At all. No butter. No oil. Just the chicken, skin side down at first. And as the pan and chicken heat up together, the fat renders from the skin and fries it to a crisp golden brown. Oh my gawd is it good, guys.
I could've left it at that. Believe me, I was trying hard not to eat all of the chicken when it first came out of the oven, but I decided that it would be even more delicious if I made a delectable pan sauce to go on top. A delectable pan sauce using one of my new favorite products: Honey Dijon with Balsamic Vinegar of Modena from Maille. There are a few Dijon Balsamic condiments on the market but this one is my favorite. Have you guys tried it yet? The nice people over at Maille sent me a sample to try and I am over the moon in love with it. It is just so good. It's sweet, yet tangy and it works well on sandwiches, with salads and of course with this chicken. It can be a little hard to find, if you can't find it in your grocery store with the other Maille products it may not be available in your area quite yet since it just launched this summer but you can order it here.
The pan sauce couldn't be simpler. Just uses a little of the pan drippings from the chicken, some Honey Dijon Balsamic, flour, chicken broth and fresh rosemary. It comes together in about 3 minutes and could not be a better accompaniment to this chicken. Seriously guys, I may or may not have licked the plate afterwards.
I can tell you that right? We're all friends here.
No judging if you lick the plate too. :)
Disclosure: This is not a sponsored post. I was sent the product to try but was not compensated. All opinions are my own.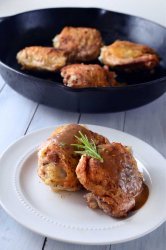 Crispy Chicken Thighs with Honey Dijon Balsamic Pan Sauce
Succulent chicken thighs with golden crispy skin topped with a Honey Dijon Balsamic pan sauce.
Preheat oven to 400 degrees.

Liberally season chicken thighs with salt and pepper. Place skin side down in a cast iron skillet or other oven-proof skillet. Turn the burner to medium and allow the chicken to cook untouched for 15 minutes. Turn the chicken skin side up and place pan in the preheated oven. Cook for 10 - 15 minutes or until a heat thermometor measures 165 degrees. Transfer chicken to a serving platter.

Return pan to stovetop over medium heat. Reserve 1 tablespoon of pan drippings. Whisk in flour. Let cook for one minute. Slowly whisk in chicken broth. Whisk in Honey Dijon with Balsamic Vinegar of Modena and rosemary. Cook for 2 more minutes or until thickened. Spoon sauce over chicken and serve.
Keywords:
chicken, entree, maille mustard