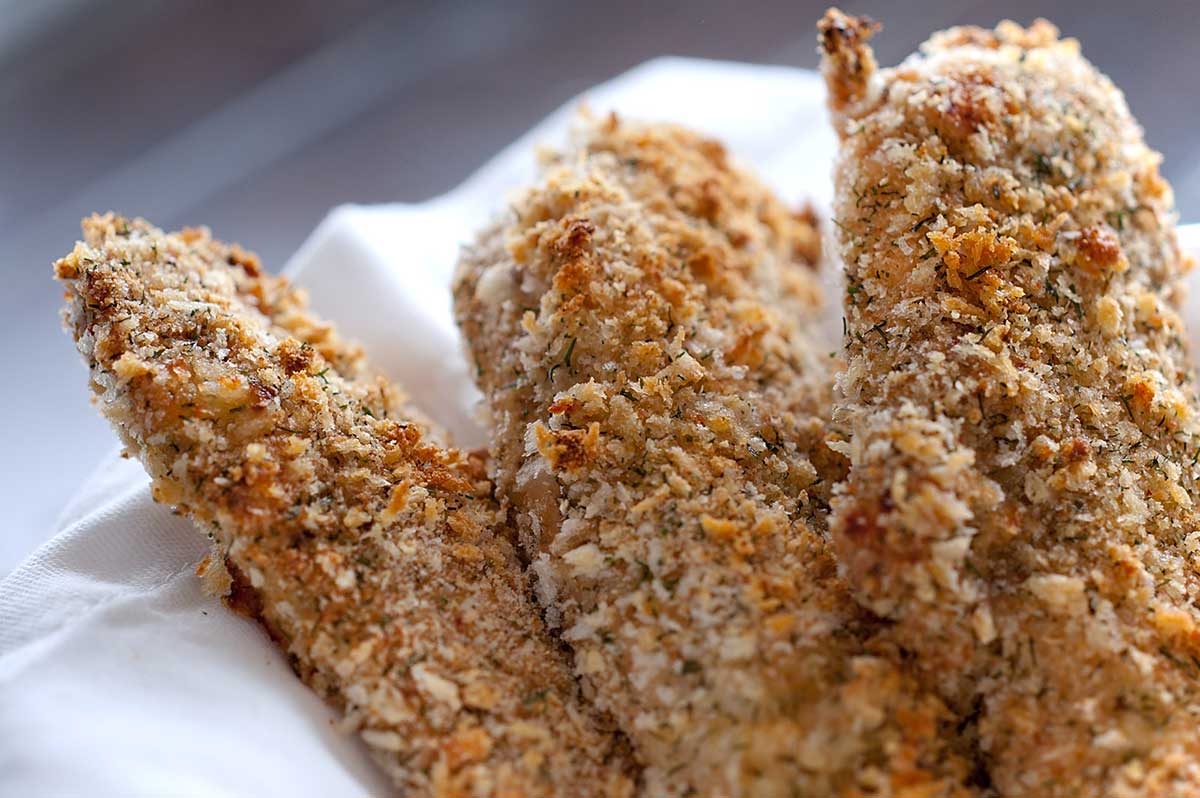 Crispy Dill and Garlic Chicken Tenders
As you can see I've been on a bit of a dill kick lately. There is just something about it that reminds me of summer. The taste is so fresh and bright. Dill pairs very nicely with both garlic and chicken so I'm surprised I never thought of these chicken tenders before. They are crispy, golden, full of flavor and sure to please all the adults and kids at your dinner table.
When I  post chicken tender recipes on the blog I often get the question "What is a chicken tender?" Chicken tenders are basically pieces of chicken without bones or skin. The chicken tenders that I buy are chicken breast tenders. My grocery store often carries them right next to the regular chicken breasts. If your grocery store does not, simply buy boneless skinless chicken breasts and slice them into strips.
Crispy Dill and Garlic Chicken Tenders Recipe
Ingredients:
1 1/2 pound chicken tenders
kosher salt and fresh cracked pepper
1 egg
1/2 cup plain dry bread crumbs
1 cup panko bread crumbs
2 teaspoons dried dill
2 teaspoons garlic powder
1 - 2 teaspoons olive oil
Instructions
1
Preheat oven to 400 degrees. Spray a cooling rack with non-stick spray and place cooling rack on top of a baking sheet.

2
Season both sides of the chicken tenders with salt and pepper.

3
In a bowl beat egg. In another bowl combine bread crumbs, panko bread crumbs, dill and garlic. Dip each chicken tender in the egg then press into the bread mixture to coat completely. Transfer to prepared baking sheet. Repeat until all chicken tenders are coated. Drizzle olive oil over the top.

4
Bake in preheated oven for 20 - 25 minutes. Turn on the broiler and broil for 3 minutes or until chicken is browned. Serve.