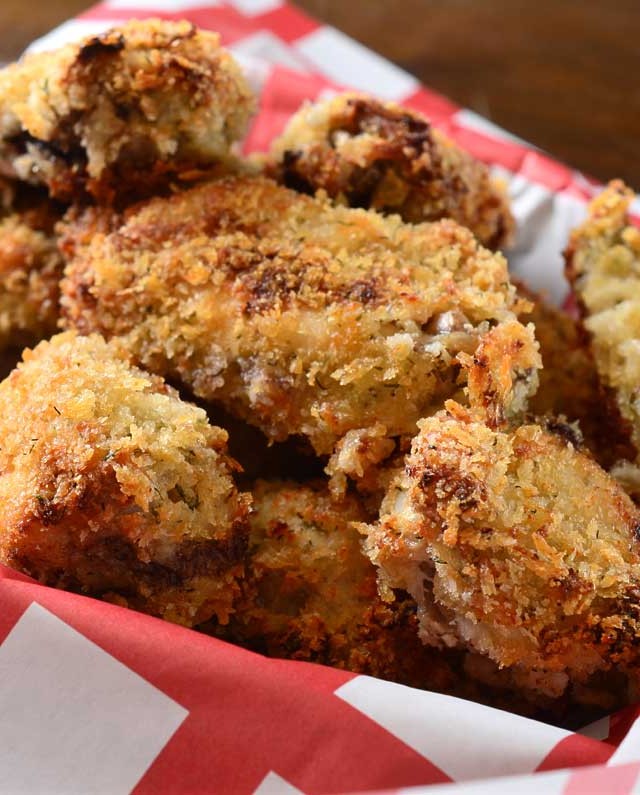 Crispy Dill Chicken Wings
Chicken wings. If you can't tell by the plethora of chicken wing recipes on the blog, I adore them. Sauced, dry, baked, fried, you name it. I love them. For the longest time, I've been trying to develop a recipe to combine two of my favorite things: chicken wings and dill. But I could never get it right. The chicken was just never "dilly" enough. Until now, now I've got the recipe and I can't wait to share it with you!
It all starts with the Greek Yogurt. That's right I said Greek Yogurt. The fine folks over at Tillamook offered to send me a sampling of their new FarmStyle Greek Yogurt to try and mess around with. It's delicious friends. Rich, creamy and not too tart at all, unlike some Greek yogurts. And I have found so many ways to use it.
Besides the obvious, stuff my face, of course.
Last week alone I made a creamy pasta, some stuffed french toast and these Crispy Dill Chicken Wings.
These were by far my favorite. I think it goes back to the whole love of chicken wings thing. But these wings are delicious and are pretty darn easy to make. First you marinate the chicken in a simple marinade of greek yogurt, dill, garlic and a splash of vinegar. Then they are dredged in some panko bread crumbs and baked until golden and crispy. Like I said, super easy and all kinds of delicious.
Note: These taste better the longer that they marinate so plan on at least 4 hours in the marinade. Or even better get everything marinating the night before.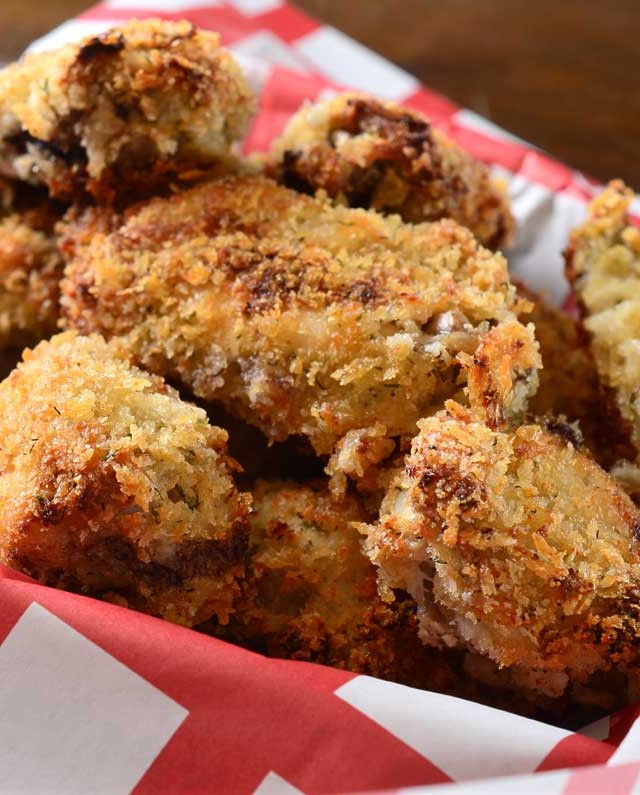 Crispy Dill Chicken Wings
Chicken wings marinated in creamy greek yogurt dill sauce and baked until golden brown and crispy.
Ingredients:
1/2

cup

Tillamook non-fat Farmstyle Greek Yogurt

1

teaspoon

garlic powder

3

teaspoons

dried dill

divided

3/4

teaspoon

kosher salt

divided

1/4

teaspoon

pepper

2

tablespoons

vinegar

1 3/4

pound

about 14 party style chicken wings

2

cups

panko bread crumbs

3

tablespoons

canola oil
In a large bowl combine Greek yogurt, garlic powder, 2 teaspoons dried dill, 1/2 teaspoon kosher salt, pepper and vinegar. Mix well. Add wings to the marinade. Toss to coat. Cover and marinate for at least 4 hours or overnight.

Preheat oven to 425 degrees.

Combine panko, remaining 1/4 teaspoon dried dill, remaining 1/4 teaspoon kosher salt and 3 tablespoons canola oil. Toss to coat all of the panko in the oil.

Remove the chicken wings from the marinade and dredge in the panko mixture, making sure to fully coat both sides of the wings. Place the chicken wings on a baking sheet and bake them in the preheated oven for 20 minutes. Turn wings and bake for another 20 minutes or until wings are cooked through and golden.
Keywords:
chicken wings, dill, greek yogurt, Tillamook