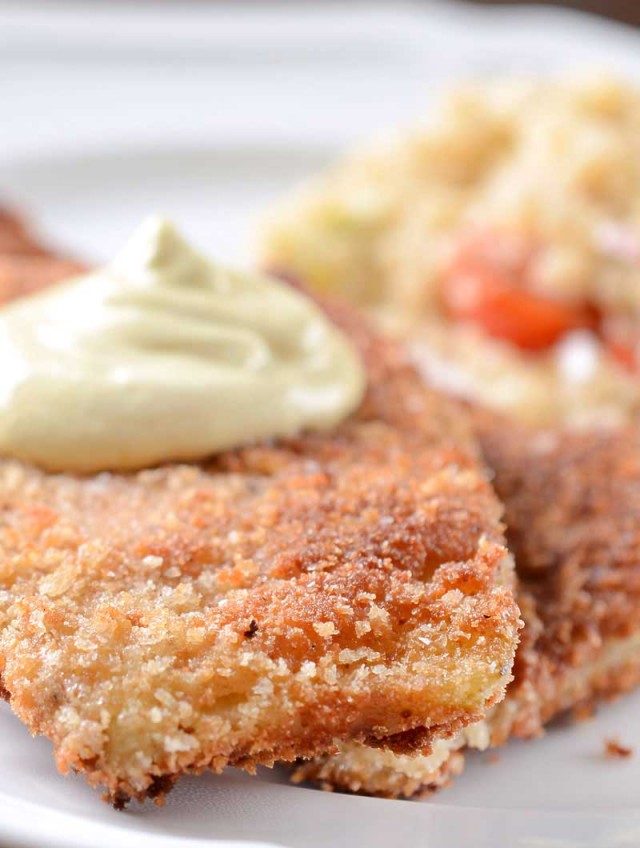 Crispy Eggplant with Curried Yogurt Sauce
I wish you could've seen his face when Ryan asked me what was for dinner the other night and my reply was "Crispy Eggplant with Curried Yogurt Sauce". To sum it up, he was less than enthused. He thought it sounded weird and said "where's the meat?" I simply responded that it will be so good he won't miss the meat. And I was right. This dish was just lovely. The eggplant crispy and the cool yogurt sauce had just the right amount of heat.
It is tough to come up with new and exciting recipes. Not only am I trying to come up with something new and different for the blog, we don't like to eat the same ol' same ol' all the time either. This means that sometimes I have to get very creative.
This can be good….and bad…
But in the spirit of always being positive, let's just focus on the good. Like this eggplant.
I had an eggplant in my refrigerator and originally planned to make eggplant Parmesan, but alas no Parmesan cheese, no mozzarella. What I did have was some bread crumbs, curry and yogurt. Enter this crispy eggplant with curried yogurt sauce.
The eggplant is fairly simple, seasoned with black pepper and salt coated in bread crumbs and then fried to crispy perfection. It's the sauce that is the real star of the show. Creamy and cool with a touch of spice from the curry powder. I'd be lying if I said I didn't lick it off the spoon.
And the bowl…
Note: I accidentally picked up salt-free curry powder, if your curry powder has salt you may not need as much salt in your yogurt sauce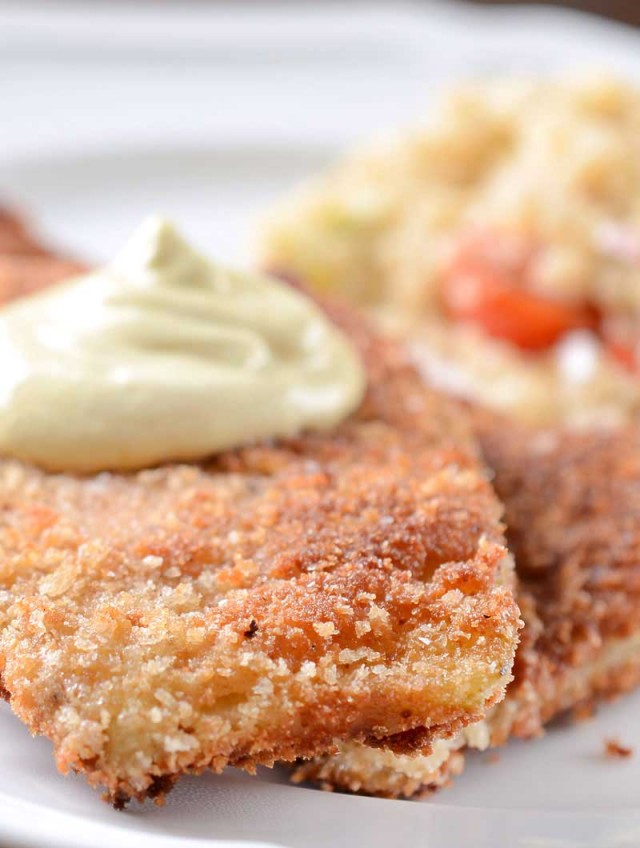 Crispy Eggplant with Curried Yogurt Sauce
Golden fried eggplant topped with a cool curried yogurt sauce.
Place peeled, sliced eggplant in a colander and sprinkle liberally with salt. Allow to sit in the sink for one hour.

Mix yogurt, mayonnaise, curry powder, 1/2 teaspoon salt and vinegar together in a bowl. Cover and refrigerate until ready to use.

After the eggplant has set for an hour, rinse well and pat dry between two paper towels. Season both sides with salt and pepper.

Whisk together egg and milk in a bowl. On a plate mix panko bread crumbs, plain bread crumbs and garlic powder.

Set up an assembly line in this order: flour, egg/milk and then bread crumbs. Dip a slice of eggplant in the flour, then dip them in the egg/milk wash, lastly press it into the bread crumbs. Then repeat the process one more time to double coat the eggplant. Repeat until all eggplant is coated twice.

Heat enough oil to generously coat the bottom of the skillet. Fry the eggplant, in batches if necessary, until golden brown on both sides, 3 - 4 minutes. Transfer to a paper towel lined plate. Lightly sprinkle with salt.

Place eggplants onto serving platter and top with curried yogurt sauce. Serve.
Keywords:
curried yogurt sauce, curry, egg plant, eggplant, Food, fried eggplant, Recipe, Vegetarian