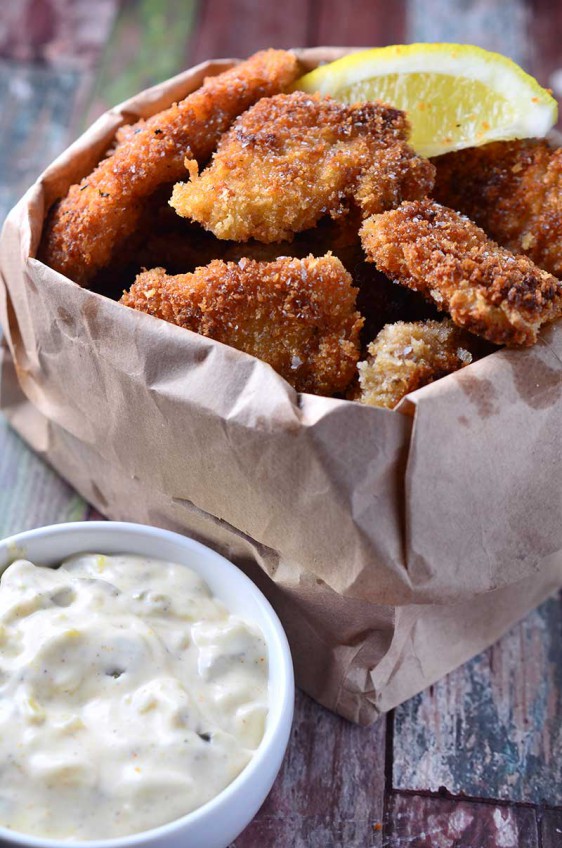 Crispy Fish Nuggets with Cajun Tartar Sauce
One of my favorite guilty pleasures is perfectly crispy fried fish dunked in creamy tartar sauce. Every once in a while I will just crave it. The breading so crispy, the fish so tender and flaky. And the tartar sauce? Oh it must be homemade. Yes, homemade. Because, really friends, that is the only kind of tartar sauce you should be eating.
When it comes to fried fish there are two essential things:
1. Perfectly crispy fried white fish. No soggy batter here thank you very much.
And
2. Creamy tangy tartar sauce to dunk said perfectly crispy fried fish into.
This recipe has both.
You're welcome.
Let's talk about the fish first. You can use any white fish that you like for this recipe. We prefer cod in our home, but you could easy spend a little more money and use halibut or save some bucks and use tilapia. Any will work. The key to making them perfect, in my opinion anyway, is the coating. Ever bit into a piece of batter fried fish and had the oil drip out all over? Yeah. I have. Not pleasant. That is why I forgo batter frying my fish. Instead I coat it in panko. The panko gives the fish a super crispy crunch and it's never soggy.
Yay!
Next up is the tartar. Ever since I shared this tartar sauce recipe back in 2009, I have been making my own tartar sauce. It's just so easy to make and I usually have all of the ingredients on hand so I can't imagine ever buying some.  You probably have all the ingredients already too. All you need is a little mayo, dill pickles, sweet relish and onions. For this recipe, I decided to make a spicy version by adding some cajun seasoning. It adds just the right amount of kick that was the perfect dip for these Crispy Fish Nuggets.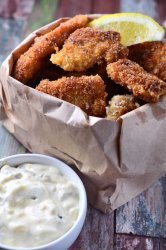 Crispy Fish Nuggets with Cajun Tartar Sauce
Fish coated in panko, fried until golden and dunked in a spicy Cajun Tartar Sauce.
Crispy Fish Nugget Ingredients:
Cajun Tartar Sauce Ingredients:
1/2

cup

mayonnaise

2

tablespoons

sweet relish

1

tablespoon

diced dill pickles

1

tablespoon

minced yellow onion

1/2

teaspoon

Cajun seasoning
Make the tartar sauce first. Combine all ingredients together in a bowl. Mix well. Cover and refrigerate until ready to use.

Combine flour and blackened seasoning together in a bowl. In another bowl whisk together milk and egg. In another bowl combine panko bread crumbs and garlic powder. Dredge fish into seasoned flour, dip into egg/milk mixture and then press into panko to coat completely. Repeat until all fish is coated.

Preheat oven to 200 degrees.

Heat oil in a skillet over medium heat. Cook fish, in batches, 2 - 3 minutes on each side or until golden brown and cooked through. Transfer to a paper towel lined plate, sprinkle with salt and keep in warmed oven until all fish is cooked.

Once all fish is cooked serve hot with tartar sauce and a lemon wedge.
Keywords:
Dip, fish, fried food, seafood