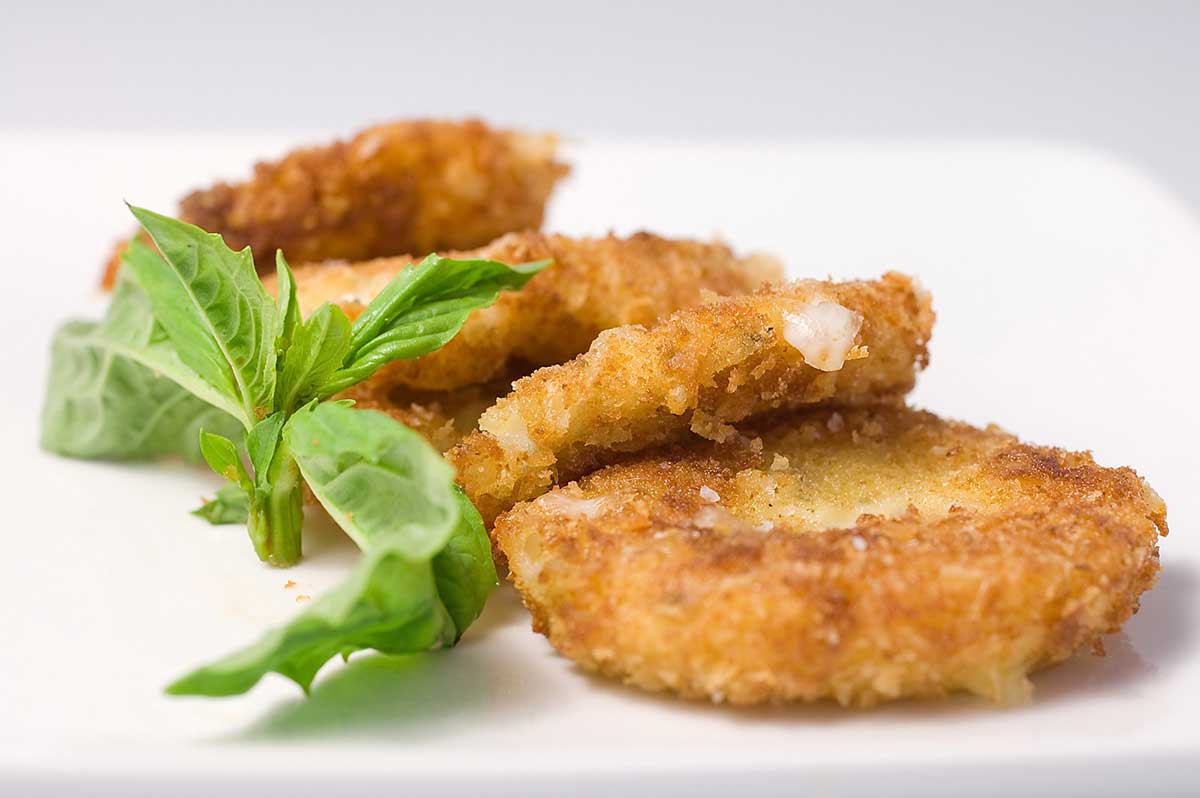 Crispy Marinated Mozzarella
When my sister came over for pizza the other night I also attempted to make some fried mozzarella. I say attempted because the first go around pretty much failed. Not one to give up on the quest to find the perfect fried cheese, I decided to give these little devils a shot again last night and I am happy to say things worked out beautifully. First, I marinated sliced mozzarella in a mixture of olive oil, dried basil and fresh garlic. Next, I dipped each slice in flour, then egg and finally a panko/dry bread crumb mixture and fried until golden brown. The result was crunchy, melty, garlicky goodness.
When I first attempted these, I dipped the marinated mozzarella in egg and then in panko. The breading didn't really stick so the mozzarella kind of oozed everywhere. It tasted wonderful, but did not look that appetizing. I think the panko just wasn't heavy enough to coat the mozzarella by itself. The addition of the flour and the plain dry breadcrumbs in this recipe really helped create the crunchy crust I was looking for.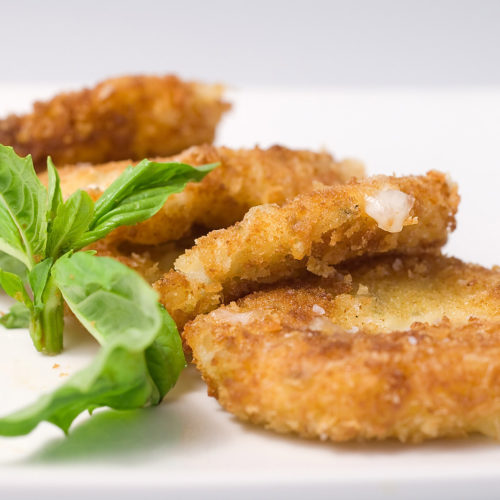 Crispy Marinated Mozzarella
Mozzarella marinated in olive oil and spices and then fried until golden.
In a bowl combine, olive oil, garlic, basil and kosher salt.

Lay mozzarella slices on a plate and pour garlic mixture over the top. Turn to coat. Cover and refrigerate for 2 hours.

The breading process is three step. In one bowl place flour, in a second bowl place egg, in the the third bowl combine the panko and plain dry bread crumbs.

Heat about 1 inch of oil in a pan over medium heat.

Dip each piece of mozzarella in the flour, then egg and finally press into the bread crumbs to coat completely.

Drop a few bread crumbs into the oil, if they sizzle, it is hot enough. Fry breaded mozzarella for 3-5 minutes or until golden brown.

Serve immediately.
So Ryan doesn't like fried mozzarella (gasp!) I know its hard to believe. Whenever we go out and I see mozzarella sticks or fried mozzarella on the menu, I put on my cutest face and suggest it for an appetizer and it never works. But these were so good that last night, I had to slap his hand away as he reached for mine. Don't mess with a girl and her fried cheese! :)
Keywords:
bread crumbs, crispy, Food, fried cheese, fried mozzarella, garlic, italian, melted cheese, mozzarella, panko, Recipe