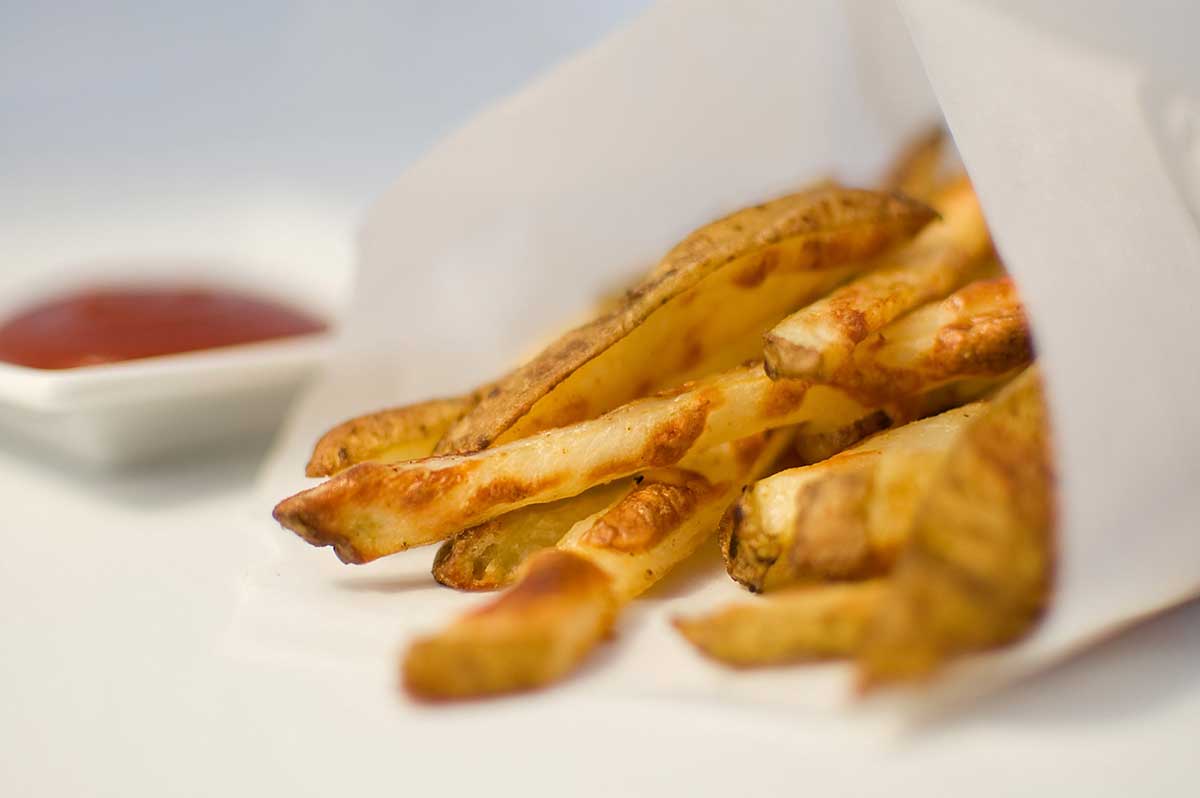 Crispy Oven Fries
French fries are my weakness. I'll admit it, the thought of a crispy, salty fry makes my mouth water. However, I really don't like frying French fries, not  because of the nutritional aspect, but because it is pretty messy and time consuming.  Instead, I would make oven fries and that too turned into a big mess; they were always soggy.  After hearing about another technique I thought I would give it a try. The key is to actually boil the sliced potatoes before baking them. The result is a crispy, golden brown french fry.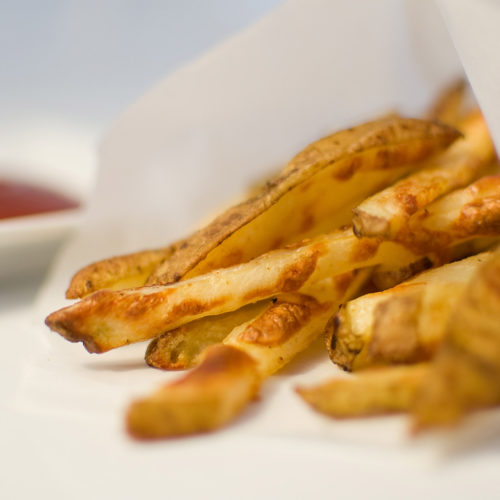 Crispy Oven Fries
Crispy oven baked french fries.
Preheat oven to 400 degrees Fahrenheit.

In a pot big enough to hold the water and the sliced potatoes, add water and potatoes; bring the potatoes to a boil; once the water starts boiling add the salt; cook until the potatoes are 3/4 of the way done, about 4 minutes. You should be able to insert the tips of a fork, but it should be a little tough to remove it. (Note: If you are unsure, it is better to under cook the fries at this point, otherwise they may get too soft)

Remove from heat and strain, place under running cold water for a few seconds to stop the cooking process. Strain. Place on a paper towel and pat dry.

In a bowl big enough to fit the fries, add the fries, olive oil and seasoning salt. Gently stir to combine.

Spray a cookie sheet with nonstick spray and lay the fries out in a single layer. Place in the oven; cook for 15 minutes.

After 15 minutes, remove from the oven and turn the fries. Return to oven for 10 more minutes.

After 10 minutes broil for 5 minutes. You can broil for longer depending on how crispy you like your fries.
Once you get the technique down it is really easy to change this recipe to suit your tastes. I've used simple kosher salt and freshly ground pepper. I also made cajun fries by substituting 1 tablespoon of Cajun seasoning for the seasoning salt. Enjoy!
Keywords:
crispy, french fries, Oven fries, potatoes